Save up to 10% off the gate price with Beetlejuice Broadway discount tickets from FunEx! Lowest prices guaranteed!
Overview
"A JAW-DROPPING FUNHOUSE!"
The unfortunate reality is that time is running out, but they still have to put on the performance. On January 8th, the musical comedy that has been hailed by Variety as "SCREAMINGLY GOOD FUN!" will play its very last performance on Broadway.
This musical show, which is based on Tim Burton's much-loved film, Lydia Deetz, is about an unusual and quirky adolescent. Her world is flipped upside down when she encounters a recently murdered couple and the demon with a thing for stripes. Beetlejuice was written by Zak Penn and directed by Tim Burton.
Because of its funny writing, jaw-dropping set, and otherworldly score, it has been dubbed "A FEAST FOR THE EYES AND SOUL!" (Entertainment Weekly). Underneath all of that comedic shenanigans lies a very touching show about the importance of love, family, and making the most of each and every day (six feet under, to be exact).
FunEx Beetlejuice Broadway Discount Tickets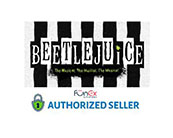 Lowest Prices Guaranteed!
FunEx is an authorized seller of Beetlejuice Broadway tickets for New York. We are one of the country's largest sellers of discounted deals, and we couldn't have thrived for over 30 years if our customers didn't highly trust us. We would love for you to join our family and enjoy the best price for Beetlejuice Broadway tickets and other attractions nationwide!
Hassle-Free Transaction, Skip the Line!
Another benefit of purchasing from FunEx is that you do not need to print your Beetlejuice Broadway tickets. Consider your phone your new best friend because all you need to do is present your FunEx discounted tickets from your phone without hassle!
Plus, if you purchase a Beetlejuice Broadway discount in advance through FunEx, you don't need to lineup at the ticket booth; skip the queue, there are no wait times!
We Are Rated A+ By the Better Business Bureau!
Our A+ rating backs your purchases of Beetlejuice Broadway discounts by Better Business Bureau! Do you have some clarifications? Find the answers to your questions by reaching out to us through:
Text/Call
at
949-367-1900
from 7:00 AM to 10:00 PM daily or,
Frequently Asked Questions
Are reservations required to enter the musical theatre?

Yes. Before coming to the theater, guests are urged to choose a date and time for the show.

Where is this musical show located?

The Musical theatre is located at Marquis Theatre, 210 West 46th Street, New York, NY 10036.

How soon do I receive my FunEx discount tickets?

When you successfully make an online purchase with FunEx, you will instantly be able to save both your e-tickets and your receipt. After you have completed a transaction, you should check your email frequently. If you can't find the message in your inbox, please look in the spam folder.

Do I need to bring a physical/printed copy of my FunEx discount tickets?

No, there's no need to bring a printed copy of the FunEx Beetlejuice Broadway tickets. Just save a copy to your phone and show them to the venue staff. Smartphone e-tix are accepted at the box office.

What are the theatre's operating hours?

The following times are when the theater is open to the public:

Mondays to Saturdays: 10:00 AM up to 8:00 PM

Sundays: 12:00 PM up to 6:00 PM

Can I reschedule my reserved date and time?

Unfortunately, no. The theatre strictly imposes a no-rescheduling policy. All tickets are non-refundable, non-transferable, and non-exchangeable. Please be advised to arrive 30 minutes early at the venue before your selected time.

Do I need to purchase another Beetlejuice discount for my child?

Yes. Everyone, regardless of age, is required to have a ticket in order to enter the theater. Children younger than 5 years old are not permitted inside the theater.

Can I smoke inside the theatre?

Smoking, including electronic cigarettes, is prohibited inside the theatre.

Can I bring a bag inside?

Yes. Upon arrival, your bags will be inspected in carefully. Only items that could fit under the seat in front of you will be checked or allowed into the theater; otherwise, they are not allowed. If you plan on bringing a purse or backpack to the theater, please always keep it close.

Are there any items that I shouldn't be carrying with me?

Don't bring any of these things into the area where security checks are done. Things that are taken away will not be given back. Only bring something to the theater that you are sure about.

All weapons, including firearms, ammunition, knives, swords, scissors, OC spray (mace), any dangerous items, and weapons of any kind, are strictly forbidden.
Outside food or beverage
Large professional cameras or video recording equipment
Laser pointers or flashlights
Illegal substances
Things that make noise or fireworks

Is there a parking area where I can park my car?

The theatre work with ParkWhiz to help the customers plan for parking. ParkWhiz has hundreds of discounted parking spots all over New York City.
Beetlejuice Tickets
Front Orchestra / Front Mezzanine

Discounted Price starts at $164.25

Buy Now

**Prices are dynamic and may change without notice. Purchase your tickets in advance to get the lowest prices.