Enjoy savings of up to 10% off the gate price with Brooklyn Museum discount tickets from FunEx! Discounts applied at checkout.
Overview
Land of the Lenape, also known as Lenapehoking!
Expect and witness the grandeur of art exhibits inside the Brooklyn Museum New York, one of the biggest and oldest museums in the United States! The Museum is situated on a portion of the Lenape (Delaware) people's original, unceded homeland in New York City.
They recognize and revere the Lenape (Delaware) Nations, including their elders both from the past and the present, as well as those who will come after them in the future. They are committed to addressing exclusions and erasures of Indigenous peoples and tackling the ongoing legacies of settler colonialism in work done at the Museum.
Never miss out on this one-of-a-kind journey to learn what's more inside with FunEx Brooklyn Museum tickets! Travel more while spending less with us today!
FunEx Brooklyn Museum Discount Tickets 2022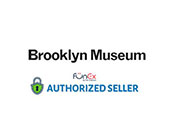 Hassle-Free Transaction, Skip the Line!
Another benefit of purchasing from FunEx is that you do not need to print your New York Brooklyn Museum discount tickets. Consider your phone your new best friend because all you need to do is present your FunEx discount from your phone without hassle!
Plus, if you purchase Brooklyn Museum tickets in advance through FunEx, you don't need to lineup at the ticket booth and gate entrance; skip the queue, as there are no wait times with us!
We Are Rated A+ By the Better Business Bureau!
OurA+rating by Better Business Bureau backs your Brooklyn Museum discount ticket purchases! Need some clarification? Find the answers to your questions by reaching out to us through:
Text/Call
at
949-367-1900
from 7:00 AM to 10:00 PM daily or,
Collection
The museum is pleased to invite you to explore its digital collection, where you will discover extensive details on many of the items in its extensive holdings. The museum's sincere desire is to encourage you to delve deeper into the museum and its many galleries.
Only some of the pieces depicted here are currently on display due to conservation needs and the occasional need to lend works to other institutions. Accessing individual records allows you to pinpoint the precise position of desired items.
Every effort is made to ensure the accuracy of the data presented here, and the number of works presented here is constantly growing.
Frequently Asked Questions
Do I need to make a reservation before going to the Museum?

Yes. During checkout, you will be prompted to a page where you will need to choose your preferred date and time of visit. The Museum also encourages guests to reserve tickets in advance to guarantee a specific time slot.

Where is the Brooklyn Museum New York located?

The Museum is at 200 Eastern Parkway, Brooklyn, New York 11238-6052.

How soon will I receive my FunEx Brooklyn Museum tickets?

You will receive them instantly after your transaction, together with your purchase receipt. Please check your email at all times. Electronic tickets are sent immediately. You may also check your spam folder if you can't locate them in your inbox.

Do I need to print my electronic Brooklyn Museum discount tickets?

Nope! FunEx guarantees a hassle-free post-purchase experience. Save a copy to your phone or take a screenshot for easy entry. A valid photo ID might be needed for additional verification, so please bring one!

What are the Museum's operating hours?

The Museum is open Wednesdays through Sundays, from 11:00 AM to 6:00 PM. They are closed on Thanksgiving, Christmas, and New Year's Day. The Museum reserves the right to change operating hours without prior notice. Visit their website for more detailed and accurate information regarding the schedule.

Does the Museum only allow guests that are vaccinated?

No. Following the state and local guidelines, proof of vaccination is no longer required upon entering the Brooklyn Museum New York.

Do I need to wear a mask inside the Museum?

Wearing masks is only optional if you visit but are highly encouraged. Safety first!

Is there a place to park at the Museum?

Yes. The Museum has a parking lot behind it, which is accessible from Washington Avenue. Hourly rates are usually applied.

Can I bring a baby stroller inside the Museum?

Yes, of course! You are welcome to use them throughout the building.

Can you take pictures or videos in the Brooklyn Museum New York?

Yes. Photographing and filming within the Museum is permitted with the understanding that images captured must be done using only the available lighting (no flash) and be used solely for personal, non-commercial purposes.

Are all of the museum's displays good for kids?

Some of the exhibits are for adults, so we recommend that parents, guardians, and teachers check out the exhibits too.

Is the Museum easy to get to with a wheelchair?

Yes. The entire property, including parking, is designed to be easily accessed by those utilizing wheelchairs.

Do they have wheelchairs at the Museum?

Yes. Get in touch with the front desk staff to request a complimentary wheelchair.
Brooklyn Museum Tickets
Youth (0-18) - General Admission

Does not include access to the special exhibitions

Only in combination with: Adult (19-64) - General Admission, Reduced - General Admission

Free

Reduced - General Admission

Student / Senior (65+) / Visitors with Disabilities. Does not include access to the special exhibitions

Discounted Price starts at $8.78

Adult (19-64) - General Admission

Does not include access to the special exhibitions

Discounted Price starts at $14.04

Buy Now

**Prices are dynamic and may change without notice. Purchase your tickets in advance to get the lowest prices.