Buy discount tickets to MODS LA for only $26.00 vs $36 online price. Lowest price guaranteed only on FunEx!
What is Museum of Dream Space Los Angeles?
The Museum of Dream Space Los Angeles showcases the greatest in immersive, futuristic art. This dazzling array of large-scale light art installations will captivate your senses with astonishing room-size exhibits that blur the line between the artwork and the observer.

What do we expect to see at MODS Los Angeles?
Enjoy a magical and unique experience at a museum filled with visually amazing light art exhibits. Explore the glistening Gold Room, the beautiful Galaxy Room, and the cozy Lantern Room. Feel immersed into the artworks in a manner that traditional art cannot - and don't forget to take pictures!
Step through the Gold Room's curtained entrance and into a magnificent golden interior that would put El Dorado to shame! The Galaxy Room can be found by continuing your journey through the museum. This enchanting corridor surrounds you with a bewitching display of electric light curtains that shine like infinite sparkling diamonds.
The Lantern Room brings your tour of MODS Los Angeles to a close. There, a calming aura is cast by an arrangement of captivating lanterns that guide you through a cosmic system.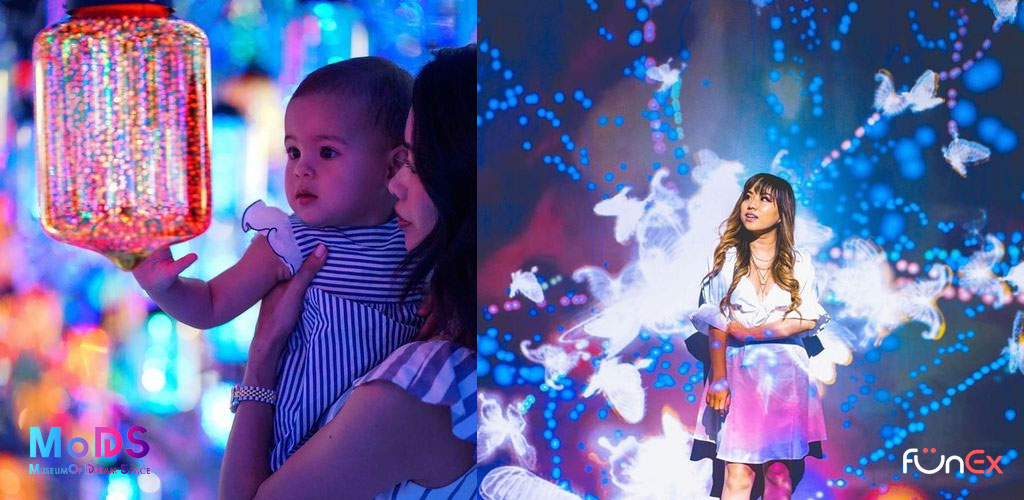 Why Pick FunEx for your discounted Tickets?

Lowest Prices Guaranteed!
FunEx is an authorized seller of Museum of Dream Space tickets. We are the largest seller of discount Museum of Dream Space tickets in the country, and we couldn't have thrived for over 30 years if we weren't highly trusted by our customers. We would love for you to come join our family and enjoy the best price for Museum of Dream Space Los Angeles as well as other attractions nationwide!
Hassle-Free Transaction, Skip the Line!
Another benefit of purchasing with FunEx is that you do not need to print your discount MODS tickets. Consider your phone your new best friend because all you need to do is present your discount Museum of Dream Space tickets at the gates and, viola, in you go!

We Are Rated A+ by Better Business Bureau!
Your purchases of discount MODS tickets are backed by our A+ rating by Better Business Bureau!
Need some clarification? Find the answers to your questions by reaching out to us through:
Text/Call at 949-367-1900 from 7:00 AM to 10:00 PM daily or Email help@funex.com
Last updated January 26, 2023.
Museum of Dream Space Discount Tickets
Tickets for Museum of Dream Space Beverly Hills

Senior (62+)/Military/Student

Discounted Price $18.00

Adult (13-61)

Discounted Price $26.00