Six Flags Fright Fest is a seasonal event in October offered by FunEx.
Six Flags Magic Mountain is here to give you a fright-tastic time with Six Flags Fright Fest!
The bone-chilling lineup of haunted attractions features two new spine-tingling scare zones, a dark and twisted photo experience, two new mind-numbing shows, and added days.
Overview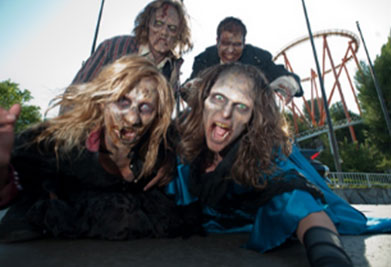 Come to Six Flags Fright Fest to experience 24 terrifying nights of monsters, ghouls, and crazed characters ready to strike fear into anyone who crosses their path! Six Flags Magic Mountain leaves no tombstone unturned to deliver what guests want most…an all-out terrifying experience.
Find yourself in the middle of 14 electrifying mazes and dare-to-enter scare zones with nightmarish zombies lurking around every corner! Not only that, in Six Flags Fright Fest, riders will be left to face their fears in total darkness (lights off – confirmed) aboard monster coasters in the park!
Watch out for two new shows, and two new scare zones with unexpected, dark surprises around every corner!
Highlights of this year's new Six Flags Fright Fest lineup include:
The Deadzone,

located in the newest area of the park, The Underground, unleashes a new renegade group of cyberpunk zombies that feed on unsuspected visitors.

Terror Rising

Dark Developments, where everyone's worst nightmares rise up from the depths of hell and prey on the innocent who dare to enter this haunted cemetery. Beware of the dark developments that could haunt you for all eternity.

Grave Games

is a dangerous and daring show featuring acts of crossbows and fire juggling.

Dark Minds

is a mentalist show exploring the deep, disturbing thoughts lurking within the darkest depths of the mind.
Popular returning mazes that incorporate state-of-the-art makeup, props, and special effects include:
Willoughby's Resurrected

- where the haunts of Ghostober take on dark visions of spirits, haunted artifacts, and supernatural investigations gone wrong. Brought to Fright Fest by Discovery+, the streaming home of Halloween.

Condemned

- Forever is full of horrific haunts of a dilapidated home where the walls are alive and the spirits of those who once lived there unleash their fury on anyone who dares enter.

Vault 666 Unlocked

- returns as the fan-favorite maze, only this time demonic relics are locked in a dark and sinister antique shop, casting spells and haunting those who try to steal them.

Sewer of Souls

- takes guests into an underground world of lost souls and terrifying tunnels where evil oozes.

Aftermath 2: Chaos Rising

- is the region's largest outdoor maze, covering more than 40,000 square feet where the spirits of the dead and the near-dead inhabit a post-apocalyptic city with larger-than-life props, fire, fog, and other special effects.

Red's Revenge

- Over the river and through the woods to Grandmother's house they go, but in this "scarytale" the roles are reversed as guests and the wolf are hunted by Red and her demonic minions.
Along with The Deadzone and Terror Rising – Dark Developments, six additional scare zones around the park leave guests nowhere to hide and screaming to get out unscathed. They include:
Beware of the dark corners in

City Under Siege,

where the clowns are loose and running rampant through the streets.

Witches Lair

returns to this year's horror-filled offering of haunts as the City of METROPOLIS™ is transformed into a haven for wicked spells and black magic.
Guests who enter the park through

Demon's Door

should be prepared for their mind and body to be completely taken over by the evil spirits that await.
Steam-spewing mechanical beasts relentlessly hunt down their victims in

TERRORtory Twisted.

Nightmares –

A Twisted Fantasy, where childhood favorite bedtime stories take on a perverse twist.
Freak out on

Exile Hill

when unimaginable sinister souls appear without warning.
Spooktacular shows in Six Flags Fright Fest include the new Grave Games located in the Golden Bear Plaza and Dark Minds in the Gearworks Theater, the ghoulish Sliders of the Night show in DC UNIVERSE™, plus the very popular VooDoo Nights, where ghoul rock goes pop with today's hits. Guests will want to dust off those thriller moves and join in the fun in the Full Throttle Plaza.
Guests can literally face their fears in the shadows when the lights go out on some of the park's iconic coasters during Fright Fest, including Twisted Colossus, Viper, X2, Scream, Goliath, Apocalypse, and more.
For the little monsters, a Trick-or-Treat Trail and Halloween crafts round out the frightfully fun family activities during the day.
Why pick FunEx?

Our company guarantees to give you discounted tickets to your favorite attractions at the best price. For the past 30 years, we have offered the cheapest tickets and passes possible and great corporate benefits to thousands of companies. Buy your tickets now to enjoy the biggest discounts in the industry!
(Want to find out if your company is registered? Send us an email at help@funex.com or dial 949-367-1900!)
Here's the perfect part: company sign up and individual registration are totally free with your employee access code (EAC) or with your work email address. Yes, reading that again will not change the words. It is free! After registration, you can enjoy huge discounts on theme parks, water parks, museums, zoos, aquariums, and outdoor and indoor adventures!
Frequently Asked Questions:
Are reservations required for Six Flags Fright Fest?

No, reservations are not required at Six Flags Fright Fest tickets when reserved through FunEx.

Is there free parking at Six Flags Fright Fest?

No, parking is at $25.00 per vehicle at the park.

Does Six Flags Fright Fest accept card payments?

Definitely! As of writing (9/21/21), Six Flags only accepts cards and mobile payments onsite, even for parking. Cash-to-card devices are available inside the park.

Can I bring my own food and beverages into Six Flags Fright Fest?

Food, beverages, coolers, and grills may not be brought into the park. The only exceptions are for food allergies and infant food in non-glass jars. No outside beverages are permitted.

Do I need to print my tickets for the Six Flags Fright Fest?

No, you do not. Tickets bought from FunEx do not need to be printed. You can show the tickets on your phone to gain access to the Six Flags Fright Fest.

Can I wear a costume to Six Flags Fright Fest?

Only children 12 years old or younger can wear costumes.

Can I leave and reenter Six Flags Fright Fest on the same day?

9:00 p.m. is the latest that you can reenter the park.

Are pets permitted at Six Flags Fright Fest?

Pets are not permitted in the park except for service animals.

What happens if it rains at Six Flags Fright Fest?

The park contains all types of activities, many of which are not dependent upon good weather, including indoor shows, games and arcades. While some rides and shows may close due to rain or wind, they are opened as soon as the weather clears. Refunds and rainchecks are not offered.

Am I required to wear masks at Six Flags Fright Fest?

In compliance with Los Angeles County mandates, masks are required at all indoor locations regardless of vaccination status, including indoor haunted maze attractions. For further details on safety measures, visit

//www.sixflags.com/magicmountain
Six Flags Fright Fest Tickets