This Skunk Train California tour is for adults ages 21 and above only. Each guest is required to present an ID to board the train.
Visit Skunk Train California!
Leaving from the Depot in downtown Fort Bragg, this 7-mile, roughly 75-minute round-trip tour takes through the magnificent Pudding Creek Estuary and passes through ancient primeval redwoods on its way to the calm scene of Glen Blair Junction.
In about 30 minutes, trains will pause at Glen Blair Junction, allowing passengers to get off and enjoy the area. You can leave now and catch the next train if you'd rather not rush through your time hiking the pathways among the redwoods. There is plenty of time to go sightseeing. You are welcome to bring a picnic lunch and eat it at one of their tables; strictly no alcoholic beverages.
It's been over 130 years since the California Western Railroad installed these tracks in 1885, and they've been transporting customers. The #45 Baldwin 2-8-2 Mikado Steam Engine, the Super Skunk, works with Diesel-Electric engines. These engines haul passenger cars, such as a bar car stocked with snacks, sober drinks, beer, wine, and spirits, and an open-air car ideal for taking in the sights along the journey. Purchase FunEx Pudding Creek Express discount tickets today and enjoy the biggest discount in the market!
FunEx Pudding Creek Express Discount Ticket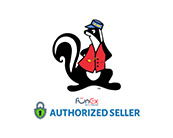 Lowest Prices Guaranteed!
FunEx is an authorized seller of Skunk Train's Pudding Creek Express tickets. We are one of the country's largest sellers of discounted deals, and we couldn't have thrived for over 30 years if our customers didn't highly trust us. We would love for you to join our family and enjoy the best price for Pudding Creek Express discount tickets and other attractions nationwide!
Hassle-Free Transaction, Skip the Lines!
Another benefit of purchasing from FunEx is that you do not need to print your Pudding Creek Express tickets for Skunk Train. Consider your phone your new best friend because all you need to do is present your FunEx discount tickets from your phone without hassle!
Plus, if you purchase Pudding Creek Express discount tickets in advance through FunEx, you don't need to lineup at the ticket booth – literally, skip the queue and start your adventure immediately at the Skunk Train!
We Are Rated A+ By the Better Business Bureau!
Our A+ rating by Better Business Bureau backs your Skunk Train's Pudding Creek Express discount ticket purchases! Need some clarification? Find the answers to your questions by reaching out to us through:

Text/Call
at
949-367-1900
from 7:00 AM to 10:00 PM daily or,
Experience Skunk Train California's Railbike Adventure!
Railbikes on the Noyo provides the perfect quick getaway! Discover the beautiful sights of Redwood Route aboard a state-of-the-art, electric-powered two-person railbike. An experience that will surely relax you!
This Railbike Adventure allows guests to travel deep into the gorgeous Redwood Groves on a track exclusively reserved for railbikes. The fun-filled tour begins at Sherwood Road. Make sure you arrive with plenty of energy because you'll be taking a picturesque hike to the Noyo River. Once you arrive at the east end of Tunnel no. 1, you'll meet your knowledgeable guide and your awesome ride!
The Skunk Train California tour allows you to enjoy solitude while you pedal your way along the tranquil river. Yes, they even stagger the trips for a few minutes so that you can enjoy your privacy! Experience beautiful sights such as the Redwood Lodge, South Fork, Ranch and more.
Once you arrive at Camp Noyo, they offer a complimentary picnic with refreshments. You can take a swim in the river, stroll among the redwoods or relax while taking in the views. Get your discount tickets through FunEx and experience this California getaway!
Frequently Asked Questions for Skunk Train Tree Turn
Are reservations required?

Yes. Reservations are highly encouraged if you want to ride on the train, especially during the upcoming holiday season, as seats are selling fast.

Where is it located?

This historic Skunk Train is located at Mendocino County. To get started, your departure and return location will be at 299 E Commercial St, Willits, CA 95490, USA, Skunk Train Willits Depot.

How soon will I receive my FunEx Wolf Tree Turn discount ticket?

You will receive your Wolf Tree Turn tickets immediately after your successful purchase online together with your receipt. Always check your email after purchase.

Do I need to print my Skunk Train's Wolf Tree Turn ticket?

No, there's no need to print your Wolf Tree Turn discount tickets from FunEx. All you need to do is save your electronic tickets to your phone and show them at the ticket booth or to the staff for easy entry.

Can I bring my dog on the train with me?

Only dogs are allowed as passengers' pets. However, please remember that your dog may fear trains and not subject it to undue stress. Whatever they might require for convenience of stay, please bring it (food, water, dishes, a leash, etc.). Reservations are recommended, and the cost is $10.95 per dog.

Is there a way to get on the train using a wheelchair?

The railcars date back to the early 1900s, so there are restrictions, but the answer is yes. They will do everything they can to make you feel welcome when you visit.

Can we take food on the train with us?

If you can't eat certain things or have a child, then yes. On the train, you can buy food and drink. So, no need to worry about carrying an extra load with you.

Can we bring alcohol onto the train?

The train doesn't let people bring their alcohol on the train. They have a great selection of wine and beer from beautiful Mendocino County, America's greenest wine-growing region - including their Skunk Beer, bottled by Anderson Valley Brewing Company. They also have a full bar on board the train.

Do your trains leave on time?

Guests should arrive at least 30 minutes prior to departure as the train leaves promptly at the departure time.

What do we wear?

To stay warm in the cold months, it's best to wear comfortable and casual clothing layers. If you're going to ride the Open-Air Observation Car, you should wear dark clothes because lighter clothes can sometimes get soot spots on them.