Buy your Skyline Sightseeing discount tickets to get the best deals vs gate price. Guaranteed lowest prices on FunEx!
| | Hop-On Hop-Off City Tour | San Francisco Bay Cruise | Bike Rental |
| --- | --- | --- | --- |
| Operating Hours | 10:00 AM to 5:00 PM, buses run every 30-60 minutes | recurring departures between 11:00 AM and 4:00 PM | start any time between 10:00 AM and 2:00 PM |
| Operating Days | Daily (except Thanksgiving, Christmas Day, New Year's Eve, and New Year's Day) | Daily (except Thanksgiving, Christmas Day, New Year's Eve, and New Year's Day) | Daily (except Thanksgiving, Christmas Day, New Year's Eve, and New Year's Day) |
| Departure Location | Stop # 1 at 99 Jefferson Street, San Francisco, CA 94133 | Fisherman's Wharf (exact location provided upon voucher redemption) | Fisherman's Wharf (2661 Taylor Street, San Francisco) |
| Duration | approx. 2 hours (if staying on the bus for an entire loop) | 60 minutes | Up to 1 day rental |
| Ticket Validity | 1 day | one time use | 1 day |
Take the bus, the boat, and the bike on this ultimate San Francisco Tour! During the Hop-On Hop-Off San Francisco City Tour, take in the city's breathtaking scenery from the top of an open-air bus. Moving on to the next part of the tour, you can uncover the city's best-kept secrets by pedaling around at your own pace.
During the 60-minute Bay Cruise, you will have the opportunity to sail beneath the world-famous Golden Gate Bridge while taking in breathtaking views of the San Francisco skyline! Many noteworthy attractions in the city include Fisherman's Wharf, Golden Gate Park, Pier 39, North Beach, Chinatown, the Embarcadero, Union Square, the Palace of Fine Arts, and so much more.
Check out San Francisco tour highlights with your discount ticket:
You can explore San Francisco's beautiful sights by bus, boat, or bike. Don't forget that your ticket for this tour gives you the flexibility of choosing your own schedule and deciding how you want to spend your time.
Hop on a boat!

The best way of seeing the majestic Alcatraz Island and the Golden Gate Bridge up-close is through water sailing with the use of Skyline's boat.

Bike around!

You may also checkout the rest of San Francisco's best sights through bicycle. Take a look around what the city has to offer you through this Hop-on Hop-off San Francisco tour!

Bus ride, anyone?

Hop on the bus, travel around in a circle, or get out at any of the stations along the way if you'd like a leisurely, self-guided tour.
**The multilingual live commentary audio guide is included in the bus and boat trip experience. If you're traveling without a tour guide, this will let you know the next stop for your guidance (if you only wish to hop off).
FunEx ticket inclusions for this tour:
All-Day Hop-On Hop-Off San Francisco City Tour
Cruise of San Francisco Bay
Rental Bikes for One Day (bike, helmet, and lock included)
The ULTIMATE San Francisco Tour!
Get around on the bus, the boat, or the bike and see all that San Francisco has to offer at your own pace!
The tour's package deal includes tickets for a San Francisco Bay Cruise, a 1-Day Hop-On Hop-Off Tour, and a 1-Day Self-guided Bike Tour. Each experience can be had in a single day or spread over as many as three days if you want. Enjoy the sights of San Francisco from the top of a Double-Decker bus. Explore the Marina District on two wheels or pedal across the iconic Golden Gate Bridge's 1.7-mile span. Enjoy a relaxing hour-long cruise along San Francisco Bay while taking in breathtaking views of the city skyline from the sea. This Skyline Sightseeing tour is the perfect way to explore San Francisco!
Hop-On Hop-Off Bus
With the 1-Day Hop On Hop Off San Francisco Pass, you can see the sights of the city from the top of an open-top Double Decker Bus while listening to audio commentary in your choice of English, Spanish, or Italian. The Golden Gate Bridge, Golden Gate Park, Chinatown, Civic Center, Union Square, Fisherman's Wharf, the Ferry Building, and Hay Ashbury are just a few of San Francisco's many highlights on your 2.5-hour City Tour.
A Boat To Take You Closer!
One of the most well-liked cruises is the San Francisco Bay Cruise, which sails along the city's picturesque waterfront while providing spectacular views of the city's famous monuments, including the legendary Alcatraz. The trip lasts for an hour, and passengers may choose between sitting inside or outside while listening to a full narration that provides background on the sights they'll be passing.
Bicycle Rental
Take a Self-guided Bike Tour and see the city from a more relaxed position on a comfortable bike. Explore the Palace of Fine Arts as you cruise down the Marina. View the bison in Golden Gate Park without spending too much time getting there. Or, you may ride your bike across the Golden Gate Bridge and take in the breathtaking sights of San Francisco and Alcatraz. Take a picnic to the waterfront in Sausalito and ride the ferry back (not included). Renting bicycles for the day is a great way to see all that San Francisco offers at your leisure.
This bundle will help you make the most of your time in San Francisco. Grab FunEx's great deals on tickets at a steep discount that you'll never find elsewhere!
Why pick FunEx?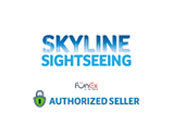 Lowest Prices Guaranteed!
FunEx is an authorized seller of Skyline Sightseeing San Francisco Tour discount tickets. We are one of the largest sellers of discount tickets in the country, and we couldn't have thrived for over 30 years if we weren't highly trusted by our customers. We would love for you to join our family and enjoy the best price for Skyline Sightseeing discount tickets as well as other attractions nationwide!
Hassle-Free Transaction, Skip the Line!
Another benefit of purchasing from FunEx is that you do not need to print your Hop on Hop off San Francisco discount tickets. Consider your phone your new best friend because all you need to do is present your FunEx Skyline Sightseeing tickets at the staff and, viola, in you go!
We Are Rated A+ by the Better Business Bureau!
Your purchases of discount tickets are backed by our A+ rating by Better Business Bureau!
Have any questions or concerns? Please feel free to reach out to us through:
Text/Call
at
949-367-1900
from 7:00 AM to 10:00 PM daily or,
Tips for your Tour
Purchase your tickets in advance.

If you're planning to go on this San Francisco Tour, please keep in mind that there's a possibility that tickets run out. If you want to prevent the queues and the unavailability of tickets on the day of your visit, , buying them in advance is your best bet. Better yet, get your Hop on Hop off San Francisco discount tickets from FunEx, we offer the lowest prices and as well as a hassle-free ticket buying experience. Visit the San Francisco Skyline today! Discounts of up to 50% are available on Hop on Hop off tickets when purchased through FunEx!

Arrive Early.

The bus trip and the boat San Francisco tour work on a first-come, first-served basis for guests. So, if you want to get the most out of your San Francisco tour, you'll need to arrive earlier to avoid long lines.

Be flexible.

Guests are needed to check in at the location at 99 Jefferson Street (at the corner of Mason Street) prior to the departure of the boat tour to get tickets and the location of the departure point. After checking in, your San Francisco tour is completely up to you! Plan your day of adventure with Skyline Sightseeing's flexible tours.

Keep in mind that the schedule for Bay Cruises is subject to change at any time.

The Bus Tour you take is flexible, depending on your preferences and choices. At select bus stations, you are permitted to board and set ablaze freely, allowing you to take some selfies while you wait for the next incoming bus. You might also choose to let the bus transport you around while you relax on the bus's upper deck and capture some breathtaking photographs of the famous sights. It's entirely up to you!
Frequently Asked Questions
Are reservations required for Skyline Sightseeing?

Yes, reservations are required for your San Francisco tour. Please click here to make your reservation and to receive your specific departure location and further details for your tour.

When can I receive my tickets?

If you make a purchase through FunEx, your tickets will be sent to you instantly, together with your receipt. Yes, that does not include any wait!

Do I need to print my San Francisco tour tickets?

There's no need! All you have to do is present your tickets on your mobile phone, and you're good to go!

Will another bus be coming if the others are full?

No other bus will be leaving at the same time, so you should have no trouble boarding the next available bus. When you arrive at your destination, make sure to confirm with your driver or guide what time your trip officially begins and ends.
Bus & Boat & Bike Adventure Tickets
Must Use FunEx Promo Code at check out to receive exclusive discount.

Promo Code

FX2022P5

Bus and Boat and Bike Adventure

Child (Age 3-12)

Regular price $99.99

Discounted Price $89.99

Adult (Age 13+)

Regular price $119.99

Discounted Price $109.99

Buy Now