Get your unlimited rides ticket to Belmont Park San Diego for only $34.50 vs $56 gate price! Save up to 38% through the lowest prices guaranteed on FunEx!
California has a lot of amazing places to offer, for both locals and international tourists! The state is known for its vibrant cities, amusement parks, natural wonders like mountains, forests, islands, beaches, and national parks.
For people who are more into nature, hiking, and parks, California is the right place for you to visit! It's one of the best places to sightsee and watch nature in its raw form from islands to forests. We have Yosemite National Park, Death Valley National Park, Lake Tahoe, Sequoia and Kings Canyon National Parks, Redwood National and State Parks, and so much more.
California is also the best place to spend time with your family and loved ones. One of the premier family destinations in California is the well-known Disneyland where you can experience the most magical day in your life! From meeting princesses to eating heavenly food, they have got it all for you! I mean, it is the happiest place in the world!
But, if you are looking for fun activities while still getting to marvel at an amazing beach view, visit San Diego's most Iconic beachfront boardwalk, Belmont Park! You can enjoy various activities while enjoying the calming view of the sea!
In Belmont Park, find rides and attractions for all ages! Plus, there are also tons of different restaurants and dining from different cultural cuisines across the entire park so you can charge up before and after your whole beachfront fun experience! Belmont Park has it all!
About Belmont Park
Belmont Park is located in San Diego, California and has been known to be San Diego's most famous and iconic beachfront boardwalk. The park has been offering beachfront fun since the year 1925. It is open year-round to offer every guest and international tourist looking for amusement and those who want to experience beachside activities!
The park has 14 different amusement park rides that are good for all ages. They also have games and events, several attractions, 13 dining options (3 main restaurants and 10 quick bites choices), and tons of shopping places!
What's New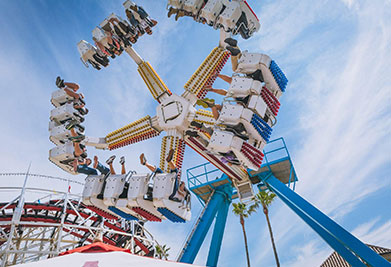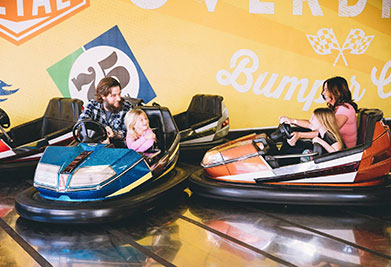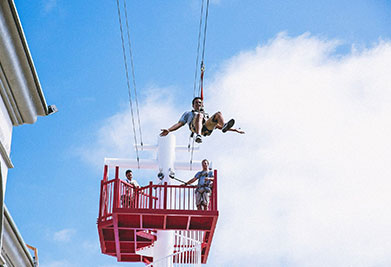 Why pick FunEx?

Our company guarantees to give you discount tickets to your favorite attractions at the best price with Belmont Park in San Diego being one of the hundreds of attractions that we offer at a discounted rate. For the past 30 years, we have offered the cheapest discount tickets and discount passes possible and great corporate benefits to thousands of companies. Buy your Belmont Park San Diego tickets now to enjoy the biggest discounts in the industry!
Here's the perfect part: company sign up and individual registration are totally free with your Employee Access Code (EAC) or with your work email address. Yes, reading that again will not change the words. They are free! After registration, you can enjoy huge discounts on theme parks, water parks, museums, zoos, aquariums, and outdoor and indoor adventures all over the United States!
Need some clarification? Find the answers to your questions below or reach out to us through text/call at 949-367-1900 or help@funex.com.
Another benefit of purchasing with FunEx is that you do not need to print your discount Belmont Park tickets. Consider your phone your new best friend because all you need to do is present your Belmont Park San Diego tickets at the gates and, voila, in you go!
Rides & Attractions
From chill rides to the most extreme, thrilling ones, find your preference here at Belmont Park! Have fun with ziplines, mini golf, a 7D theater, laser tag, rollercoasters, bumper cars, and so much more! These rides are sure to bring you your healthy dose of adrenaline or into the sky – whichever you try first!
Do not miss out on their amazing rides! Get your discount tickets to Belmont Park in San Diego from FunEx!
It is important to note that most of the rides may have height restrictions.
Dining Options
What is a day out without dining? Complete your fun day by dining at Belmont Park after or before enjoying the action! Belmont Park offers a lot of dining options whether you're only looking for some quick bites or a full course meal. What makes your dining special is you can enjoy your food while admiring the beachfront view of San Diego!
Here are your restaurants' options while staying at Belmont Park:
Cannonball
This is located at 3105 Ocean Front Walk, San Diego CA, 92109, USA, open from Monday to Sunday, 11 AM to 9 PM.
Draft Mission Beach
Open from Sunday to Thursday, 11 AM to 8 PM; and Friday to Saturday from 11 AM to 9 PM. This restaurant serves craft beer, sadwiches, nachos, and so much more! Be sure to drop by when you're in Belmont Park!
If you are on a budget or not really into fancy restaurants, you can still enjoy a feast by the Belmont Park Beachfront Boardwalk! There are tons of snack stands and quick bites along the sidewalk where you can grab a quick bite and eat while enjoying the stroll along the park under the sun! We have taco stands, Ice creams, corndogs, pizzas, burgers, and many more to mention. At Belmont Park, we make sure that you are having fun with a satisfied stomach!
---
Shops and more!
Never leave a place without getting something to remember it by! Visit the souvenir, gift, and apparel shops at Belmont Park in San Diego to get yourself one of their many awesome items!
Frequently Asked Questions about Belmont Park in San Diego
Are reservations required?

No, reservations are not required at Belmont Park San Diego.

Where is the park located?

The exact address is 3146 Mission Blvd., San Diego, CA 92109.

What are the operating hours of Belmont Park San Diego?

The park is open 11 a.m. to 6 p.m. from Monday to Thursday, 11 a.m. to 10 p.m. on Friday and Saturday, and 11 a.m. to 9 p.m. on Sunday. Please note that park hours may change without prior notice, so please click

HERE

to see their calendar.

What are the operating hours of the restaurants at Belmont Park San Diego?

The Beach House is open daily from 11 a.m. until sunset; Draft is open from Monday to Friday 11 a.m. to 9 p.m. and on Saturday and Sunday from 9 a.m. to 9 p.m.; Cannonball is open from 11 a.m. to 9 p.m.; and Draft Coffee is open daily from 7 a.m. until sunset.

Is there free parking at Belmont Park?

Yes, there is free parking! You will be able to find the parking lots in the vicinity.

How much do discount tickets to Belmont Park cost from FunEx?

Through FunEx you get 38% off regular priced tickets for a low price of $34.50 per ticket!

Do I have to print out my Belmont Park San Diego tickets from FunEx?

No, through FunEx, you can just show your discount tickets on your phone at the entrance for easy entry.

How soon do I receive my Belmont Park San Diego tickets from FunEx?

You will receive your discount tickets instantly after your purchase along with your receipt!

What should I avoid bringing into the park?

The park is open to everybody that wishes to have fun and let loose! To keep the environment kid-friendly, please refrain from bringing the following items into the park:

Weapons
Knives; or any item that may cause harm to other guests
Pets (with the exemption of service animals)
Cigarettes; or any alternative such as but not limited to: e-cigarettes and vapor pens.
Additionally, biking, skateboarding, rollerblading, and other accident-prone activities are not allowed inside the park.

How big is the park?

The park is approximately seven acres big! Click

HERE

to see a map of the park.

Is Belmont Park in San Diego ADA accessible?

Please click

HERE

to get a comprehensive copy of their Accessibility Guide. Service dogs are allowed in the park.

Can I smoke at the park?

Smoking inside the park is prohibited. You can smoke in the parking lot though.
Last updated May 12, 2022.