Enjoy up to 18% off on your tickets when you get them through FunEx.com! Tickets are emailed immediately and lowest prices are guaranteed only with FunEx!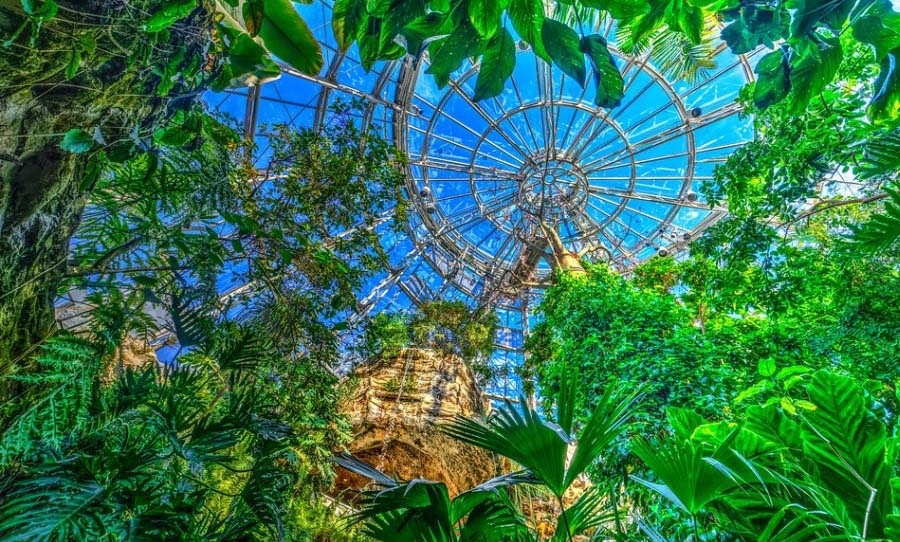 Marvel at pretty sights and even prettier butterflies! Purchase your Cockrell Butterfly Center tickets through FunEx to enjoy big discounts today.
Overview
If your heart flutters at the idea of exploring a magical butterfly kingdom, it's time to plan an expedition to the Houston Museum of Natural Science. The interactive Cockrell Butterfly Center and Brown Hall of Entomology provide an experience like no other! You'll get to visit the home to some of the world's most wonderful winged creatures, alive and preserved.
This oasis of wings provides pleasant entertainment and as well as an enlightening educational experience for the whole family. At Cockrell Butterfly Center, you'll get to walk through a real live butterfly habitat in a three-story glass structure surrounding a 50-feet waterfall! Butterfly lovers are sure to have a magical time watching these winged creatures flutter around. Learn more about these gentle creatures as you view their interactive exhibit.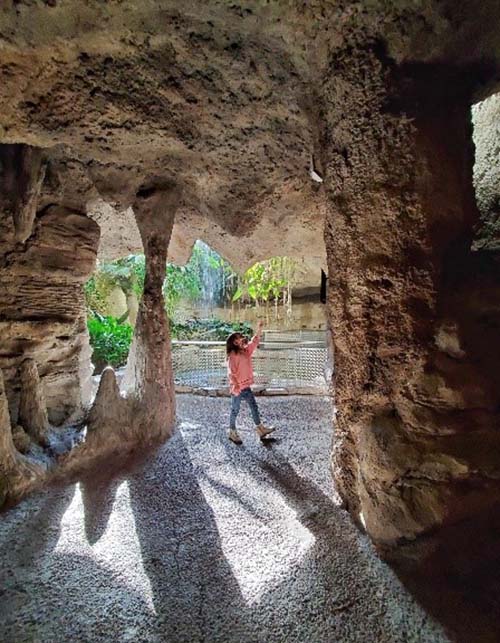 Exhibits at the Cockrell Butterfly Center at Houston Museum of Natural Science
Your visit to The Cockrell Butterfly Center is sure to be a visit filled with pleasant views. Not only that, you will be going home with more knowledge about our winged friends. This gorgeous butterfly conservatory and museum are sure to inspire the artist, poet and photographer in you! And who knows? It might spark a life long interest for the little ones!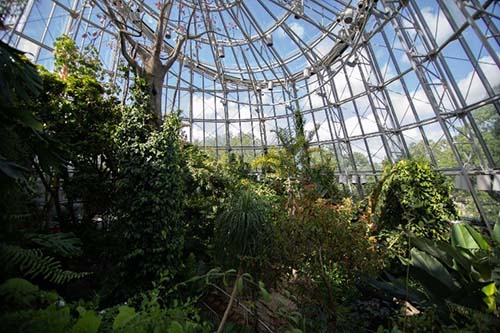 Stroll through the Rainforest Conservatory
You'll be in awe of the Rainforest Conservatory's beautiful views! Stroll through this classic three-story glass structure built around a 50-foot waterfall. Be immersed in a simulated rainforest filled with aesthetic exotic plants and up to 2000 butterfly friends flying around you! They feature a vast collection of over 60 different species. See if you can name some of them?
Personal photography and videography is encouraged in the Rainforest Conservatory. Get your camera out so you can capture the perfect shot of a butterfly fluttering its colorful wings. And who knows? You might also get to capture that magical moment when a butterfly perches on you!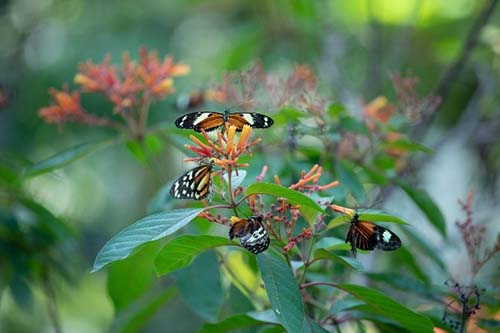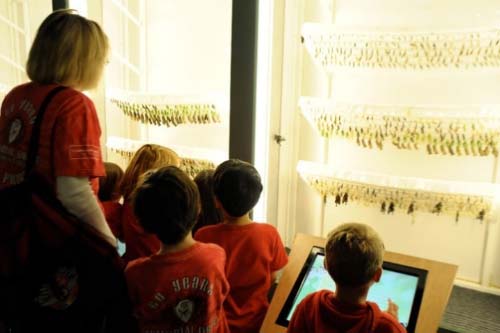 Explore the Brown Hall of Entomology
This exhibit provides an in-depth look into your favorite winged creature. Explore this extensive collection as you learn more about butterflies with your family. At the main level, Cockrell Butterfly Conservatory features an immersive insect environment with a giant beehive that kids can play in! Brown Hall of Entomology also features an exhibit where you can listen to live interviews with entomologists and take a sneak peak into their lab. At The Amazing World of Arthropods, they feature an impressive exhibit where you can view preserved specimens, larger-than-life models and interactive games for the whole family to enjoy. They have so much more for you and your family to enjoy at the Brown Hall of Entomology!
Why pick FunEx?

Our company guarantees to give you discounted tickets to your favorite attractions at the best price.
As the largest reseller of discount Cockrell Butterfly Center at Houston Museum of Natural Science tickets, we are able to provide our customers with exclusive discounts and best prices for Cockrell Butterfly Center at Houston Museum of Natural Science tickets. For the past 30 years, we have offered the cheapest discount tickets and discount passes possible and great corporate benefits to thousands of companies.
Buy your Cockrell Butterfly Center at Houston Museum of Natural Science tickets now to enjoy the biggest discounts in the industry!
Here's the perfect part: company sign up and individual registration are totally free with your employee access code (EAC) or with your work email address. Yes, reading that again will not change the words. It is free! After registration, you can enjoy huge discounts on theme parks, water parks, museums, zoos, aquariums, and outdoor and indoor adventures!
Need some clarification? Find the answers to your questions below or reach out to us through text/call at 949-367-1900 or help@funex.com
Another benefit of purchasing with FunEx is that you do not need to print your Cockrell Butterfly Center at Houston Museum of Natural Science discount tickets.
Consider your phone your new best friend because all you need to do is present your discounted Cockrell Butterfly Center at Houston Museum of Natural Science tickets at the gates and viola, in you go!
Frequently Asked Questions
Are Reservations required at Cockrell Butterfly Center?

A: No, reservations are not required.

What are their opening and closing hours?

A: Monday: Noon – 5:00 p.m.; Tuesday – Sunday: 10:00 a.m. – 5:00 p.m. (last entry is at 4:30 p.m., plan to enter by 4:15 p.m.)

The average visit through the butterfly center is 30-45 minutes

Where is the Cockrell Butterfly Center located?

A: The Cockrell Butterfly Center at Houston Museum of Natural Science is located at 5555 Hermann Park Dr, Houston, TX 77030, United States

Is there free parking available?

A: There are multiple parking options available within the area including free parking. See this Area Parking Map for more info.

Do children get free admission?

A: Kids under 3 years old get in free.

Do I need to print out my ticket?

A: No need to print your ticket. However, you will need to swap your smartphone voucher for a paper ticket at the box office.

How soon do I get my discount ticket from FunEx?

A: Your tickets will be emailed to you immediately after purchase.

Can I bring my pet?

A: Only service animals are welcome.

Is photography allowed?

A: Yes, photography and videography are encouraged.

Are face coverings required?

A: Yes, wearing a face mask is required. Please bring your own. Signages and measures are in place to ensure safe social distancing. Guests may be subject to a temperature check; anyone showing symptoms (fever, cough, sore throat, etc.) may be denied for safety reasons.
COVID-19 Safety Measures
To protect you and those around you, these safety measures will be in place for your visit.
Wearing a face mask is required, please bring your own

Hand sanitizer available for visitors

Intensified cleaning and disinfecting

Reduced capacity to ensure a safe visit

Signage and measures in place to ensure a safe distance

Guests may be subject to a temperature check; anyone showing symptoms (fever, coughing, sore throat, etc) may be denied entry for safety reasons
Cockrell Butterfly Center Discount Tickets
General Admission Tickets (Adult)

Ages 12-61

Regular price $12.00

Discounted Price $9.84

Savings $2.16

General Admission Tickets (Child)

Ages 3-11

Regular price $10.00

Discounted Price $8.20

Savings $1.80

General Admission Tickets (Senior)

Ages 62+

Regular price $10.00

Discounted Price $8.20

Savings $1.80