Get your Franklin Drive Thru Zoo discount tickets from FunEx starting at $17.55. Save up to 10% off of gate price. Lowest price guaranteed!
Enjoy an epic adventure at Franklin Drive Thru Safari!
This one-of-a-kind zoo in Texas is definitely a must-visit for all animal lovers! Franklin Drive Thru Zoo is a family-friendly attraction where guests are welcome to feed and interact with their favorite exotic animals.
When visiting this animal adventure park, you can choose to drive your own vehicle through the Safari. You could also choose a guided tour with one of the park's knowledgeable staff. Either way, you still get access to the attraction's over 100 acres of gorgeous scenery. Don't forget to bring a camera to capture all those priceless memories!
Get your discount tickets through FunEx and enjoy an extraordinary Safari experience.
Where is Franklin Drive Thru Zoo?
This animal adventure park is located at 4324 West Highway 79
What are their opening hours?
They are open daily from 9:00 am to 5:00 pm.
The LOWEST-PRICED Franklin Drive Thru Safari Discount Tickets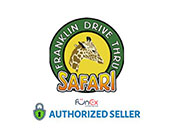 Lowest Prices Guaranteed!
FunEx is an authorized seller of Franklin Drive Thru Safari discount tickets. We couldn't have thrived for over 30 years if we weren't highly trusted by our customers. We would love for you to come join our family and enjoy the best price for Franklin Drive Thru Zoo discount tickets as well as other attractions nationwide!
Hassle-Free Transaction, Skip the Line!
Another benefit of purchasing from FunEx is that you do not need to print Franklin Drive Thru Safari discount tickets. Consider your phone your new best friend because all you need to do is present your e-tickets at the gates and, viola, in you go!
We Are Rated A+ By the Better Business Bureau!
Your purchases Franklin Drive Thru Safari discount tickets are backed by our A+ rating by Better Business Bureau!
Need some clarification? Find the answers to your questions by reaching out to us through:
Text/Call
at
949-367-1900
from 7:00 AM to 10:00 PM daily or,
Franklin Drive Thru Safari Tickets
General Admission (3+)

Discounted Price starts at $17.55

Buy Now

**Prices are dynamic and may change without notice. Purchase your tickets in advance to get the lowest prices.