Buy your Kemah Boardwalk discount tickets from FunEx starting at only $17.95! Save 10% vs gate price. FUN at the lowest price!
Discover Kemah Boardwalk!
For a fun-filled day, visit this stunning waterside attraction! Kemah Houston features thrilling rides and games that can be enjoyed by all ages.
Wondering where to go for your next family trip? This attraction has everything that you'll need. From exciting rollercoasters to kid-friendly rides, you'll be guaranteed to enjoy your visit. Enjoy fantastic rides like the Double-decker Carousel, Jungle Bounce and Pharaoh's Fury. They even have kid-friendly rides such as the Jungle Bounce and Wonder Wheel.
This family fun park is surrounded by amazing views of Kemah and the surrounding bay. If you want to experience an even better view, try visiting the Boardwalk Tower. See a unique bird's-eye perspective that reaches miles away!
Get your discount tickets from FunEx to enjoy this attraction that will make you feel like you're at a summer fair all year round!
The LOWEST-PRICED Kemah Boardwalk Tickets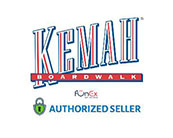 Lowest Prices Guaranteed!
FunEx is an authorized seller of Kemah Boardwalk discount tickets. We couldn't have thrived for over 30 years if we weren't highly trusted by our customers. We would love for you to come join our family and enjoy the best price for Kemah Houston discount tickets as well as other attractions nationwide!
Hassle-Free Transaction, Skip the Line!
Another benefit of purchasing from FunEx is that you do not need to print Kemah Houston tickets. Consider your phone your new best friend because all you need to do is present your e-tickets at the gates and, viola, in you go!
We Are Rated A+ By the Better Business Bureau!
Your purchases Kemah Boardwalk discount tickets are backed by our A+ rating by Better Business Bureau!
Need some clarification? Find the answers to your questions by reaching out to us through:
Text/Call
at
949-367-1900
from 7:00 AM to 10:00 PM daily or,
Frequently Asked Questions about Kemah Boardwalk
Where is Kemah Boardwalk located?

They are located at 215 Kipp Avenue.

What are their operating hours?

Here is their complete schedule:

Monday - 12 NN to 9 PM
Tuesday - 12 NN to 9 PM
Wednesday - 12 NN to 9 PM
Thursday - 12 NN to 9 PM
Friday – 12 NN to 10PM
Saturday – 11 AM to 10PM
Sunday 11 AM to 9 PM.

Do I need to print out my tickets?

There's no need! They accept smartphone tickets at the attraction. This means that you can simply show them the e-ticket on your phone and you'll be good to go.

What's included in my ticket?

Your discount ticket from FunEx provides you with an All-Day Ride Pass and unlimited access to all their rides.

What's not included in my ticket?

The following is not included in your Kemah Houston discount tickets:

Iron Eagle Zipline
Boardwalk Beast
Boardwalk Fantasea
Stingray Reef
Midway Games or Arcade

Is the attraction wheelchair accessible?

Yes, Kemah Boardwalk is wheelchair accessible.

Are service animals allowed?

Yes, Service animals are allowed in most areas at no additional cost.

Do children get free admission?

Kids under the age of 2 years old can enter for free but they must have a voucher and wristband.
Kemah Boardwalk Tickets
Child (Under 48") - All Day Ride Pass

Does NOT include the Iron Eagle Zipline, Boardwalk Beast, Boardwalk Fantasea, Stingray Reef, Midway Games, or Arcade

Discounted Price starts at $17.95

Adult (Over 48") - All Day Ride Pass

Does NOT include the Iron Eagle Zipline, Boardwalk Beast, Boardwalk Fantasea, Stingray Reef, Midway Games, or Arcade

Discounted Price starts at $23.61

Buy Now

**Prices are dynamic and may change without notice. Purchase your tickets in advance to get the lowest prices.