Enjoy savings of up to 10% off the gate price with Museum of Ice Cream discount tickets from FunEx! Lowest prices guaranteed! Discounts applied at checkout.
What to expect?
A three-story playground with as much ice cream as you can eat. Yes, you can spoil your sweet tooth of yours here! The world does not have a museum where you can learn about ice cream while enjoying a meal at a dessert table that floats on water, sliding down a three-story slide to retrieve your ice cream, or swimming in a pool filled with millions of sprinkles!
Only in this one spot can one truly achieve their wildest dreams. You are about to enter a magical realm where your wildest ice cream fantasies can come true and where you can find your imagination. FunEx is ready to save your day, though! Hit the purchase button NOW and immerse yourself in this vast ice cream world with our Museum of Ice Cream tickets!
FunEx Museum of Ice Cream Discount Tickets 2022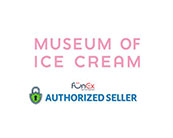 Lowest Prices Guaranteed!
FunEx is an authorized seller of discounted tickets for Museum of Ice Cream New York. We are one of the country's largest sellers of discounted deals, and we couldn't have thrived for over 30 years if our customers didn't highly trust us. We would love you to join our family and enjoy the best price of Museum of Ice Cream tickets and other attractions nationwide!
Hassle-Free Transaction, Skip the Line!
Another benefit of purchasing from FunEx is that you do not need to print your New York Museum of Ice Cream discount tickets. Consider your phone your new best friend because all you need to do is present your FunEx discount from your phone without hassle!
Plus, if you purchase Museum of Ice Cream tickets in advance through FunEx, you don't need to lineup at the ticket booth and gate entrance; skip the queue, as there are no wait times with us!
We Are Rated A+ By the Better Business Bureau!
Our A+ rating backs your Museum of Ice Cream discount ticket purchases by Better Business Bureau! Need some clarification? Find the answers to your questions by reaching out to us through:
Text/Call
at
949-367-1900
from 7:00 AM to 10:00 PM daily or,
Ice Cream Offerings
Scooping up an ice-exclusive menu and exquisite gastronomy are the ice cream specialties on offer.Sink your teeth into an endless supply of ice cream that features flavors, shapes, and toppings worldwide! The Museum serves the most excellent treats for every tastebud, including fantastically familiar flavors and un-cone-ventional bites. If you like creamy ice cream, crunchy ice cream, dairy-free ice cream, or fruity ice cream, the Museum has the perfect frozen confection.
Frequently Asked Questions
Are reservations needed before going to the theater?

Yes. Online reservation is a must! Please note that the museum doesn't sell tickets at the door.

Where is the Museum of Ice Cream New York exactly located?

The Museum is located at 558 Broadway, New York, NY 10012, United States.

How soon do I receive my FunEx Museum of Ice Cream discount ticket?

You will receive your electronic Museum of Ice Cream ticket together with your receipt instantly after a successful online purchase. Please check your inbox, as tickets are sent through email.

You may also check your email's spam folder if you are still looking for them in your inbox. Feel free to call or email us if you have any additional questions. We are happy to serve you!

Do I have to print out everything I get in my email?

Nope, there's no need to print! We provide our customers with the most convenient way possible in addition to our very affordable prices. FunEx Museum of Ice Cream discount tickets can be presented via mobile device. The entrance staff might be asking for an additional valid ID for verifications, so please bring one to be sure.

Can I request a refund or exchange my Museum of Ice discount ticket?

Unfortunately, no. Museum of Ice Cream tickets are non-refundable. But the good thing is, you can reschedule them. Just contact hello@museumoficecream.com for further assistance.

Does my ticket include ice cream?

Yes! Your reservation comes with a variety of delectable goodies for you to enjoy.

What should I bring inside the museum?

Not much. Just bring an ID with your photo and your mask. Wearing a mask is highly appreciated.

Can I go at my own pace through the trip, or do I need a guide?

Visitors can now spend as much time as they wish exploring the many displays at the Museum of Ice Cream. To ensure that your experience is informative and entertaining, #TeamMOIC will lead any unique activities.

What are the operating hours of the Museum of Ice Cream New York?

The following are the updated hours the museum is open to guests:

Mondays – 11:00 AM to 7:00 PM

Tuesdays – Closed

Wednesdays – 11:00 AM to 7:00 PM

Thursdays – 11:00 AM to 7:00 PM

Fridays – 11:00 AM to 8:30 PM

Saturdays – 10:00 AM to 8:30 AM

Sundays – 10:00 AM to 7:30 PM

** Operating hours are subject to change and may vary. Please check the official Museum of Ice Cream New York website before going. **

When do I have to be there?

Please arrive on time. Remember that your ticket is only suitable for the date and time you bought it. The museum will give you a 10-minute grace period after your 30-minute reservation. You can change your reservation at least 24 hours before you arrive, but you can't change it the day of or after because we have a set number of seats and can't fill your spot if you don't show up.

How long can I stay inside the museum?

The duration of the ticketed experience is estimated to be between one and one and a half hours. After you have finished the activity inside, you are welcome to unwind at the cafe.

Do I need to buy my child a separate Museum of Ice Cream ticket?

Yes. Guests aged two years and below are free of charge. Parents are reminded to use their time wisely.

Do I need to wear a mask or face coverings when entering the museum?

We ask all guests who haven't had the vaccine to wear masks in the space. The Museum will maintain cleanliness standards and offer masks and hand sanitizer to anyone who asks for them.
Museum of Ice Cream Tickets
Pinkmas Admission

Discounted Price starts at $50.10

Buy Now

**Prices are dynamic and may change without notice. Purchase your tickets in advance to get the lowest prices.