Save up to 10% off of the gate price with Moulin Rouge! The Musical discount tickets from FunEx! Lowest prices guaranteed!
Overview
Step into a world where majesty and romance reign supreme, where dazzling extravagance, glittering splendor, and spectacular luxury are the order of the day! Imagine a world in which bohemians and aristocrats freely mix and interact with one another while basking in the same enchanting beauty.
The ground-breaking film directed by Baz Luhrmann is brought to life on stage in a brand-new musical mash-up spectacle. This musical is directed by Alex Timbers, who won the Tony Award for Best Director of a Musical. This musical celebrates a variety of concepts, including but not limited to Truth, Beauty, Freedom, and, most importantly, Love. Because of the brilliance of Tony Award-winning writers John Logan and Justin Levine on the book, as well as Sonya Tayeh on the choreography, Moulin Rouge! The Musical is more than just a musical; it's an attitude!
FunEx Moulin Rouge! The Musical Discount Ticket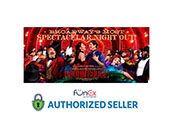 Lowest Prices Guaranteed!
FunEx is an authorized seller of Moulin Rouge tickets for New York. We couldn't have thrived for over 30 years if our customers didn't highly trust us. We would love for you to join our family and enjoy the best price for Moulin Rouge tickets and other attractions nationwide!
Hassle-Free Transaction, Skip the Line!
Another benefit of purchasing from FunEx is that you do not need to print your Moulin Rouge tickets. Consider your phone your new best friend because all you need to do is present your FunEx discounted tickets from your phone without hassle!
Plus, if you purchase a Moulin Rouge discount in advance through FunEx, you don't need to lineup at the ticket booth – literally, skip the queue, there's no wait times!
We Are Rated A+ By the Better Business Bureau!
Our A+ rating backs your purchases of Moulin Rouge discounts by Better Business Bureau! Need some clarification? Find the answers to your questions by reaching out to us through:
Text/Call
at
949-367-1900
from 7:00 AM to 10:00 PM daily or,
Frequently Asked Questions
Are reservations to the musical theatre required?

Yes. The theatre encourages guests to pick a date and showtime before visiting.

Where is Broadway Moulin located?

The Musical theatre is located at Al Hirschfeld Theatre, 302 West 45th Street, New York, NY 10036.

How soon do I receive my FunEx discount tickets?

When you make a successful online purchase with FunEx, you will get your e-tickets and receipt at the same time. After you make a purchase, check your email often. Check your spam folder if you don't see it in your inbox.

Do I need to bring a physical/printed copy of my FunEx discount tickets?

No, there's no need to bring a printed copy of the FunEx Moulin Rouge discount. Just save a copy to your phone and show them to the venue staff. Smartphone e-tix are accepted at the box office.

What are the theatre's operating hours?

The theatre is open on the following schedules:

Mondays: 10:00 AM to 6 PM

Tuesdays through Saturdays: 10:00 AM to 8:00 PM

Sundays: 12:00 PM to 6:00 PM for 3:00 PM or 5:00 PM shows

Sundays: 10:00 AM to 7:30 PM for 1:30 PM and 7:30 PM shows

Are guests required to wear a mask?

Based on the recent guidelines of the theatre, masks are now optional. Visitors are encouraged to wear them but are not required.

Is there a minimum age requirement?

Yes. The musical theatre is recommended for guests aged 12 and up.

What is the total length of the show, including intervals?

The show will run for approximately 2 hours and 35 minutes, inclusive of one intermission.
** Tickets are non-refundable, non-transferable, and non-exchangeable. Please be advised to arrive 30 minutes early at the venue before your selected time. **
Moulin Rouge! The Musical Tickets
Side Mid Mezzanine

Rows G-N

Discounted Price starts at $114.40

Side Read Orchestra

Rows P-R

Discounted Price starts at $135.39

Center or Front Side Mezzanine

Rows E-H, rows A-D

Discounted Price starts at $156.38

Buy Now

**Prices are dynamic and may change without notice. Purchase your tickets in advance to get the lowest prices.