Get discount Oktoberfest 2022 tickets starting at only $18.50! Save up to 54% on our cheap tickets. Join this festival in LA! Lowest prices guaranteed.
The package includes admission, a stein, and one free pour for one person on the day for which the package is purchased.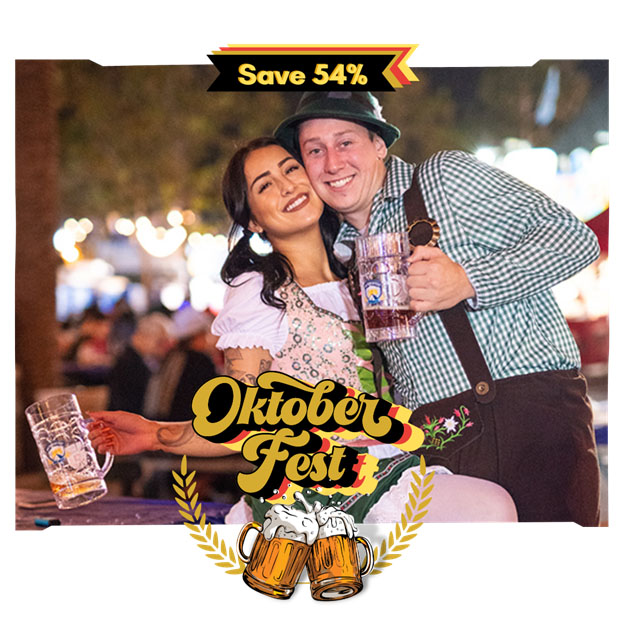 Bavarian music. Beer. Genuine German cuisine. Beer. Chicken Dance. Beer. Games and awards. At Fairplex, the home of the L.A. County Fair, Oktoberfest brings a taste of Germany to Los Angeles. This fair is a tribute to the largest beer festival in the world and a celebration of Bavarian culture. This event offers all the excitement and German heritage that Los Angeles has to offer.
Get your discount Oktoberfest 2022 tickets from FunEx to join in on the music and beer festival!
As visitors enter Oktoberfest, which is filled with Oom Pa Pa music, games and prizes, The Chicken Dance, genuine German food, and gallons upon gallons of beer, they are "transported" to Bavaria.
No outside cups, containers or beer steins allowed.
Last call at 10:30pm.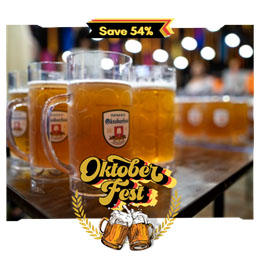 Brush Up Your Beer Vocabulary!
With the different types of beer available to you with your discount Oktoberfest 2022 tickets, make sure to refresh or relearn the lingo! See below for the perfect types of beer that will be quenching your thirst all night.
Ale: Beers differentiated by the use of superior Saccharomyces cerevisiae yeast strains during fermentation.
Amber: Any top or bottom fermented beer that is amber in color, or in the range of light and dark.
Barley: A malted cereal grain used to make the grist that is turned into the mash during the brewing of beer.
Body: A beer's thickness and ability to fill the tongue is referred to as being "full or thin bodied."
Draft: The procedure for releasing beer from a beer tank, cask, or keg using a hand pump, air pressure from an air pump, or carbon dioxide pumped into the beer container before sealing.
Eat Up! Dining Options at Oktoberfest 2022
All of your favorite German foods, plus a few food trucks.
Bratwurst, knockwurst, and even sweet corn will be grilled. Don't forget to include traditional German dishes like potato salad and pancakes.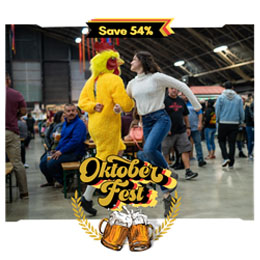 Entertainment at Oktoberfest 2022
This festival will not be the same without music and entertainment for everyone! Get to see these artists and bands perform and raise the energy through the roof!
The Rheinlanders

A traditional German band that will surely get your dancing, clapping, and singing along! Catch them each night from 6 to 11 PM.

DJ Danz Halle

Dance the night away from 8-11 PM!

No Duh Band

Bringing cool tunes to you on October 7 and 8th, at 6:15, 7:15, 8:15 and 9:15 p.m.

And more! Join in on the fun to get to vibe to these artists at the festival!
Why Go with FunEx for Your discount Oktoberfest 2022 ticket
The Industry's Lowest Price Discount Ticket!
Our company offers the lowest prices on discounted tickets to your favorite destinations. We do offer our customers exceptional discounts and the lowest rates for discount Oktoberfest 2022 tickets. We have provided tens of thousands of users with the most affordable discount Oktoberfest 2022 tickets, as well as excellent corporate incentives. Buy your discount tickets now to reap the benefits of the largest savings in the history of the market industry!
Visits are Made Easier: Skip the Queue!
Imagine spending more money on a pass or on a regular Oktoberfest 2022 ticket and you're waiting in line to get in - this is something you'll never experience when you buy your discount Oktoberfest 2022 tickets through FunEx! To avoid waiting in line at the ticket booth, you can now buy your discount tickets in advance through online purchase and save the hassle. That's more convenient; as the gate opens, you may start your Oktoberfest 2022 adventure immediately!
Trusted and the Biggest Discount Oktoberfest 2022 Tickets Seller!
Fun Express has been given an A+ rating by the Better Business Bureau (BBB), so you know you're getting a good deal on your purchase of discount Oktoberfest 2022 tickets.
Need some clarification? Find the answers to your questions by reaching out to us through:
Text/Call at 949-367-1900 from 7:00 AM to 10:00 PM daily or Email help@funex.com
Frequently Asked Questions for Oktoberfest 2022
Where is Oktoberfest 2022 going to be held?

Jump in with beer in your hand and your dancing shoes at Expo Hall 10 at Pomona, CA 91768, United States!

Are outside containers allowed?

No, they are not allowed, as well as outside cups, and beer steins.

What are the hours for Oktoberfest 2022?

Oktoberfest 2022 will be open from October 7th to the 22nd, Fridays and Saturdays from 6PM to 11PM.

What are the ages allowed for Oktoberfest 2022 attendees?

Only attendees aged 21 years old and above are allowed into the event. Last call is at 10:30 PM.

Is there free parking?

Parking is not free. General parking is offered at Gate 17. There is a drop-off and pick-up location for Uber, Lyft, and taxis near Gate 1 on McKinley Avenue.

Are IDs required upon entry?

Yes. Please make sure to bring and present a valid U.S. or government-issued ID with your photo and date of birth. It may also a valid U.S. or foreign government-issued passport that has your photo and date of birth.

Please note that for Non-U.S. resident attendees, a passport will be required for entry. A non-U.S. license will not be accepted.

What forms of identification will not be accepted?

The following will not be accepted:

School ID
Birth Certificate
Social Security Card
Consular identification
Non-US issued license
Expired identification of any kind
Temporary paper identification
Others not listed
Oktoberfest Tickets
Must Use FunEx Promo Code at Check out to receive up to 54% off.

Promo Code

FUNEX22

The package includes admission, a stein, and one free pour for one person on the day for which the package is purchased.

Admission & Beer Stein Special (Fridays)

Discounted Price 18.50

Admission & Beer Stein Special (Saturdays)

Discounted Price $22