Get up to $15 off when you buy your discount tickets to Old Town Trolley Tours San Diego from FunEx today! Lowest prices guaranteed.
---
---
What does the 2-Day Old Town Trolley Tour Include?
Old Town Trolley Tours has been providing the best tour since 1989. Their carefully laid-out tour highlights the best San Diego has to offer. Your 2-Day ticket includes:
Free unlimited re-boarding for two (2) days in a row
There are 12 Old Town Trolley stops where you can hop on and off.
Trolley ticket includes admission to ten museums* (a $20 value).
A free shuttle service is available for a few hotels (Friday - Sunday)
Free discount coupons worth $30
Photo opportunities abound with open-air sightseeing.
Only a hop-on, hop-off tour over the Coronado Bridge
The largest fleet in San Diego, with the most frequent service
A day planner is included in the free map brochure.
In October, children are free. Each adult is entitled to one free child.
---
Coined as "San Diego's Best Tour", Hop on and off the Old Town Trolley Tours. Catch the orange and green trolleys as they circle the 25-mile route on San Diego-Coronado Bridge to Coronado. You can hop off the trolley and explore an area then hop on again to see more of "America's Finest City". There are 12 stops to the tour with frequent pick-ups at all the stops so you sure won't miss all the non-stop fun.
Get the best deals on Old Town Trolley Tours San Diego tickets from Funex today!
Why choose FunEx for your discount tickets?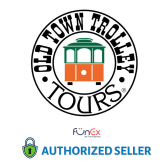 Lowest Prices Guaranteed!
FunEx is an authorized seller of Old Town Trolley Tours San Diego tickets. We are the largest seller of discount tickets in the country, and we couldn't have thrived for over 30 years if we weren't highly trusted by our customers. We would love for you to come join our family and enjoy the best price for Old Town Trolley Tours San Diego tickets as well as other attractions nationwide!
Hassle-Free Transaction, Skip the Line
Another benefit of purchasing with FunEx is that you do not need to print your discount tickets. Consider your phone your new best friend because all you need to do is present your tickets at the gates and, voila, in you go!

We Are Rated A+ By Better Business Bureau!
Your purchases of discount Old Town Trolley Tours San Diego tickets are backed by our A+ rating by Better Business Bureau!
Need some clarification? Find the answers to your questions by reaching out to us through:
Text/Call at 949-367-1900 from 7:00 AM to 10:00 PM daily or Email help@funex.com
12 Old Town Trolley Stops in San Diego
Old Town Market (Stop A)
A trip down memory lane for the first stop of the tour. In here, you'll find the vibrant origins of Old Town San Diego in the free museum. Watch artisans in their work, visit 40 unique gift shops, celebrate at the Festival Marketplace, and grab a bite to eat. Get the best deals on Old Town Trolley Tours San Diego tickets from Funex today!
Maritime Museum (Stop B)
Walk the decks and feel like an 1800s explorer! For the next stop, you'll have a look on the finest collection of historic ships. Maritime Museum is dedicated to restoring, preserving, and operating historic vessels. Their star—the glorious Star of India, the world's oldest active ship. Beautifully restored, the Star of India is ardently maintained and sets sail at least once per year.
Embarcadero Marina (Stop C)
If you're looking for a quick respite from the bustling downtown San Diego, take in the fresh air and scenic view of the Embarcadero Marina. Stroll down the harbor and visit memorials and statues commemorating the bravery of Naval Military Personnel like the USS San Diego Memorial and much more. Get the best deals on Old Town Trolley Tours San Diego tickets from Funex today!
Seaport Village (Stop D)
Worried you'll be empty-handed after the tour? Not to worry! Seaport Village got you covered. Peruse the village for the best souvenirs to take home, shop at Tervis and The Best of San Diego, grab brunch at Busters, and feast your eyes as street performers charm the crowd. Just next to the village is The Headquarters. Home to famous restaurants such as Seasons 52, The Cheesecake Factory, and Eddie V's. What used to house the San Diego Police Headquarters is now a major dining and shopping location. There are plenty of activities to enjoy. You surely can't miss the Seaport Village on your visit.
Marriott Marquis and Marina (Stop E)
Convenience and pristine views—Marriot Marquis and Marina is situated perfectly so you can hop on and off the trolley anytime. Lots of activities are within arm's reach at the harbor and the San Diego Convention Center is just next door! Get the best deals on Old Town Trolley Tours San Diego tickets from Funex today!
Gaslamp Quarter (Stop F)
Coined as the "Historic Heart of San Diego" the Gaslamp Quarter is home to beautiful stained-glass windows, moldings, railings, and all the old-time charm of San Diego. This quarter is visited by the millions. The streets are humming with life. It is filled with restaurants, shops, theaters, galleries, bars, and nightclubs.
East Convention Center—Petco Park and Hilton Bayfront (Stop G)
Petco Park is surely a sight to see for baseball fans. This park not only offers the best sightline in baseball but also a stunning view of San Diego. Their state-of-the-art facilities ensure an enjoyable experience for all fans with different budgets. This architectural feat celebrates San Diego's history, landmarks, and the spirit of its people. Come to Hilton Bayfront to relax and see the idyllic views of San Diego Bay, Coronado, and Coronado Bay Bridge.
Barrio Logan (Stop H)
Home to San Diego's oldest community—Barrio Logan took in the rush of refugees from the Mexican Revolution during 1910 and at one point had the highest concentration of Mexican Americans than in any other community in California. Now, it's a hub for Mexican dining, the country's largest collection of vibrant outdoor murals, an official historic site by the San Diego Historical Site Board in 1980, and a National Historic Landmark in 2017.
Hotel del Coronado (Stop I)
Bask in the sun at the renowned Hotel del Coronado's rich history that spans political leaders and famous celebrities. This iconic hotel hosted some of the most famous people in history like Benjamin Harrison, Marilyn Monroe, and legendary athletes like Babe Ruth. Created by the founders of Coronado, Hotel del Coronado continues to inspire and create history to this day. Get the best deals on Old Town Trolley Tours San Diego tickets from Funex today!
Coronado/Orange Avenue (Stop J)
Explore the shores of Coronado beach! Surfers will surely enjoy the #2 Beach in America and the #1 family beach. This area does not fall short with activities such as dining, surfing, biking, and places to stay like Hotel del Coronado, Glorietta Bay Inn, and Coronado Beach Resort.
Balboa Park/Zoo (Stop K)
San Diego Balboa Park welcomes you to a 1,200-acre of botanical beauty, 15 museums, engrossing performing arts and musical theaters, the Spanish Moor architecture, and more. This is America's largest urban cultural park that draws in more than 500,000 visitors a year.
Little Italy (Stop L)
This 48-square-block Italian neighborhood of northwest downtown San Diego is the largest in the country. This signifies the major cultural contribution the Italians have made since the 1920s. This neighborhood hosts festivals throughout the year, charming cafes, art galleries, and a beautiful urban park. Get the best deals on Old Town Trolley Tours San Diego tickets from Funex today!
The 10 Free Museums with your Old Town Trolley Ticket
Coronado Historical Museum—Stop J
Museum of Us—Stop K
San Diego Firehouse Museum—Stop L
Mormon Battalion Museum—Stop A
Seeley Stable Museum/California State Park—Stop A
Old Town Railroad Museum—Stop A
San Diego Chinese Historical Museum—Stop E
San Diego History Center—Stop K
Veterans Museum Balboa Park—Stop K
Hotel del Coronado/Ice House Museum—Stop I
*Valid for two consecutive days from date of purchase. Museum of Us is valid within seven days of trolley tour purchase. Some museums offer free admission.
Last updated September 26, 2022.