Buy your Space Center Houston discount tickets from FunEx starting at only $20.46. Save 17% vs gate price.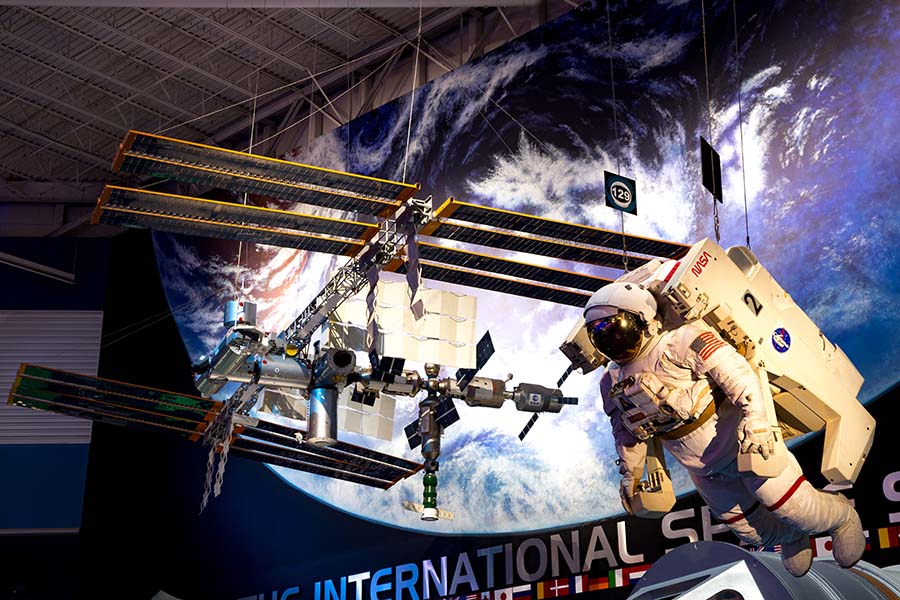 Enjoy big discounts when buying your Space Center Houston tickets through FunEx.com!
Be taken on an outer space adventure like no other! Visit Houston's number 1 attraction for international visitors.
Overview
On 20 July 1969, Apollo 11's lunar module lands on the moon. It may be the most important day in the history of space exploration. After more than a decade of struggle in the space race, NASA lands a huge win for America, but also for mankind.
Now visitors can pay homage to the astronauts and dreamers who made it all possible, with a visit to the Houston Space Center. See crafts that have been into orbit, get up close to space suits, and find out more about the future of space travel.
This leading science and space exploration center is one of Houston's top attractions! With guests from all over the world, Space Center Houston provides exciting experiences for the whole family! What's known as the cornerstone of The Manned Space Flight Education Foundation prioritizes providing extraordinary learning opportunities for all. The center offers 400 artifacts, exhibits, experiences and theaters all accessible through your discount ticket from FunEx!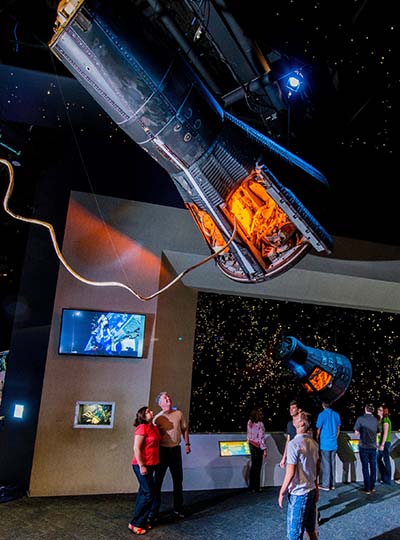 Why pick FunEx?

Our company guarantees to give you discounted tickets to your favorite attractions at the best price.
As the largest reseller of discount Space Center Houston tickets, we are able to provide our customers with exclusive discounts and best prices for Space Center Houston tickets. For the past 30 years, we have offered the cheapest discount tickets and discount passes possible and great corporate benefits to thousands of companies.
Buy your Space Center Houston tickets now to enjoy the biggest discounts in the industry!
Here's the perfect part: company sign up and individual registration are totally free with your employee access code (EAC) or with your work email address. Yes, reading that again will not change the words. It is free! After registration, you can enjoy huge discounts on theme parks, water parks, museums, zoos, aquariums, and outdoor and indoor adventures!
Need some clarification? Find the answers to your questions below or reach out to us through text/call at 949-367-1900 or help@funex.com
Another benefit of purchasing with FunEx is that you do not need to print your Space Center Houston discount tickets.
Consider your phone your new best friend because all you need to do is present your discounted Space Center Houston tickets at the gates and viola, in you go!
Nasa Tram Tour
Experience Space Center Houston's most famous attraction, the NASA Tram tour! You'll get a closer behind the scenes look at human space exploration. Get to see what happens at NASA Johnson Space Center where flight controllers support our women and men in space.
Get to tour George W.S Abbey Rocket Park, the Astronaut training facility and the mission control center. Learn more about our modern-day heroes on NASA Tram tour! Get your tickets to this fantastic space adventure through FunEx to enjoy up to 10% discounts!
What to do at The Space Center Houston!
Still need convincing about whether you should visit? Here's a few exhibits and happenings at Space Center Houston that is sure to make your visit an unforgettable one!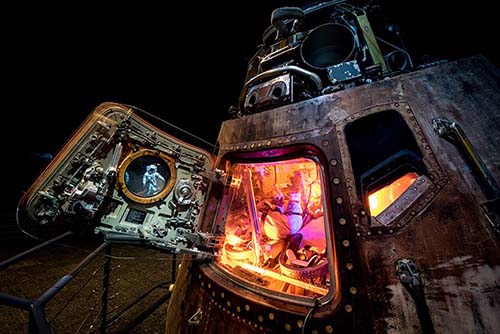 Space Center Houston has a Starship Gallery!
This exhibit shows off multiple flown spacecrafts and national treasures. You'll get to see some amazing artifacts and learn more about the progression of human space exploration. You'll get to see the Apollo 17 Command Module, Gemini V, a Lunar Roving Trainer and so much more!
Come see the SpaceX Falcon 9 Booster Exhibit
See up close the Falcon 9 Booster Exhibit at The Space Center Houston. At this exhibit, you'll get to see the future of space travel: reusable spacecrafts! This craft that could be relaunched quickly was the technology that made the International Space Station (ISS) possible! Learn more about the genius space innovations when visiting The Space Center Houston.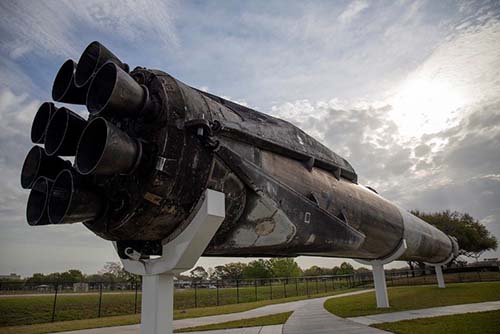 Ever dreamed of being an astronaut? Visit The Astronaut Gallery!
If you've ever dreamed of being a space traveler, this exhibit is for you! The Space Center Houston is home to the world's most comprehensive collections of astronaut spacesuits, apparel and so much more! Get to see suits worn by your favorite astronauts and learn more about these present-day heroes.
Experience a virtual Martian sunset!
The Space Center Houston presents Mission Mars: a virtual Martian sunset! You'll get to climb aboard into a simulated Orion capsule. Explore this red planet inspired exhibit where you'll see a gorgeous simulated Martian sunset and even get to touch a real piece of Mars!
Sit back and enjoy Films & Live Presentations!
Space Center Houston presents films and live presentations made to enhance your space exploration adventure! You'll get to learn more about how astronauts live in the International Space Station and more on one of the largest screens in Texas!
Frequently Asked Questions
Are reservations required?

Yes! You will have to reserve a timeslot after booking your ticket.

What are the opening and closing hours for Space Center Houston?

A: It is open from 10AM to 5PM. Hours of operations are subject to chance without notice due to unforeseen events or circumstance. For their full schedule, click here.

Where is The Space Center Houston located?

A: They are located at 1601 E NASA Pkwy, Houston, TX 77058, USA.

Is there free parking?

A: Parking at Space Center Houston is $5. Parking is automatically added to online ticket purchases. Parking can also be paid at the ticket booths.

Do children get free admission?

A: Children ages 4 and younger get free admission.

How soon do I get my discount tickets from FunEx?

A: Your e-tickets will be emailed to you immediately after purchase!

Are there items that are not allowed inside The Space Center Houston?

A: Weapons including guns, firearms, stun guns, pepper spray, pocket knives and the like are not allowed in the premises. Luggage such as oversized backpacks, suit cases and large duffel bags are also not allowed. Alcoholic beverages are not permitted. Camera accessories, aerial drones and costumes/character masks are also not allowed.

Can I bring outside food and drinks?

A: As a general rule, Food and coolers are not permitted inside the facility unless necessary for dietary requirements or medical needs.

Can I bring my pet?

A: Sadly, pets are not allowed with the exception of service animals.

Are face coverings required?

A: Face masks for fully-vaccinated guests ages two and older are highly recommended indoors and are required for all guests while on the NASA Tram Tour. 

If guests are fully vaccinated AND are at least two weeks past receiving their final dose, those guests are no longer required to wear a face mask or physical distance; however, face masks are required for unvaccinated guests at all times and are required for all guests on the NASA Tram Tour. 

Acceptable face coverings (disposable or reusable) for Space Center Houston include:
PPEs such as N95 respirators or surgical masks
Cloth face coverings with at least two layers of breathable material
Neck gaiters

All face coverings must fully cover the nose and mouth and secure under the chin; fit snugly but comfortably against the side of the face; and be secured with ties or ear loops to allow the guest to remain hands-free.
Last updated April 21, 2023.
Space Center Houston + NASA Tram Tour Discount Tickets
General Admission Tickets (Adult)

Ages 12-64

Regular price $29.95

Discounted Price $24.56

Savings $5.39

General Admission (Child)

Ages 4-11. Only in combination with: Adult (12-64), Senior (65+)

Regular price $24.05

Discounted Price $20.46

Savings $3.59

General Admission Tickets (Senior)

Ages 65+

Regular price $27.95

Discounted Price $22.92

Savings $5.03