Visit Sails to Rails Museum
Take a trip back in time and journey through the age of sail at this Key West Museum! This top attraction is suitable for all ages and is definitely family-friendly.
A visit to Key West is not complete without a unique tour of its past. Sails to Rails Museum offers just that! This Key West Museum is a living tribute dedicated to the Age of Sail and its world-wide significance. Explore the rich history through authentic artifacts and engaging exhibits that allows guests to immerse themselves in the rich history of Key West. On your visit, you even get a chance to lift a genuine silver bar from a real Spanish Galleon!
At this Key West Museum, discover a diorama of Fort Jefferson National Park and even video presentations on the Overseas Railroad. With all this tour has to offer, you will definitely have an educational and entertaining time. It's the perfect family-friendly activity to enjoy together!
Get your discount tickets through FunEx to discover more of what this interesting Key West Museum has to offer. We sell tickets with the lowest price guaranteed!
Discount Tickets to Sails to Rails Museum from FunEx
Lowest Prices Guaranteed!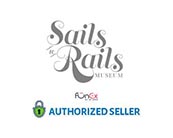 FunEx is an authorized seller of Sails to Rails Museum discount tickets. We are the largest seller of Key West Museum discount tickets in the country, and we couldn't have thrived for over 30 years if we weren't highly trusted by our customers. We would love for you to come join our family and enjoy the best price for Sails to Rails Museum as well as other attractions nationwide!
Hassle-Free Transaction, Skip the Line!
Another benefit of purchasing with FunEx is that you do not need to print Savannah Ghost Tour discount tickets. Consider your phone your new best friend because all you need to do is present your e-tickets at the gates and, viola, in you go!
We Are Rated A+ By Better Business Bureau!
Your purchases of Key West Museum tickets are backed by our A+ rating by the Better Business Bureau!
Need some clarification? Find the answers to your questions by reaching out to us through:
Text/Call
at
949-367-1900
from 7:00 AM to 10:00 PM daily or,