Enjoy savings of up to 10% off the gate price with Six: The Musical discount tickets from FunEx! Lowest prices guaranteed!
Overview
It ended in divorce, death by beheading, another divorce, death by beheading, and the survivor's divorce. The six wives of Henry VIII, who ranged in status from queen to pop icon, sing lead on this upbeat mashup of 500 years of sorrow and the triumph of modern women. People worldwide are going crazy for this brand-new, original musical.
In the 2021-2022 Broadway season, Six Broadway received 23 honors, including Best Original Score (Music and Lyrics) at the Tony Awards and Best Musical at the Outer Critics Circle Awards. The New York Times calls SIX a "Critic's Pick" because it "totally rules," while The Washington Post writes of the play that it provides just the energetic, uplifting illumination this town pines for.
After its first month of release, the SIX: Live on Opening Night Broadway Album racked up over 6 million streams, making it the most streamed cast album in Billboard history. They were penned by toby Marlow & Lucy Moss. Experience the 21st Century Girl Power Six's powerful performance in New York with FunEx Six: The Musical tickets!
FunEx Six: The Musical Discount Tickets 2022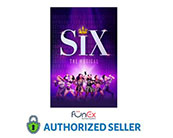 Lowest Prices Guaranteed!
FunEx is an authorized seller of discounted tickets for Six: The Musical New York. We are one of the country's largest sellers of discounted deals, and we couldn't have thrived for over 30 years if our customers didn't highly trust us. We would love you to join our family and enjoy the best price of Six: The Musical tickets and other attractions nationwide!
Hassle-Free Transaction, Skip the Line!
Another benefit of purchasing from FunEx is that you do not need to print your New York Six: The Musical discount tickets. Consider your phone your new best friend because all you need to do is present your FunEx discount from your phone without hassle!
Plus, if you purchase Six: The Musical tickets in advance through FunEx, you don't need to lineup at the theater entrance; skip the queue, as there are no wait times with us!
We Are Rated A+ By the Better Business Bureau!
Our A+ rating backs your Six: The Musical discount ticket purchases by Better Business Bureau! Need some clarification? Find the answers to your questions by reaching out to us through:
Text/Call
at
949-367-1900
from 7:00 AM to 10:00 PM daily or,
Frequently Asked Questions
Are reservations needed before going to the theater?

Yes. Your purchase of Six: The Musical discount tickets from FunEx is your reservation. All you need to do is pick a date and time of the show that best suits your schedule during your online transaction.

Which theater does Six Broadway perform in New York?

The Six Broadway Show performs at Brooks Atkinson Theatre, 256 West 47th Street, New York, NY 10036, United States.

How soon do I receive my FunEx Six: The Musical discount ticket?

After your successful online purchase, you will instantly receive your electronic Six: The Musical ticket together with your receipt. Constantly check your email. You should also check your spam folder if you don't find them in your inbox.

Do I need to print everything that's sent to my email?

No need to print them. FunEx offers the fastest and the most convenient way possible in terms of access to the theater. Just save a copy of them to your phone and show it to the box office or the venue staff then you're good to go. No worries at all, the theater accepts digital Six: The Musical tickets.

Can I request a refund if I miss the show or change my mind?

Unfortunately, no. Before purchasing, you must ensure that your chosen date and time are final. The theater strictly implements a no-rescheduling policy as well. All Six: The Musical tickets are non-refundable and non-exchangeable.

Do I need to purchase a separate Six: The Musical ticket for my child?

Yes. Every guest coming to the theater should secure Six: The Musical discount tickets regardless of age. Please note that the show is recommended for viewers aged ten and above.

Is my child allowed to enter the theater to watch the show?

Yes. However, guests under five years old are not permitted to enter the theater. Please be advised that the show is recommended for ages ten and up.

What is the runtime of the Six Broadway performance?

The show runs for approximately no intermission for 80 minutes long.

What are the operating hours of Six Broadway New York?

Please note the following schedules the theater is open to the public:

Mondays to Saturdays – 10:00 AM to 8:00 PM

Sundays – 12:00 PM to 6:00 PM

What protocols for health and safety will be in place at the theater?

SIX and the Lena Horne Theatre will adhere to New York State, New York City, and CDC rules to ensure the safety of all actors, production staff, and theatre employees. As public health conditions and the State's guidelines for performing arts and live entertainment grow, the theater will remain adaptable and comply with all relevant health procedures, such as face coverings, health checks, improved air filtration and ventilation, and thorough disinfection and cleaning procedures.
Six: The Musical Tickets
Rear Mezzanine

Discounted Price starts at $80.53

Side Front Mezzanine

Discounted Price starts at $133.17

Side Orchestra / Center Rear Orchestra

Discounted Price starts at $143.70

Buy Now

**Prices are dynamic and may change without notice. Purchase your tickets in advance to get the lowest prices.