Buy your Ghost Tour tickets from FunEx starting at only $31.88 vs gate price $39.85. Save up to 22%. Lowest price guaranteed!
Visit Ghost and Gravestones Boston!
The trolley of the doomed awaits you at Ghosts and Gravestones Boston! Do you think you're brave enough to explore the scariest Boston has to offer? If yes, then this attraction is for you!
With your ghost tour tickets, explore Boston's most haunted sites with your host, a 17th century grave digger! Hear the goosebump inducing stories about the most unfortunate souls on this historical ghost tour. You will get to walk amongst the dead in a 400-year-old burial ground and learn about Boston's largest grave robbing scandal. You'll also get a tour of Boston's most haunted hotel: The Omni Parker House.
Ghost and Gravestones Boston tour also involves a whole cast of spooky characters that will accompany you through the city's darker side. You do not want to miss out on this fun, spooky and informative tour!
Get your ghost tour tickets from FunEx and see what this frightening and awesome ghost tour has to offer! FunEx offers discount tickets at the lowest price possible.
Discount Tickets to Ghost and Gravestones Boston from FunEx
Lowest Prices Guaranteed!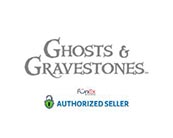 FunEx is an authorized seller of Ghost and Gravestones Boston discount tickets. We are one of the largest sellers of Ghost and Gravestones Boston discount tickets in the country, and we couldn't have thrived for over 30 years if we weren't highly trusted by our customers. We would love for you to come join our family and enjoy the best price for Ghost Tour Tickets as well as other attractions nationwide!
Hassle-Free Transaction, Skip the Line!
Another benefit of purchasing with FunEx is that you do not need to print your Ghost and Gravestones Boston discount tickets. Consider your phone your new best friend because all you need to do is present your e-tickets at the gates and, viola, in you go!
We Are Rated A+ By Better Business Bureau!
Your purchases Ghost Tour tickets are backed by our A+ rating by the Better Business Bureau!
Need some clarification? Find the answers to your questions by reaching out to us through:
Text/Call
at
949-367-1900
from 7:00 AM to 10:00 PM daily or,
Last updated April 21, 2023.