Buy cheap discount Legoland New York tickets for only $60.99 vs $89.99 gate price! Lowest prices guaranteed with FunEx!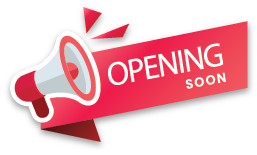 LEGOLAND New York is now open!
ALL NEW: 1-Day Legoland Entry + Round Trip Bus Ticket
Be transported via Coach USA from Midtown Manhattan to Legoland NY! Buses depart from Gate 409 on the 4th floor of the Port Authority.
Bus Schedule:
Port Authority/NYC to LEGOLAND New York: 8:30 am; 9:30 am; 10:30 am

LEGOLAND New York to Port Authority/ NYC: 3:45 pm; 5:00 pm; 6:15 pm
Port Authority Address: 42nd St. & 8th Ave. New York, NY 10018
Guest must visit ticket booths at Port Authority to obtain bus ticket located 1st floor, South building, Booths 11-15.
Round trip bus transportation is provided from Port Authority Bus Terminal New York City: 625 8th Avenue New York, NY
Overview
LEGOLAND New York tickets are not out of your range anymore. Yes! You read it right. FunEx is offering huge discounts on them! With these LEGOLAND New York discount tickets, you can get access to many amazing rides, including Jay's Gravity Force Trainer, LEGO Factory Adventure Ride, Merlin's Flying Machines, Lego Miniland, and Mini Skyscraper.
So, if you're up for some fun time with your family and friends and want to create unforgettable memories, then what is better than planning a visit to this theme park? It's fun, refreshing, thrilling, and above all, it's VERY pocket-friendly. Overall, it's a total package that any person would never want to miss!
What is LEGOLAND New York?
This park, located in Goshen, New York, is a theme park designed after a famous toy brand 'LEGO.' It is the third LEGO theme-based park in the US, pioneered by California (Constructed in 1999) and followed by Florida (Constructed in 2011). A 90-minute drive from NYC will take you to this fascinating park, the largest globally, covering around 500 acres of land near New York.
Is LEGOLAND NY good for adults?
Any guest to LEGOLAND NY can enjoy this Merlin Entertainment-owned park without any trouble. This place is not less than a heaven for families (especially children - aged 2 to 12) as there are 15,000 real LEGO models made up of 30 million LEGO bricks. The fascinating interior of this fascinating park will leave you tongue-tied with its mesmerizingly beautiful LEGO theme hotels, roller coasters, food areas, LEGO cars, and skyscrapers.
An eye-catching 'sea life' area is yet to be constructed here. Its exciting rides ensure a different type of thrill that you have never imagined before. Go and book your LEGOLAND New York discount tickets via FunEx and get ready to be amazed to no end.
Why Pick FunEx for your discount tickets?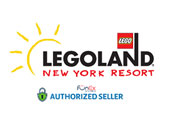 Lowest Prices Guaranteed!
FunEx is an authorized seller of discount LEGOLAND New York discount tickets. We are the largest seller of discount tickets in the country, and we couldn't have thrived for over 30 years if we weren't highly trusted by our customers. We would love for you to come join our family and enjoy the best price for LEGOLAND New York tickets as well as other attractions nationwide!
When you make your purchase with FunEx, you receive the same original tickets only for much much less. With FunEx, we want you to have more fun and spend less !
Hassle-Free Transaction, Skip the Line!
Another benefit of purchasing from FunEx is that you do not need to print your LEGOLAND New York tickets. Consider your phone your new best friend because all you need to do is present your LEGOLAND New York tickets at the gates and, viola, in you go!

We Are Rated A+ by Better Business Bureau!
Your purchases of discount LEGOLAND New York tickets are backed by our A+ rating by Better Business Bureau!
Need some clarification? Find the answers to your questions by reaching out to us through
Text/Call at 949-367-1900 from 7:00 AM to 10:00 PM daily or Email help@funex.com
What's New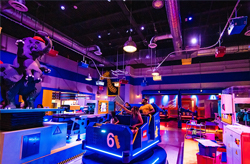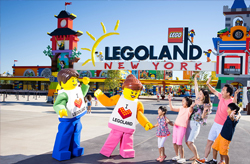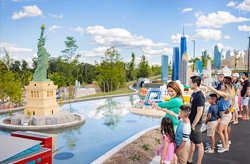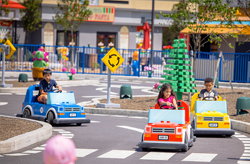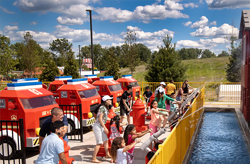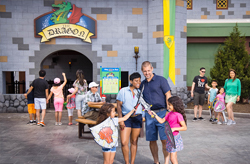 Is one day enough for LEGOLAND New York?
Yes, you may explore the park in just one day. But, for a fuller experience of trying out the rides and food places, it would not be a bad idea to have a revisit on your itinerary! You can buy 1-Day Admission to LEGOLAND New York at a discounted price of only $60.99 from FunEx today. That is saving of about $30 versus the $89.99 gate price!
What are the best rides at LEGOLAND New York?
LEGOLAND New York tickets give you access to a total of 17 rides which include rollercoasters, driving schools, and many more! Watch out for the LEGO Factory Adventure Ride - where you shrink into a minifigure. This is a digital experience exclusive to the park, with an added bonus of a tour through time with displays of past LEGO sets as you wait in line. For serious brick fans, this is a must-see! Build & Test and Lego NINJAGO The Ride are also two activities you wouldn't want to miss! The LEGO NINJAGO: The Ride journey starts with a series of beautiful illusions as a practice session, and then you'll get in the ground and have to save the NINJAGO. There is no height restriction in this ride. All you have to do is to bring your LEGOLAND New York tickets.
Here are some more worth mentioning:
Anchor Away -

It is a must-try ride in the pirate section of this resort, which is accessible with your ticket. This ride will let you live the life of a pirate. From smooth sailing to handling a boat in the middle of a storm, this ride will give you an unforgettable experience. Guests with a height less than 36 inches are ineligible for this ride. 42 inches and above persons having the LEGOLAND New York tickets are allowed to sit with a supervising companion in this ride.

Dragon's Apprentice –

If you're at least 36 inches tall with LEGOLAND New York tickets, you'd be allowed to experience how it feels to fly. Baby dragons will accompany you throughout your ride. Guests with a height of fewer than 42 inches will be permitted to ride with the company of the supervising companion.

DJ's Dizzy Disco Spin –

There is no height limit for this ride. You'll work against the centrifugal forces in this ride and spin around the LEGO characters. The Minifigure DJ will be at your service to play your favorite songs, and disco lights dangling all around will definitely be a cherry on the top.

Brick Party -

Any visitor to LEGOLAND New York can take the ride without any height restriction. All the items that you'll prepare using LEGO bricks will be displayed, and you'll be allowed to do whatever you want to do with the LEGO bricks. A guest with a height of 44 inches or less than 5 years will take this ride with a supervisor only.

Coat Guard Academy -

This ride in the pirate area of this amazing park will keep you on your toes as you'll be handling the wheel and managing the staff while avoiding obstacles simultaneously. A person with a height of at least 34 inches having the LEGOLAND New York discount tickets would be able to avail of this ride. Every guest whose height is less than 52 inches would be accompanied by a supervisor.

Fire Academy -

If you have the skills and will to be a LEGO City firefighter, this ride is made for you. You will be tested with several challenges, including usage of LEGO free engine and putting out a fire off a burning building. Your fitness, speed, and teamwork would be scrutinized. If you have the LEGOLAND New York tickets and your height is more than 34 inches, you can take this ride. Moreover, a guest with a height less than 44 inches with the LEGOLAND New York tickets will be accompanied by a supervisor.

Jay's Gravity Force Trainer –

This ride is for every child who is 4 years old and above. With LEGOLAND New York discount tickets, you'll be able to experience how it feels when moving at the speed of Spinjitsu. If you want to be a ninja, don't forget to give this ride a try.
What are hotels near LEGOLAND New York?
Get access to beautifully-themed hotels with highly comfortable rooms decorated with LEGO features at the LEGOLAND Hotel. These rooms are divided into Pirate, Lego NINJAGO, Lego friends, and Kingdom. This hotel is located near the main entrance of the park. Several means of entertainment for children and adults are available there, including a resort-style pool. This resort is safe and ideal for everyone wanting to spend a night near this fascinating theme park.
What are the shopping options available in LEGOLAND New York?
The park has several shops, including Master Wu's Warehouse, Mini Market, Royal Market, Bricktopia Bazaar, Smuggler's Haul, The Big Shop, and The Photo Shop. Be sure to drop by whenever you are in the area!
What are the dining options available at LEGOLAND New York?
Few restaurants in this park include Brick Street Café, Brick beard's Food Market, Brickolini's Pizza and Pasta, City Snacks, Food Cart, Granny's Apple Fries, Ninja Kitchen, Royal Feast, Showtime Snack, Smokey's Brick-B-Q, Snack Shake, and Wizard Frozen Wonders.
LEGOLAND New York Tickets
FunEx is offering 32% off on LEGOLAND New York tickets! Save up to $29 on 1-Day admission, only $60.99 vs $89.99 gate price. Lowest price guaranteed on FunEx!
So, don't waste more time and book your discount tickets to experience a fantastic time!
Tips for LEGOLAND New York
Buy tickets in advance –

If you're planning a visit to the park, be sure to buy your discount tickets in advance to avoid your preferred date of visit getting blocked or sold out, or the long lines at the ticket booths that might spoil the trip.

Parking tickets!

Pre-paid parking is highly suggested. Secure a parking spot for your visit by purchasing your parking tickets beforehand. You can save more by pre-paying online, purchasing at the Park Admissions Ticket Window, or visiting the Guest Services Office just inside of the Park Entrance. Please scan your ticket at their Exit Toll and move ahead!

Arrive Early –

The earlier, the better! This is the biggest LEGOLAND park and would require a fair amount of time for exploration. Be the early bird that catches the worm!

Bring water from home –

The roller coasters and other rides will make your scream with thrill from the deepest sections of your throat. Don't forget to bring some water with your LEGOLAND New York tickets as you'll need it after the rides for hydration!

Consider visiting on a weekday –

Weekends are undoubtedly the best time to have fun, but the weekdays pose much better advantages. On these days, expect less crowding, fewer waiting lines, and easier approach to rides and food counters.

Measurements matter -

Measure your child's height and read the ride restriction guides to plan the rides and attractions your child wants to visit.

Go cashless! –

The park has recently migrated to cashless payment options. For easier transactions (all admissions tickets, retail, food and beverage, games, and other 'for purchase' services are included in this category), it is highly suggested to bring your credit card with you. Apple Pay and contactless bank cards are also applicable.

Keep sunscreen in your bag –

Skincare should not fly out of the window even when you're having tons of fun. Keep sunscreen in your bag as you'll be in the outdoor areas majority of the time.

Bring your shades and hats –

When it comes to must-have accessories, hats, caps, and sunglasses are on top of the list. Protect your beautiful eyes! The hats and caps will aslo help you avoid direct sunlight on your head and face keeping you comfortable throughout the visit.

Charge up! –

In order to capture the memories forever, bring a fully charged camera or cell phone.

Interact with the custodial staff –

All staff members at the park are positive, caring, and helpful. It would be delightful to get in contact with them, should you need any assistance with any matter.

Download their app from Google Play or App Store -

After buying your LEGOLAND New York tickets, download their app and use it to view rides inside the park. You may also look for dining options and several other exclusive offers.

Prepare for bag check –

All guests must pass a security checkpoint before entering the park. Your bags and belongings will be searched for the safety of everyone and may be scanned by a metal detector.
Frequently Asked Questions about LEGOLAND New York:
Are reservations required at LEGOLAND New York?

Your purchases of LEGOLAND New York discount tickets from FunEx are date-specific and will serve as your reservation. Please note: dated ticket holders do NOT need to make an additional reservation.

How many water rides are there in LEGOLAND New York?

This park is composed of 4 water rides. You can access all of these parks with your discount tickets.

How big is LEGOLAND New York?

The park consists of 7 theme parks and sits on 500 acres of land near NYC. It is undoubtedly the largest LEGO theme park ever constructed!

How much are LEGOLAND New York tickets?

Buy 1-Day Admission LEGOLAND New York tickets at a discounted price of only $60.99 from FunEx today vs $89.99 gate price!

What age gets in free at LEGOLAND New York?

Only toddlers (aged 0- 2) will be allowed to enter the park without a ticket.

What are the fun things to do in LEGOLAND New York?

There are 5-gazillion things present at the park! Meet awesome LEGO characters, enjoy the park's special events with your families and loved ones, marvel and have your fill of excitement and adventure at their attractions and rides, plus so much more!

What will I find at the LEGO shop?

The LEGO Shop has a vast collection of LEGO goodies inside the store! You can find items like basic medical supplies, first aid kits, baby care products, toiletries, and stationery available in the LEGO store. It has a disco elevator as well.

Is there wifi in the park?

Yes, there is! To connect to WiFi during your visit, simply follow these simple steps: - Make sure your device's WiFi is turned on. - From the list of available WIFI networks, choose 'LEGOLAND New York'. - To register or log on, open your browser and follow the on-screen instructions.

Are strollers and wheelchairs available in the park?

Yes. On a first-come, first-served basis, strollers, wheelchairs, and ECVs are available for rent. Visit GUEST SERVICES at the park's entrance!

What is a rainy day promise?

The park is open rain or shine, and as much as the staff would like to assure a memorable experience, they cannot manipulate the climate (yet!). If the weather impacts their rides for more than 120 minutes, the park promises to offer their visitors a coupon with a code to book a free return ticket online for a return visit within 365 days. Drop by their Guest Services Center in front of the park to claim your return visit coupon and code. Please note, this doesn't apply to annual pass holders.

Do you have to wear a mask at LEGOLAND New York?

Their official website states they recommend that all guests wear a mask when indoors. This includes indoor rides and attractions and in restrooms and shopping and dining locations.

How much does food cost inside LEGOLAND New York?

The park sells a variety of different foods, such as jumbo hotdogs, popcorn, soft pretzels, Philly cheesesteaks, etc., for different prices. One example is Brickolini's Pizza and Pasta buffet that is $24.99 for adults and $12.99 for kids for all-you-can-eat pizza, pasta, desserts, and sodas. Another is Brickbeard's Food Market that sells a smoked turkey club panini for $12.50, a double cheeseburger for $16, a large salad for $16, a grilled chicken sandwich for $15, Chinese orange chicken for $12, and sesame deep-fried tofu for $12.

Why isn't the day I want to visit available?

The park has capped the quantity of guests every day to be able to give you the absolute best experience. On the rare chance that you can't reserve your preferred date you might want to come, kindly select an alternate visit date.
LEGOLAND New York is undoubtedly an amazing place to visit if your children are between 4-12 years and you want to experience thrills and collect fun memories at a discounted price. This family attraction that offers delicious food and awesome rides will make you want to visit the park again and again.
The discounts offered by FunEx will make this whole trip more memorable as you enjoy more by paying less than others. Don't forget to check out the LEGO store in this amazing theme park. This is a must-see place as the prices of items are low, and quality is more than satisfactory.
Last updated May 2, 2022.
Legoland New York Tickets
1-Day General Admission

(Ages 3+)

Discounted Price $60.99

Regular price $89.99

Savings $29.00

1-Day LEGOLAND Entry + Round Trip Bus Ticket

Infant (Ages 0-2)

Discounted Exclusive Ticket $21.20

Child (Ages 3-13)

Discounted Exclusive Ticket $81.19

Adult (Ages 14+)

Discounted Exclusive Ticket $101.39