Overview
LEGOLAND New York tickets are not out of your range anymore. Yes! You read it right. FunEx is offering huge discounts on LEGOLAND New York tickets. With these LEGOLAND New York discount tickets, you can get access to many amazing rides, including Jay's Gravity Force Trainer, LEGO Factory Adventure Ride, Merlin's Flying Machines, Lego Miniland, and Mini Skyscraper.
So, if you're up for some fun time with your family and friends and want to create unforgettable memories, then what is better than planning a visit to LEGOLAND New York? It's fun, refreshing, thrilling, and above all, it's VERY pocket-friendly (if you purchase your LEGOLAND NY tickets from FunEx). Overall it's a total package that any person would never want to miss.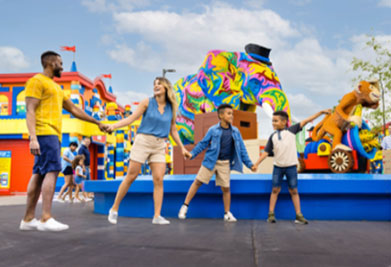 Why pick FunEx?

Our company guarantees to give you the lowest prices of discounted tickets to your favorite attractions. As the largest reseller of LEGOLAND tickets, we are able to provide our customers with exclusive discounts and best prices for LEGOLAND New York tickets. For the past 30 years, we have offered the cheapest tickets and passes possible, and great corporate benefits to thousands of companies. Buy your tickets now to enjoy the biggest discounts in the industry! Need some clarification? Find the answers to your questions below or reach out to us through text/call at 949-367-1900 or help@funex.com.
Here Is the perfect part: company sign up and individual registration are totally free with your employee access code (EAC) or with your work email address. Yes, reading that again will not change the words. They are free! After registration, you can enjoy huge discounts on theme parks, water parks, museums, and outdoor and indoor adventures all over the States!
Another benefit of purchasing with Funex is you do not need to print your LEGOLAND discount tickets. Consider your phone your new best friend because all you must do is to present your e-tickets at the gates and viola, in you go!
Get your hands on a map of Legoland New York right here
Be prepared to experience seventeen rides – a mix of rollercoasters and water rides!
LEGOLAND New York also offers a ton of restaurants to choose from to relax in and for you to grab a bite! Here is a sneak peek of them: City Snacks, Brickolini's Pizza and Pasta, Royal Feast, Food Carts, and Snack Shack.
Frequently Asked Questions
What is the address for LEGOLAND New York?

LEGOLAND New York is located at 1 Legoland Blvd, Goshen, NY 10924, United States.

Are reservations required to visit LEGOLAND New York?

Yes, as of the date of writing (12/28/21), all guests are required to reserve their date-specific tickets in advance.

What if I can no longer make my original reservation and would like to change dates?

You can visit the Booking Portal

to see what days are available. Once you choose a date, you can book the available date and cancel your previous reservation.

How much do LEGOLAND New York tickets cost per adult?

LEGOLAND New York 1-Day Admission tickets for ages 3+ for only $45.19 vs $89.99 gate price! Get the most exclusive and lowest prices guaranteed with FunEx!

How much do LEGOLAND New York tickets cost per child?

LEGOLAND New York 1-Day Admission tickets for ages 3+ for only $45.19 vs $89.99 gate price! Get the most exclusive and lowest prices guaranteed with FunEx!

How tall do my kids need to be to ride LEGOLAND New York rides?

Most rides have a minimum height requirement which range from 30 inches to 52 inches. Many of the rides require guests to be accompanied by another rider who is at least 14 years old if they do not meet certain height requirements.

Is LEGOLAND New York fully open?

Yes, all seven of the park's themed lands are open.

Does LEGOLAND New York have water rides?

Yes, it does! Enjoy rides like Splash Battle, Coast Guard Academy, and Rogue Riders, where you are guaranteed to get splashed!

Is LEGOLAND New York a water park?

In addition to land rides, LEGOLAND also has a water park that includes a lazy river, water slides, and a wave pool.

How many rides does LEGOLAND New York have?

LEGOLAND New York has a total of 17 rides, including two rollercoasters and four water rides.

How big is LEGOLAND New York?

The park sits on 500 acres of land. It is, by far, the biggest LEGOLAND Resort ever built!

Does Fun Express really have the lowest prices in the industry?

Of course! In fact, FunEx's discounted prices are cheaper than AAA and Costco prices! FunEx is the largest authorized reseller of LEGOLAND tickets across 12 states, and we give great deals and exclusive savings to our valued customers – no catch! Our discounted prices cannot be beat!

Do you have to wear a mask at LEGOLAND New York?

According to LEGOLAND New York's website, they recommend that all guests wear a mask when indoors. This includes indoor rides and attractions and in restrooms and shopping and dining locations.

Does LEGOLAND New York accept cash payments inside the park?

LEGOLAND New York does not accept cash. Payments should be made using credit cards, contactless bank cards, or Apple Pay. This applies to all purchases, including retail, food, beverages, games, and parking.

At what age are LEGOLAND New York tickets free?

Kids who are two years old or younger are granted free entry at LEGOLAND New York.

Can you tour LEGOLAND New York in a day?

Definitely!

What is the best age for children to go to LEGOLAND?

Legoland was made to please children 2 years and above. Children above six years will find that they are not restricted on most rides' height requirements with a wide array of activities available for them. In our experience, there are fun things to do for kids of all ages and adults who are kids at heart at LEGOLAND. It's a guaranteed adventure experience for everyone!

Do I need to print my LEGOLAND New York tickets for entry?

No, LEGOLAND New York tickets do not need to be printed when purchased from FunEx. You can show them on your phone to gain entry to the park.

What if it rains on the day that I made a reservation?

If weather affects LEGOLAND New York rides for two hours or more during your visit, LEGOLAND will give you a coded coupon so that you can book a free visit within the next 365 days. Go to the Guest Services Center at the front of the park to get the coupon and code. This offer does not apply to annual pass holders.

How much does food cost inside LEGOLAND New York?

Legoland New York sells a variety of different foods, such as jumbo hotdogs, popcorn, soft pretzels, Philly cheesesteaks, etc., for different prices. One example is Brickolini's Pizza and Pasta buffet that is $24.99 for adults and $12.99 for kids for all-you-can-eat pizza, pasta, desserts, and sodas. Another is Brickbeard's Food Market that sells a smoked turkey club panini for $12.50, a double cheeseburger for $16, a large salad for $16, a grilled chicken sandwich for $15, Chinese orange chicken for $12, and sesame deep-fried tofu for $12.

Can I bring food inside LEGOLAND New York?

Some outside coolers, food, and beverages are permitted in the park under certain guidelines. Bottled water and small lunch snacks that do not require heating are permitted. Baby food and formula as well as any food or nutritional supplements required for medical purposes are allowed as well. Alcohol is not permitted.

How much is parking at LEGOLAND New York?

Parking costs $20 if purchased online and $25 if purchased at the park. Pre-purchased parking passes are highly recommended.

What nearby hotel should I stay at?

The LEGOLAND Hotel is by far the best hotel nearby! They have themed rooms and it is located at the main entrance of LEGOLAND New York. Like most hotels, it is recommended to book in advance to ensure that there are rooms available. You can check the hotel's availability

here

.

When is the best time to go to LEGOLAND New York?

Tue - Thurs are the best time to visit! Get discounted tickets to LEGOLAND New York starting at $46.49 and save up to $25 off the gate price through FunEx!

Is Wi-Fi available?

Yes, LEGOLAND New York offers free Wi-Fi, so you don't have to use your data. Make sure your phone's Wi-Fi is on and then select "LEGOLAND New York" from the available Wi-Fi networks.

Is LEGOLAND New York wheelchair accessible and accommodating to those with disabilities?

Most attractions at LEGOLAND New York are accessible through special ride compartments for disabled individuals. LEGOLAND employees cannot lift guests into and out of rides, so guests with disabilities who need assistance will have to be transferred into and out of a ride by a member of their party. LEGOLAND New York restaurants, shows, and shops are ADA accessible. LEGOLAND rents wheelchairs and electronic vehicles on a first-come first-serve basis at Guest Services.

How can I contact LEGOLAND New York?

For further questions, you can contact LEGOLAND New York at

866-249-0908

from Monday through Friday from 10 a.m. to 6 p.m. EST. If you want to avoid a long wait time, you can always call/text FunEx at

949-367-1900

949-367-1900 or email us at

help@funex.com

for prompt service and assistance with making your reservation and resolving your concerns.
Some helpful tips
LEGOLAND New York has an app that you can download that will allow you to view rides and showtimes, let you know which rides are closed, and provide dining information and exclusive offers.
Bring a water bottle to stay hydrated. LEGOLAND New York has stations throughout the park that are free to use where you can refill your water bottles. Sunscreen and comfortable shoes also are essential.
Current New York law does not allow facilities to offer single-use plastic bags. Hence, when shopping at one of the seven retail shops of LEGOLAND New York, you will either have to place your purchase in a bag that you had brought or purchase a LEGO reusable bag.
LEGOLAND New York has gone cashless. Kindly prepare your debit/credit cards, or other cashless payment methods such as Apple Pay. This applies to all purchases, including retail, food, beverages, games, and parking.
What's New