Get Battleship Iowa discount tickets for 33% off of gate price! Tickets start at $11.51. Lowest prices guaranteed only with FunEx.

Battleship Iowa tickets are e-tickets.
Overview
Celebrate the American Spirit at the Battleship IOWA educational museum & attraction at the L A Waterfront. Interactive tour now available.
Considered one of the "Best Cool Exhibits to See with Your Kids", your tour takes you on a journey through World War II, the Korean War, and the Cold War to experience the life of a sailor on the lead ship of the last class of gunships. Battleship USS Iowa provides families a glimpse into the past through a unique (and fun) experience. Your adventure highlights life at sea for thousands of sailors over the past 70 years, while interacting with numerous exhibits and following a clever mascot dog named Victoryon a popular scavenger hunt.
The Battleship IOWA museum is a melding of science, technology, engineering, and math. She was built during the early 1940's - a time when drawing boards were the norm and computers as we know them didn't exist. It is hard to imagine the effort it took to design, build, and bring alive 45,000 tons of steel... An 887 foot long behemoth that was a city at sea for thousands of sailors over three different decades.
Walk the wood decks of a battleship and see areas such as the 16" guns, 5" guns, missile decks, bridge, mess areas, and the world famous Captain's Cabin - with the only bathtub installed on a battleship for a President. Known as "The Battleship of Presidents", IOWA has hosted three Presidents - Franklin D. Roosevelt, Ronald Reagan, and George H.W. Bush - and numerous dignitaries during almost 70 years of service.
Open daily 10am - 5pm. Closed Thanksgiving and Christmas.
What's New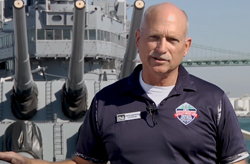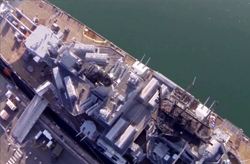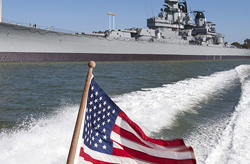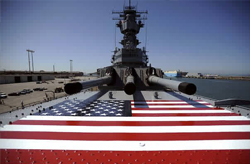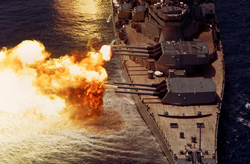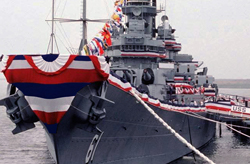 Last updated May 12, 2022.
Location: 250 S. Harbor Blvd, San Pedro, Los Angeles, CA, 90731. Phone: (877) 446-9261