Buy your Battleship Iowa discount tickets and save up to 30%. Prices start at $13.51. Lowest prices guaranteed on FunEx!
Discount Battleship Iowa tickets are valid one year from the date of purchase.
Self-Guided Tour is included in your discount ticket.
Vicky the Dog Scavenger Hunt and the award-winning mobile app are free with your self-guided tour.
The Battleship Iowa
This tour known as one of the "Coolest Exhibits to See with Your Kids," takes visitors on a journey through World War II, the Korean War, and the Cold War. Sail the greatest gunships and experience what it feels like to feel like a real sailor for a day. They offer a fascinating and entertaining way for families to learn about our nation's history. Join the famous scavenger hunt, where you and a friendly mascot dog named Victory explore a museum that teaches you about the lives of thousands of sailors across seven decades!
The museum features many exhibits. Designed and constructed in the early 1940s, it predates the use of drawing boards and the arrival of modern computers. It's impossible to measure the amount of work that went into planning, constructing, and bringing to life 45,000 tons of steel. This is a massive vessel measuring 887 feet in length, home to thousands of sailors over three decades.
Explore the battleship's wooden decks and learn about the ship's unique features, such as the President's only bathtub, which was installed in the Captain's Cabin. During its nearly 70 years of service, it has earned the nickname "The Battleship of Presidents" for hosting not just one, but three U.S. presidents! Learn many curious and fun facts with our discount Battleship Iowa tickets!
The LOWEST-PRICED Battleship Iowa Discount Tickets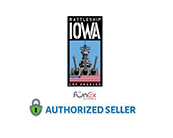 Lowest Prices Guaranteed!
FunEx is an authorized seller of Battleship Iowa discount tickets. We couldn't have thrived for over 30 years if we weren't highly trusted by our customers. We would love for you to join our family and enjoy the best price for Battleship Iowa discount tickets as well as other attractions nationwide!
Hassle-Free Transaction, Skip the Line!
Another benefit of purchasing from FunEx is that you do not need to print your Battleship Iowa discount tickets. Consider your phone your new best friend because all you need to do is present your e-tickets at the gates, and in you go!
We Are Rated A+ By the Better Business Bureau!
Your purchases of Battleship Iowa discount tickets are backed by our A+ rating by Better Business Bureau!
Have any questions or concerns? Feel free to reach out to us through:
Text/Call
at
949-367-1900
from 7:00 AM to 10:00 PM daily or,
What to expect at the Museum?
There's something for everyone here, whether you prefer independent exploration or full-immersion thrills. Your time onboard will be an adventure you'll never forget. If you could choose the kind of adventure you prefer to go on, what would it be? Here's the list of what you can expect inside the Battleship Museum with your discount Battleship Iowa tickets.
On your own – directed tour.
You can explore the ship at your own pace and stop at any of the decks for indoor or outdoor fun.
Make the most of the time you have!
Make sure to see everything on display during the 2-hour long tour. Ladders connect the different levels to explore. There are currently no lifts or elevators.
Pro-tip: If you have mobility issues that would make it difficult for you to use the ship's ladders, you can have a virtual glimpse at the ship and its interior by visiting the website of the Battleship.
Find Vicky!
Find Vicky in the free online scavenger hunt! It's fun for children of all ages! Listen to Vicky's tales and be on the lookout at every stop! Visit the Battleship Museum in person or virtually to retrace Vicky's movements. Join the full fun experience by downloading the app for free. This experience is already included in your FunEx discount Battleship Iowa tickets!
Get unlimited free access to the Mobile App.
Visit the Officer's Wardroom, Senior Officer's Stateroom, Admiral's Bridge, Navigation Bridge, and Crew's Quarters as you explore Battleship Iowa with the help of the popular mobile app (daily). The ship's Main Galley, Crew's Mess Hall, and Museum on the ship's upper deck are all open to visitors on weekends.
Exhibits
If you want the whole Battleship Iowa experience, you can't miss this informative and thrilling segment. Experience more of what Iowa has to offer by visiting these fascinating exhibits in person and online.
| Exhibits | Availability |
| --- | --- |
| Battleship of Presidents | In-Person (via President's Tour) and Online |
| HUP-2 Helicopter | In-Person |
| Sticks Engraving | In-Person |
| Gunnery Hazzards | In-Person |
| Surface Navy Heroes | In-Person and Online |
| Vicky the Dog | In-Person and Online |
| Mobile App Tour | In-Person and Download in App Store |
| Artifact Gallery | Online |
| Surface Ships | In-Person |
| Lost at Sea | In-Person |
FunEx Tips and Tricks for you!
Purchase your discounted tickets in advance.
Purchase your FunEx tickets early and save extra money! You won't get these savings anywhere else, and FunEx offers a wide array of discounts from which you can benefit. Just think about how happy someone would be if they could save up to 33% off the regular admission charge! We have the lowest-priced tickets, guaranteed!
Please plan to arrive at the museum early.
Given the short hours of operation (the museum opens at 10:00 AM and closes at 4:00 PM), we strongly advise you to be there early, so you have plenty of time to see all the Battleship has to offer.
Pay attention to your children at all times.
The museum urges parents and guardians to watch their kids closely. In order to stay safe, there are some rules for children. No running or other forms of roughhousing are permitted.
Parking is free for the first hour.
The museum has a parking lot for visitors' convenience. You may get to the car park through Harbor Boulevard and 1st Street. Parking is free for the first hour and then regular parking rates will apply.
Tip: You should get there early so you may take advantage of the free parking for the first hour. You won't just save money by not having to pay for parking, but you'll also have an easier time locating a spot.
Frequently Asked Questions about Battleship Museum
Can I see the Battleship without making a reservation?

The Battleship Iowa Museum does not require a prior reservation. Battleship Iowa discount tickets purchased at a discount from FunEx are valid for one year from the date of purchase. The time and date are flexible; a visit can be scheduled whenever you like.

Where is the Battleship Iowa located?

Visit us at 250 South Harbor Boulevard, San Pedro, CA 90731, to learn more about the history of Battleship Iowa!

What are the hours of operation for the Battleship Museum?

The regular hours of operation for the museum are 10:00 AM to 4:00 PM. Changes to regular business hours are subject to occur with no notice. We recommend visiting their website for the most up-to-date information.

Is there free parking?

Free parking is available for the first hour. After that, regular parking rates will apply.

When will I get my FunEx discount Battleship Iowa tickets?

After a successful online purchase, your receipt and discount Battleship Iowa tickets will be emailed to you immediately. Please check your spam mail if you don't see them in your inbox. We're delighted to be of assistance if you have further questions.

Do I have to print my discount Battleship Iowa tickets?

Purchasing discount tickets at FunEx is quick and simple. There's no need to print them out too! Simply show them on your phone, and you'll be allowed entry.

Is the museum accessible to people with special needs?

Yes, it is. To go from the Main Deck to the 01 levels (where the Captain's Cabin and FDR's former quarters are located), the Battleship IOWA Museum has installed one chairlift. The Lost at Sea exhibit, located on the Battleship Iowa's third deck, led to the installation of two additional lifts to allow visitors with mobility impairments to access this level.

Am I allowed to bring a stroller when going with a baby?

The Main Deck's outside spaces are the only places where strollers are permitted. Strollers can be carefully placed in a dedicated storage area on board. Members of the crew can assist you if you have any needs.

Can I carry my child?

For adults to carry a child up or down the stairs, the child must be in a carrier. Any child or toddler who is not in a child carrier and cannot safely use the stairs on their own must always remain on the main deck with an adult.

Can I leave the tour at any time?

If you would like help getting off the tour path at any time, please find a member of the Battleship Iowa's crew.
Last updated April 25, 2023.