Overview
Get ready to experience the fun at Universal Studios Hollywood, which not only offers a behind-the-scenes tour of a real working movie studio but also rides and attractions that immerse visitors inside their favorite movies and TV shows. Ride Flight of the Hippogriff where Hagrid will explain how to safely approach a hippogriff, Jurassic World - The Ride which takes place in the middle of a battle between a T-rex and Indominus rex, and Revenge of the Mummy which goes through Egyptian catacombs. If rollercoasters are not your thing, visit Hogsmeade, encounter a raptor, visit Ollivanders, watch King Kong and a T-Rex fight in 3-D, and so much more!
Why pick FunEx?
Our company guarantees to give you discounted tickets to your favorite attractions at the best price. We strive to offer the cheapest tickets and passes possible and great corporate benefits to thousands of companies. Buy now to get some great savings today!
What's New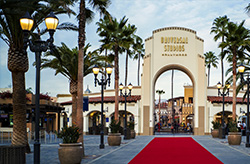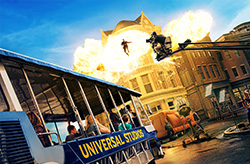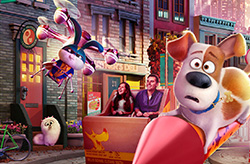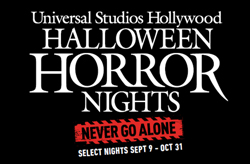 Tickets purchased for park visits on a selected visit date during the theme park's closure, or otherwise purchased prior to April 8, 2021 without a selected visit date on or after April 16, 2021, will be automatically extended for use through December 16, 2021. Reservations for these tickets are no longer required.
Health & Safety Measures
Due to COVID-19, Universal Studios Hollywood has implemented new safety guidelines like social distancing, screenings, and sanitizing. For important safety information at Universal Studios Hollywood, please visit www.universalstudioshollywood.com/safetyinfo
The State of California strongly recommends that when you visit Universal Studios Hollywood you be fully vaccinated for COVID-19, obtain a negative COVID-19 test result prior to visiting, or wear a face covering.* Guests who are not fully vaccinated should wear a face covering during their visit. All guests, regardless of vaccination status, are required to wear face coverings indoors.
We encourage all guests to keep a safe distance between travel parties, and we remain focused on maintaining the highest cleanliness and sanitization standards. For additional info, visit the Safety Guidelines section of our website: www.universalstudioshollywood.com/web/en/us/plan-your-visit/operations-safety-updates
Assumption of Risk
In connection with your purchase of Universal Hollywood products and your visit to Universal Hollywood including Universal Studios Hollywood and Universal CityWalk Hollywood, please be advised that you must follow Universal Hollywood's policies, CDC guidelines and the recommendations of health officials. Please note that any public location where people are present provides an inherent risk of exposure to COVID-19 and Universal Hollywood cannot guarantee that you will not be exposed during your visit. By visiting Universal Hollywood, you acknowledge and agree that you assume these inherent risks associated with attendance. When you enter Universal Hollywood, you understand that you are subject to the Universal Hollywood terms of service (including arbitration, class action waiver, assumption of risk, and infectious disease release of liability) located at www.universalstudioshollywood.com/web/en/us/terms-of-service.
Location: 100 Universal City Plaza, Universal City, CA, 91608. Phone: (800) 864-8377
Universal Studios Hollywood Tickets
Date specific 1-Day General Admission Ticket (All Ages)

FunEx Discount save up $20