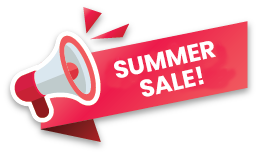 SUMMER SALE OFFER
2023 Fun Card valid til 12/31/23 Discounted Price $85.00
The spooky season is upon us! Get your discount SeaWorld San Diego Howl-O-Scream tickets here.
SeaWorld San Diego discount tickets start at $54.00 vs $99.99 gate price! Save as much as $45.99 with the lowest prices exclusive on FunEx!
Visit SeaWorld San Diego
Set on the expansive grounds of Mission Bay Park along the shore of the Mission Bay, San Diego, SeaWorld San Diego has been a favorite family destination for decades. The theme park first opened on March 21, 1964, displaying various shows surrounding sea lions and dolphins. The park may have had humble beginnings but being one of the first of its oceanarium parks, it quickly became popular in California and grew exponentially in the next few years.
Today it has three different locations – one in Texas, one in Orlando, and the original San Diego location – and welcomes an astounding estimate of 11 million visitors annually.
The park has since morphed from its simple aquatic-themed shows surrounding fascinating marine life and has delved into the world of amusement with the addition of rollercoasters, restaurants, and attractions. SeaWorld San Diego has 16 different rollercoasters for guests to enjoy, ranging from fast-paced thrillers to charming children's rides. Going along with the theme of the park, most rides are inspired by the Ocean's wonderful aquatic life – some of which you can see in the theme park.
Come visit with your SeaWorld tickets from FunEx! We have the lowest priced SeaWorld San Diego tickets in the market. That's a guarantee!
All New Dive Coaster: Emperor
The newly opened Emperor ride has been garnering a lot of attention for being the fastest, tallest, and longest dive rollercoaster in California.
The Emperor ride is inspired by the largest type of Penguin and was forged to mimic the defying movements of Penguins underwater. Climbing over 153 feet into the air before being suspended at a 45-degree angle and then shot down a thrilling track, the Emperor is a thrill-seekers haven. It offers guests a glimpse into what they can expect from SeaWorld rollercoasters. Ride this with your SeaWorld tickets!
As much as the rollercoasters, restaurants, and games are fun, the real attraction to SeaWorld is the breathtaking shows held every day displaying incredible feats of aquatic animals. The park's Orca show is iconic and has become so popular that it's become synonymous with the park itself. The performances are the gems of the parks, and you should plan your day around the shows rather than the other way around. These shows are included in your SeaWorld tickets!
The park's 100-acre grounds demand a full day of exploration in order to be truly appreciated. From world-class shows to educational exhibits to thrilling rollercoasters, there is an abundance of things to enjoy while visiting SeaWorld San Diego. If you want to experience everything SeaWorld San Diego has to offer and more at a fraction of the cost, then buy your SeaWorld San Diego tickets through Funex, where we offer some of the lowest pricing in the industry. Saving on your SeaWorld San Diego tickets means having more to spend on gifts, trinkets, and memorabilia.
History of SeaWorld San Diego
SeaWorld San Diego was first introduced to the public on March 21, 1964. Founded by George Millay, Milt Shedd, Ken Norris, and David Demott, the park was created instead of the original underwater restaurant the four men had intended to build. When the four men realized the impossibility of creating an underwater restaurant with live marine shows, they moved their focus to an ocean-themed amusement park – one of the first of its kind.
They chose the newly developed Mission Bay Park as their setting and got to work creating what is now a household name theme park. When the park first opened, there were only a few exhibits centering around dolphins and sea lions rather than the iconic Killer Whale, which the park would eventually become synonymous with.
At roughly the same time, a new television program would air that centered around dolphins that would become a smash hit and has been linked to the theme park, which quickly became a brilliant success. In the first year of being open, the theme park welcomed a remarkable 400,000 guests, a number that would grow exponentially as the years went on.
The original park housed several sea lions, dolphins, and seawater aquariums full to the brim with thousands of fascinating fish species. Although humble in its beginnings, these attractions were enough for the park to garner enough attention and began to grow in earnest in 1968 after going public. Once its stock became public, it started to expand in two ways; the San Diego Park grew in acreage, and SeaWorld began to open up new parks in different locations across the U.S.
The second location for SeaWorld to open its zoological park was in Aurora, Ohio, in 1970, followed by a third park in Orlando, Florida, in 1973, and finally, its fourth and largest park in San Antonia, Texas, in 1988. SeaWorld became a smash hit once it expanded to include a variety of aquatic shows and hands-on sea life exhibits. However, this didn't stop the Aurora, Ohio, park from eventually shutting down in 2000.
One of the shining moments of the park was the introduction of Shamu, the Killer Whale, in 1965. Shamu entered SeaWorld San Diego in December of 1965 from Seattle's public aquarium after being captured in Puget Sound, Washington. Shamu was taught tricks and soon began doing performances which became an instant success – thus starting the iconic and widely controversial Orca shows.
Although Shamu would later die in 1971, the killer whale had left her mark. The park continued her legacy with more orcas performing the Shamu Show, which would later be renamed the "Orca Encounter." This live performance showcases Orcas while educating the audience on the Orca's habits, hunting behaviors, and exciting facts about these fascinating creatures. The Orca Encounter show is one of the park's most popular attractions and is world-renowned.
Since then, multiple different 'encounter' shows have opened, from dolphins to penguins to even sharks! Then in 1997, the park began to reign in a new era that mixed the beloved marine zoological park with the fun and thrilling amusement parks families have come to adore. The creation and installation of Journey to Atlantis added a whole new facet to the theme park, and after its success, the theme park was quick to bring in more and more rides over the years.
Today, they have their own company that not only operates the three different parks in San Diego, Orlando, and San Antonio but they have also expanded to include different theme parks such as Sesame Place to their roster. SeaWorld San Diego, the original park, is a beloved staple to any California visit. Its world-renowned aquatic shows, rollercoasters, and restaurants guarantee taking a trip to SeaWorld is sure to create new, happy memories for both kids and adults.
Bring your family with you and buy your SeaWorld tickets through FunEx now! We offer the lowest priced Discount SeaWorld San Diego Tickets in the market.
Buy SeaWorld San Diego Discount Tickets
If this sounds like the next family vacation destination for you, or you're keen on experiencing the park on your own, then buy your SeaWorld San Diego tickets through Funex for substantial savings! Enjoy industry-low pricing with each SeaWorld San Diego discount ticket you buy to the attraction with savings of up to $45.99!
At the gate, you can expect to pay a whopping $99.99 per SeaWorld ticket, but if you plan ahead and purchase your discount SeaWorld tickets through our trusted site, then you and your family will only have to pay starting at $54.00 per ticket! That's a savings of $45.99 for each SeaWorld San Diego ticket, which can be spent instead on snacks, souvenirs, and memorabilia from your fantastic time at the park.
These low prices are exclusive to Funex, meaning you can't find a deal like this anywhere else. So, save time and money by booking your next family outing through Funex!
Funex has been operating in this industry for over 30 years and has always sought to provide the cheapest discount tickets and passes for the best attractions. Buy your SeaWorld San Diego discount tickets through Funex and enjoy the benefits of having the most significant savings when it comes to booking a fun day with your family.
Why choose FunEx for your discount tickets?
Lowest Prices Guaranteed!
FunEx is an authorized seller of discount SeaWorld San Diego tickets. We are among the largest seller of Seaworld discount tickets in the country, and we couldn't have thrived for over 30 years if we weren't highly trusted by our customers. We would love for you to join our family and enjoy the best price for discount SeaWorld tickets and other attractions nationwide!
Hassle-Free Transaction, Skip the Line!
Another benefit of purchasing with FunEx is that you do not need to print your discount SeaWorld tickets. Tickets are delivered instantly after purchase. Consider your phone your new best friend because all you need is to present your e-tickets at the gates and, viola, in you, go!
We Are Rated A+ by Better Business Bureau!
Your purchases of discount SeaWorld tickets are backed by our A+ rating by the Better Business Bureau!
Need some clarification? Find the answers to your questions by reaching out to us through:
Text/Call at 949-367-1900 from 7:00 AM to 10:00 PM daily or Email help@funex.com
What to Expect at SeaWorld San Diego
Since its beginnings as strictly a marine zoological park, the theme park has since expanded to be an amusement park complete with shows, rides, and restaurants. Everyone in the family can find something to enjoy while in the park – from thrilling rollercoasters to kid-centered educational attractions, you'll be hard-pressed to be bored while at SeaWorld San Diego. The park stretches across 100+ acres of Mission Bay Park and is filled with rides, exhibitions, aquariums, and restaurants. The park itself is laid out into different sections, making it easier to explore than a randomized park setting.
The rides vary in terms of thrill levels, accommodating anyone from small children to adrenaline junky adults, while all shows are family-friendly and exciting. There are also a number of aquariums where you can be fully immersed in the wonder of the underwater world. Get access to these rides by purchasing your SeaWorld tickets with FunEx!
The park also hosts a variety of different festivals and events throughout the year. Viva La Musica is a celebration of Latin music that occurs most weekends of May and showcases free concerts in the park (free with admission). There are also firework displays that happen throughout the spring and summer to enjoy. There's always something new and exciting happening at the park. Get your SeaWorld San Diego Discount Tickets through FunEx and see what exciting event awaits you.
Other festivals you can enjoy are a craft beer festival in late summer, Howl-O-Scream and Spooktacular during Halloween, SeaWorld Christmas Celebration, and even a Red, White, and Blue Celebration honoring all those in service for the United States. These celebrations and events are included in your discount SeaWorld tickets.
No matter what time of year you decide to visit with your SeaWorld San Diego tickets, you are guaranteed to have a fun, memorable time. The attractions listed below are open year-round and ensure you have a great visit every time.
Attractions at SeaWorld San Diego
Far from the original handful of creatures and aquariums that the park started with, SeaWorld San Diego has grown to encompass 100 acres of Mission Bay Park and houses 16 rollercoasters, 4 shows, 4 interactive exhibits, 10 close encounters experiences, 13 restaurants + snack shops, a sesame street themed play area, and 7 different stores to purchase gifts and memorabilia from.
The park is significant, and it takes a full day of exploration to truly appreciate everything the park has to offer. When planning your trip to SeaWorld San Diego, it's best to plan your day around the amazing encounter shows – Orca Encounter, Sea Lions Live, Dolphin Days, and Trainer Talk at Sea Lion Point, which run at different times throughout the day. These shows are top-rated and fill up fast, so it's best to go 30 minutes early and reserve your seat in advance. But we'll go into more detail on that later.
Below are all the attractions you can expect to see during your visit to the park, all accessible with your SeaWorld Ticket from FunEx:
Rides and Rollercoasters at SeaWorld San Diego
We've broken down the rides into different categories, so you know which rides the adults and thrill-seeking teens will enjoy, which the whole family will love, and rides specifically geared towards kids. The easiest way to categorize the rides is into High Thrill, Medium Thrill, and Low Thrill rides.
High Thrill Rides:
Emperor:
California's first floorless rollercoaster, the Emperor, is a high-speed ride themed after the largest penguin type in the world – the Emperor Penguin. The ride was created to mimic the way Penguins dive and glide underwater. The Emperor will plunge you 90 degrees down 14 stories as you race through twists, turns, and multiple loops at over 60 miles per hour. Experience this high-thrill ride with your SeaWorld San Diego Ticket from FunEx!
Manta:
The Manta is a favorite among adrenaline junkie families looking to feel the unbelievable speed as you are launched two different times at dizzying speeds through the track's twists, turns, and spins. The ride is inspired by the majestic creatures, Manta Rays, and their extraordinary underwater motions. Get your SeaWorld San Diego Discount Tickets and experience this hair-raising ride today!
Electric Eel:
The Electric Eel will drop anyone brave enough to ride an astonishing 150 feet before launching you at 60 miles per hour through loops, turns, and rolls. Modeled after Eels, the Electric Eel is a fast-paced ride that is sure to get the blood pumping during its stretch of 853 feet of tracks. This ride is accessible with your discount ticket from FunEx.
Journey to Atlantis:
If you're willing to risk getting a bit wet, head to Journey to Atlantis, where you enter a boat and go careening down a steep slope before splashing through a canal. This is a perfect ride to cool down during a hot day at the park. Purchase your SeaWorld Ticket through FunEx today at a discount price!
Tidal Twister:
Tidal Twister is a rare, dueling rollercoaster that adds even more adrenaline-packed fun to the mix with not one but two different carts speeding down the track in tandem. Fly down the figure 8 tracks at 30 miles per hour before doing a dynamic zero-G roll at the center. Ride this unique rollercoaster when you visit with your SeaWorld San Diego Ticket from FunEx!
Medium Thrill Rides:
Shipwreck Rapids:
When spending a hot summer's day at the park, you need to get creative on how to cool down. The Shipwrecks Rapids is a classic family ride great for kids and their parents looking to get splashed. You and your family will sit on a large circular tube while bumping along a lazy river before the thrill amps up. You're tossed about whitewater rapids before dipping into a waterfall for a grand finale.
Riptide Rescue:
This ride is perfect for slightly older kids and their parents. The Riptide Rescue buckles you up in your own rescue craft and twirl around the base, mimicking the rough waters you may experience while on an actual riptide rescue mission.
Get SeaWorld San Diego Discount Tickets for the whole family and experience the whimsical rides at this iconic attraction.
Low Thrill Rides:
These low thrill rides are perfect for your little thrill seekers! Experience these imaginative and kid-friendly rides with your SeaWorld San Diego Discount Tickets from FunEx. Lowest price guaranteed!
Tentacle Twirl:
The Tentacle Twirl is a classic fair swing ride that will buckle your little ones in before they rise up and swing in a large circle. This ride will have your kids feeling like their flying while offering them some sights of the surrounding park. Purchase your SeaWorld Ticket through FunEx today!
Abby's Sea Star Spin:
If your kid loves spinning teacups, then they're going to adore the theme park's take on the classic amusement park ride. Twirl to your heart's content at whatever speed you'd like as your rotate around other Sea Star Spinners. This ride is accessible with your SeaWorld San Diego Ticket from FunEx.
Oscar's Rockin' Eel:
Themed after the beloved Oscar the Grouch character from Sesame Street, Oscar's Rockin' Eel ride will strap you into a cart as you slip, turn, and slide in what is sure to be a fun and thrilling ride for your little ones.
Aqua Scout:
Perfect for soon-to-be sea explorers, Aqua Scout will have your kids ride in mini submarines as they rise, fall, and bump along in an exciting ride. Get your SeaWorld San Diego Discount Ticket from FunEx today and experience this fantastic ride!
Elmo's Flying Fish:
Elmo goes underwater as your kid is strapped into a small Elmo-faced fish and laughs along while the ride glides up and down in an imaginary ocean.
Octarock:
Hang on tight as you and your family are swung back and forth on this height-defying swing ride. This ride is something the whole family can enjoy. Get the whole group's discount tickets through FunEx to save big!
Sea Dragon Drop:
The park's fun take on the classic kids' ride, the Sea Dragon Drop, will take your kids up, up, up before dropping down in a controlled manner. This ride is sure to give kids more than just a few butterflies. Get your Discount SeaWorld San Diego Ticket from FunEx to experience Sea Dragon Drop!
SkyTower:
This one isn't a ride as much as it's an observatory deck; however, if you're not a fan of heights, the SkyTower is thrilling. Please make your way to the very top of the SkyTower and admire the park as it stretches below you. Once at the top, you are treated to views of up to 100 miles in every direction, dependent on the weather. Get your SeaWorld San Diego Tickets and enjoy this unique ride today!
Bayside Skyride:
If you're looking for a break off of your feet, then head to Bayside Skyride, the park's gentle gondola ride that will grant riders some spectacular views. Do keep in mind that in order to ride the Bayside Skyride, you'll need to pay $6 per person ages 6 and over, unless you are Pass Member. Get your Discount SeaWorld Ticket through FunEx today!
SeaWorld San Diego Shows
Now that you've got an idea of rides that you and your family can enjoy while waiting for one of the park's iconic shows, let's talk about what shows you can see during your visit.
The Shows at the theme park are world-renowned for their entertainment and educational value. You can see some of the oceans' most beloved and fascinating creatures up close and personal in a safe manner. The animals are trained and perform different tricks and routines, which their trainer leads them through. During each show, you'll also be privy to some interesting facts about the lives, habits, and behaviors of these majestic animals. You may also be lovingly splashed by the playful aquatic creatures depending on where you sit.
Without further ado, let's go into detail about what you can expect to see, which each of the park's intriguing animal encounters shows. All of these amazing live shows and animal encounters are accessible with your Discount SeaWorld San Diego Tickets from FunEx. Get your Discount Tickets today to not miss out on all the park has to offer!
Orca Encounter:
Formally known as the Shamu Show, the Orca Encounter is by far the most popular show at the park. Centered around one of the ocean's most fascinating creatures, the Killer Whale, the Orca Encounter will thrill, educate, and entertain even the youngest of children and oldest of adults. Guests will learn about the creature's hunting habits, communication, and the importance that the Orcas place on play and family. The Orcas behave as they will, and guests get to watch their fascinating behaviors from an amphitheater. For an even more vivid experience, seat yourself in the splash zone, where you can get a big wet welcome from one of the oceans' fiercest creatures.
The Orca Encounter is a busy show, and there's usually only one showing per day, so you'll want to reserve your seats ahead of time and show up about 30 minutes before the show begins. The showtimes change day to day with the park's calendar, so you'll want to check out the interactive calendar beforehand in order to best plan out your day. Get your SeaWorld San Diego Discount Tickets and experience the world-famous Orca Encounter!
Sea Lion's Live:
See this lovable ocean creature up close in the Sea Lion's Live show. This show is full of mischievous fun as the beloved sea lions Clyde, and Seamore get up to some funny business with the help of their equally playful co-host. The presentation will have you amazed by tricks, amused by humorous habits, and intrigued by the fascinating facts of the Clyde, Seamore, and OP Otter. Guests will all have a great view of the raised amphitheater's fun, educational content, giving everyone a good view of the Sealions and their mischievous acts.
Just like other shows, the Sea Lion's Live show happens at different times each day, so it's best to check the interactive schedule beforehand to see which show is the best for you and your family. Again, the best practice is to reserve your seats and show up about 30 minutes before the showing. The seating is outdoors, so make sure you prepare by bringing sunblock, hats, and plenty of water to keep cool. Don't miss out on the playful Sea Lions and get your discount SeaWorld San Diego tickets through FunEx today!
Trainer Talk at Sea Lion Point:
Suppose you and your family couldn't get enough of these fun creatures at the Sea Lion's Live show. In that case, you'll enjoy the Trainer Talk at Sea Lion Point, which will dive deeper into the stories surrounding these hilarious Californian Sea Lions. The Sea Lion trainers gather at Sea Lion Point and share their first-hand stories and account of their days spent with the trouble-making pair of Sea Lions while sharing some more interesting facts and tidbits about these fantastic, goofy creatures.
These talks happen at different times throughout the day, so you'll need to coordinate with the Calendar and show up early in order to get some seating while you listen to the trainers. Get your SeaWorld Tickets so you don't miss out on this amazing show!
Dolphin Connections:
Perhaps one of the most beloved marine animals in the world, Dolphins are intelligent, loveable, and friendly, earning them the nickname "dogs of the ocean." Dolphin Connections brings you and your family close to the action, where you'll see these playful creatures interact with each other, the trainer, and even guests. Dolphin Connections is an educational presentation that focuses on the family bond of the park's dolphins and the connection between dolphins and their trainers.
Located at Dolphin Point, guests are encouraged to visit and be entertained, educated, and intrigued by all the facts, tidbits, and behaviors of the bottle-nosed dolphins at the park. Want to see a dolphin? Get your Discount SeaWorld Tickets through FunEx!
Dolphin Days:
If you're keen on seeing the park's family of bottle-nosed dolphins in action, then the Dolphin Days show is the one for you. Dolphin Days introduces you to the high-flying acts and tricks of the clan of bottle-nosed dolphins living at SeaWorld San Diego. This presentation celebrates the behavior and life of dolphins and the special connection that trainers share with bottle-nosed dolphins. You'll be treated to a spectacular display showcasing the dolphins and their agility and athleticism as they perform tricks and movements, some of which may leave you splashed in their wake.
Dolphin Days operates at different times during the day, so you'll need to check the park's interactive calendar for your date of attendance and see what time the show is. It's best practice to reserve your preferred seating ahead of time and to show up 30 minutes before the show. But if you're unable, do not worry, as the outdoor amphitheater is built to give everyone the best view of the show. Get your Discount SeaWorld Ticket to experience this must-see show!
Dolphin Up-Close Encounter:
Families can pay an extra fee to have an up-close and personal encounter with the playful bottle-nosed dolphins. This specialized encounter experience allows guests to spend quality time with these playful creatures and learn some behind-the-scenes facts about their behaviors in the wild and at SeaWorld. A specialist will sit with guests poolside while teaching them the different hand signals used by trainers in order to communicate with the intelligent ocean animals.
This experience costs extra but is well worth it for some rare interaction time with one of the world's most beloved sea creatures in a safe environment. This is a popular excursion, so you'll want to ensure a spot by booking well ahead of your arrival date. Another helpful tip is to purchase your SeaWorld San Diego Discount Tickets through FunEx! Experience all that the park has to offer at the lowest price possible.
Other Kid-Friendly Rides and Play Areas included with your SeaWorld San Diego discount ticket
SeaWorld San Diego is not just home for thrill-seeker adults but also a home for the kids. Enjoy unlimited access to these play zones with your SeaWorld San Diego discount ticket from FunEx!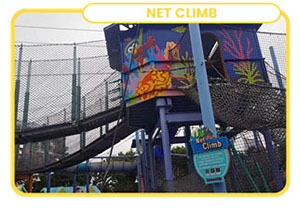 Net Climb
Send your kids to our intense adventure play zone to improve their strength and body awareness while also improving their motor abilities! This three-story-high attraction is ideal for your children to enjoy when visiting the theme park. Net climbing, tunnel activities, and other activities assist kids in improving their spatial and directional awareness and their foot and hand coordination. An adventure that your children will undoubtedly enjoy and remember!
No height or age restrictions; found at the Sesame Street Bay of Play. This play-zone is included in your SeaWorld San Diego discount ticket from us!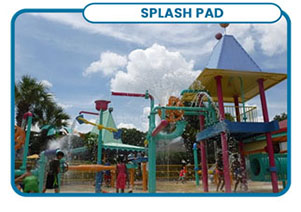 Splash Pad
A trip to SeaWorld San Diego this summer would be incomplete without some stimulating activities within the park. If you want to have fun with your kids in the sun while wearing wet clothes, come to this Splash Pad. You won't be disappointed! This interactive water play area will brighten your toddler's day and inspire them with bliss that no one can ever strip away from them!
Because there are no height or age requirements, it is ideal for children aged two and under. And if you want to, give it a go! The more, the better. Crash on Splash Pad with your SeaWorld San Diego discount ticket from FunEx!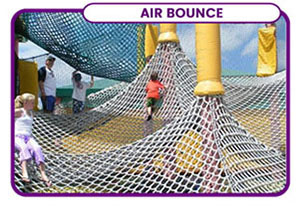 Air Bounce
It's ubiquitous for kids to love to bounce off constantly, so don't worry! They're only there to train their strength awareness and balance; hence, Air Bounce is the perfect spot for them! They may improve their interpersonal skills while they jump, thanks to this interactive play area!
The play area separates the young guests into two groups: one for children ages 5-7 and the other for children four years old and under. Adults and babies are not permitted!
Through FunEx, get your SeaWorld San Diego discount ticket and have fun playing!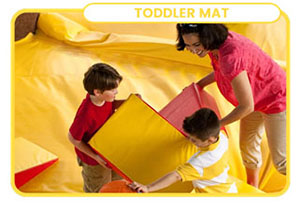 Toddler Mat
Allow your children to run around and do anything they want when they visit Toddler Mat at SeaWorld San Diego. This challenging yet exciting playground will make your children giggle as they mingle with others. They may join together and play with whatever they like in this part because everything is built of soft materials that are safe for them!
Please make the most of your vacation using our SeaWorld San Diego discount ticket! Please remember that this game zone is intended for children aged five and under.
Way in Sesame Street: Bay of Play with your SeaWorld San Diego discount ticket!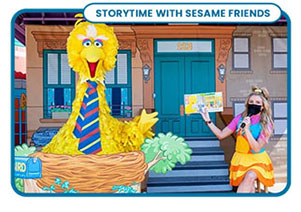 Storytime with Sesame Friends
Does your child like bedtime stories? Please bring them to the Sesame Street Bay of Play and let them listen to some tales and stories during Storytime with Sesame Friends! This spectacular and adaptive encounter is included in your SeaWorld San Diego discount ticket from us.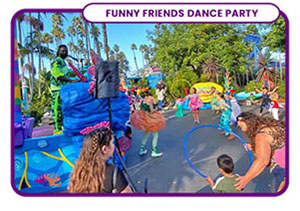 Funny Friends Dance Party
In this mystifying Furry Friends Dance Party at Sesame Bay of Play, groove and heighten your SeaWorld San Diego experience! Engage your children in an exciting and enjoyable dance party that will make them go "Swoosh," and then spend the rest of the day with the Sesame Street pals!
This dance party is included with our SeaWorld San Diego discount ticket, so don't pass up the opportunity to party at the park!
Your SeaWorld San Diego discount ticket gives you full access to Sesame Meet-and-Greets!
Meet your favorite Sesame characters at Sesame Street Bay and Play with your SeaWorld San Diego discount ticket from us!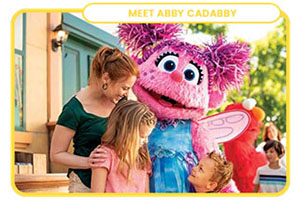 Meet Abby Cadabby
Come meet and greet Abby Cadabby, a magician who exclaims "Abracadabra" whenever she sees you! Be careful, she floats when she's pleased, but don't make her mad, or she'll transform you into a pumpkin! But don't worry, she's the girl we should look up to because she's intelligent and funny!
Meet Abby with your SeaWorld San Diego discount ticket from us!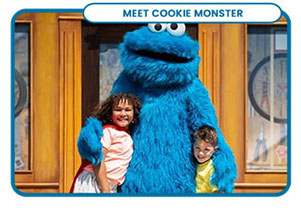 Meet Cookie Monster
Do you enjoy cookies as well? Then you got your pair since Cookie Monster enjoys eating cookies as well! Meet and greet Cookie Monster in the heart of Sesame Street, and don't forget to take selfies with him when you get nearby! This interaction is included with our discounted ticket.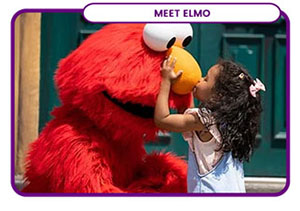 Meet Elmo
Meet this red furry monster with an orange nose at Sesame Street when you visit SeaWorld San Diego! Have fun and make the most of your encounter with this cheerful red monster who talks in a high-pitched voice. Purchase your SeaWorld San Diego discount ticket from us and meet everyone's favorite - ELMO!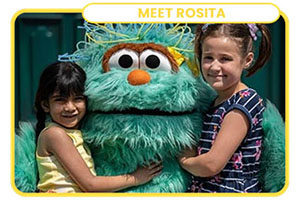 Meet Rosita
With your SeaWorld San Diego discount ticket from us, you'll be able to have an extraordinary meeting with one of Sesame Street's most innovative characters – Rosita! You should think about hugging her if you enjoy reading books, singing, and playing musical instruments! You're just as talented as her!
Crack your meet-up with Rosita at Sesame Street!
Dining Options at SeaWorld San Diego
To break up your day a bit, we recommend stopping at one of the 13 restaurants and snack shops scattered around the park for some classic American meals, giving you and your family a chance to recuperate. With 13 different places to choose from, even the pickiest of eaters can find something to enjoy while at SeaWorld.
Helpful tip: Have a bigger budget for food when you purchase your SeaWorld San Diego Discount Tickets through FunEx. We have the lowest priced tickets available. This means spending less on SeaWorld tickets and more on delicious food that will fuel you up for a day of adventure!
Manta Pizza:
Whether you just got off the thrilling Manta ride, or you and your family are pizza fiends, then heading to Manta Pizza is the perfect lunch idea. Serving mouthwatering pizza, you and your whole family will find a slice or two to love while at Manta Pizza.
Dreyer's Ice-cream Parlor:
Newly opened, Dreyer's Ice-Cream Parlor is the perfect cool-down treat during the afternoon. Beat the heat with a humongous brownie sundae or a scoop or two of your favorite ice cream flavors. You can even get your cone hand-dipped to add even more deliciousness to the mix.
High Tide Brews:
If the adults need some time away, step into the High Tide Brews – a craft brewery complete with gardens and live music for the exact adult entertainment you need.
Underwater Cantina:
If you're in want of a great cocktail, head over to the Underwater Cantina, where you are offered a fine selection of mixed drinks and cocktails to enjoy while chilling on the patio.
Big Bird's Bistro:
The new Big Bird's Bistro is the perfect spot for you and your kid to grab a quick treat while exploring the Sesame Street Bay of Play area. You can find fair favorites such as funnel cake and soft serve as well as fresh fruit mixes to enjoy.
Calypso Bay Smokehouse:
If you're looking for a hardier meal, then look no further than Calypso Bay Smokehouse. This barbecue restaurant is filled with BBQ favorites such as ribs, chicken, and brisket. There is a hand-breaded chicken nugget meal for the kids to feast on while you divulge your BBQ tastes.
Shipwreck Reef Café:
Shipwreck Reef Café offers patrons the classics from burgers to a chicken Caesar salad in a sit-down location modeled after a sunken ship.
Explorer's Café:
The Explorer's Café is the perfect place to unwind with burgers, wraps, or chicken tenders for lunch or dinner. Rest your feet and hide away from the sun for a while by sitting down at a table and refueling with some delicious amusement park classics.
Pretzel & Coffee Shop:
Need a mid-day pick-me-up? Head to the Pretzel & Coffee shop for a delicious salty snack and some specialty Starbucks coffee.
Coral Market:
The Coral Market, located near the park's entrance, is perfect for snacks and coffee. Filled with Starbucks specialties such as frappes and espresso, as well as a selection of pastries and snacks, you can quench any hungry hankerings until dinnertime at the Coral Market.
Manta Bar:
Adults looking for a fun way to cool down while quenching their thirst? Head to Manta Bar for a fun selection of frozen cocktails and craft beers to enjoy while your kids go on the nearby rides.
Electric Eel Bar:
Another location for some deliciously quenching frozen cocktails and specialty beers, the Electric Eel Bar is great for a drink.
Craft Beer Trailer:
San Diego is renowned for its beer, and that is honored with this Craft Beer Trailer that offers a revolving selection of 8 quality local craft beers. The Craft Beer Trailer is located just under the SkyTower.
SeaWorld San Diego FAQ
Are reservations required at SeaWorld?

No, you don't need reservations to enter SeaWorld as long as you purchase tickets from FunEx. With FunEx, you not only get your tickets at a discount price, but you also get the flexibility to get them when you like. The weekday tickets are valid on any Monday – Friday, while the any-day tickets can be used on the weekend as well.

How much do SeaWorld San Diego tickets cost?

The gate price for SeaWorld San Diego tickets is $99.99. However, you can save with FunEx as discount ticket prices start at $54.00, saving you up to $45.99 per ticket.

How do I get my discount SeaWorld San Diego tickets?

Once you've purchased your discounted SeaWorld tickets through Funex, you'll receive them immediately at the email you provide at checkout.

How soon do I receive my discount SeaWorld San Diego tickets?

Instantly, after purchase. Once you've paid for your discount tickets, you receive them immediately through the email your provided.

Do I have to print my discount tickets to SeaWorld San Diego?

No, you can simply scan the SeaWorld ticket on your phone once at the gate in order to enter the park.

How do I get to SeaWorld San Diego?

The address of SeaWorld San Diego is 500 Sea World Drive, San Diego, CA 92109. You can simply input these into your GPS or google maps for the best directions.

What time is SeaWorld San Diego open?

This changes from day to day and season to season. Basically, they are open from 10:30 AM – 5:00 PM on weekdays and then 10:00 AM-6:00 PM, 7:00 PM, or 9:00 PM on the weekends, depending on the time of year. For specific times for your date, be sure to check out the interactive calendar.

Is there free parking at SeaWorld San Diego?

Yes, for annual Pass Membership holders, but for regular customers, there is a $25.00 charge for parking. Up-close parking is more pricey at $30.00.

Can I use cash at SeaWorld San Diego?

Yes, cash payments are still viable at SeaWorld San Diego for the restaurants and shops. There is also Apple pay and interact for debit/credit cards. For even more savings, you can purchase Funex's single-day "Eat Free" Discount Ticket and show it to participating restaurants for food.

Are there ATMs at SeaWorld San Diego?

Yes, there are several ATMs located around SeaWorld San Diego.

Do children get free admission to SeaWorld San Diego?

Children ages 2 and under get free admission. Everyone aged 3 and over must buy discount SeaWorld tickets to enter the park.

Are guests allowed to bring their own food/snack to SeaWorld San Diego?

No outside food and drinks are allowed at SeaWorld San Diego. The only exceptions are refillable water bottles, baby food, and those with dietary restrictions and special food needs.

Is there public transportation to SeaWorld San Diego?

Yes, there is public transportation available that will take you to the park. The Metropolitan Transit System operates a daily bus service from the Old Town Transit Center via bus routes 8 and 9.

How many rides and rollercoasters are there at SeaWorld San Diego?

There are 16 different rides and rollercoasters that guests can enjoy while at SeaWorld ranging from ultra-thrilling rollercoasters to tame kiddie rides.

Is there free Wi-Fi at SeaWorld San Diego?

Yes, there is free Wi-Fi at SeaWorld San Diego. However, the connection may vary depending on location in the park and the type of device you're using.

Is alcohol served at SeaWorld San Diego?

Yes, alcohol is served at various bars and stalls. Patrons must be 21 years and older with valid ID to purchase alcohol.

Is smoking allowed at SeaWorld San Diego?

Smoking is only allowed in the park's designated smoking areas.

Are service animals allowed at SeaWorld San Diego?

Yes, service animals are allowed at SeaWorld San Diego. However, rides are not suitable to accommodate them.
Last updated August 22, 2022.
SeaWorld San Diego Tickets