Check out other American Dream attractions:
Buy your Nickelodeon Universe NJ discount tickets from FunEx today to get exclusive deals. Lowest prices guaranteed! Tickets coming in 2023!
Feel like a kid again at Nickelodeon Universe New Jersey! This wonderful attraction has got all sorts of surprises for you featuring your favorite Nickelodeon shows and characters. The indoor theme park is located inside the American Dream Mall. This indoor theme park is a unique experience that offers a variety of rides and attractions perfect for your next family bonding experience. You can choose an exciting roller coaster ride or a more toddler-friendly ride or even get to see a live character show. Great family fun awaits you once you purchase your Nickelodeon Universe NJ discount tickets from FunEx.
ALL-NEW! Legends of the Hidden Temple Ropes Course Challenge
Did you know that at Nickelodeon Universe NJ, you can get to climb one of the world's coolest ropes courses? This brand-new attraction features a whopping nine different levels of climbing for you to tackle on your own or with a friend. You'll need all of your strength, power, and fighting spirit to make it to the top and through the game's many challenging levels. Remember that you can bring a friend! It'll be easier to brave through this tough challenge with a helping hand at Nickelodeon Universe New Jersey.
Visit this mind-blowing colorful attraction, which welcomes visitors of all ages, making it the perfect family attraction to visit together. This fun activity is located inside Nickelodeon Universe NJ American Dream and can only be accessed with a Temple Challenger Pass or an additional add-on. Tickets to start climbing begin at $20. Discounts of up to 25% are available for this challenge when purchased in conjunction with a valid, single-day Nickelodeon Universe NJ ticket!
Visit Nickelodeon Universe New Jersey!
Nickelodeon Universe New Jersey is the greatest spot to visit if you want to try out some new, thrilling attractions. Measuring more than eight and a half acres, this huge indoor amusement park is open no matter what the weather might be outside. It features some of the top roller coasters and playgrounds in the country.
There are so many rides and attractions to choose from with your Nickelodeon Universe NJ discount ticket. These awesome attractions are fun for people of all ages. The park's designers were inspired by the well-known classic Nickelodeon shows and the newest movies. This leads them to create a fascinating and enjoyable environment for kids of different ages. Even those parents that are young at heart will feel like they are home when they enter this nostalgia-inducing theme park. You will encounter many familiar faces, including Jimmy Neutron, Splinter, and the Teenage Mutant Ninja Turtles. Who knows? You might even be lucky enough to run into SpongeBob SquarePants, Dora the Explorer and her friend Boots, or even Blue, from our classic beloved show: Blue's Clues! This is the kind of excitement that you do not want to miss out on. Nickelodeon Universe New Jersey is waiting for your visit! The park is open 365 days a year. That's another great reason to get your Nickelodeon Universe NJ discount ticket from FunEx! You can plan your visit on the day you prefer! This awesome theme park awaits you, full of surprises! All you need to do is purchase your discount tickets and start planning your fun-filled visit!
Enjoy a day of nonstop fun and laughter with the whimsical characters you've loved since you were a kid at Nickelodeon Universe New Jersey. The combination of the park's pleasant playgrounds for children of all ages and the rides' defying gravity will guarantee a good workout and a few tummy aches as a side effect of all the excitement.
As an added bonus, you can ride on a rainbow-hued magic carpet with trainee genies like the Shimmer and Shine Jumping Genies. At Blue's Skidoo, you may hang on for dear life as you and your little ones enjoy a gentle, suspended ride atop Magenta or Blue. You and your family can also lounge on Blue's Clues' iconic red Thinking Chair. You can even take a picture with Blue behind you! Just be sure to tag us @FunExBenefits when you do!
Fun Express offers the best deals on Nickelodeon Universe NJ tickets, so you can enjoy the entire park and all of its attractions without spending a fortune. The discounts we consistently offer guarantee that no one will ever leave the park empty-handed. For the price of one ticket, you get a full day of exciting and fun activities. This is not something you should pass up! You'll save money, have a great time, and make unforgettable memories all in one trip on FunEx' Nickelodeon Universe NJ discount tickets!
Enjoy MORE with your Nickelodeon Universe Discount Ticket from FunEx!
Gigantic and Miniature Thrills with RUGRATS and More
Enjoy family fun aboard the Bikini Bottom Crosstown Express. Experience a raucous bus journey through SpongeBob's hometown of Bikini Bottom. You'll even witness SpongeBob's Jellyfish Jam giving the swing ride a marine makeover. Another attraction you'll want to experience is Rugrats Reptar Go-Round! This is Nickelodeon Universe New Jersey's take on the classic carousel ride. Join your favorite characters including Grandpa Lou, Tommy, Chuckie and even Angelica on this fan-favorite ride that's good for all ages! Did I mention that it's a two-story carousel?
At Nickelodeon Universe New Jersey, older kids, teenagers, and adults can challenge themselves on thrill coasters that pay homage to the Teenage Mutant Ninja Turtles. The Shredder is a free-spinning roller coaster that is both extremely tall and very long. It has so many high-speed loops and spins, that you will need to hold on tight! Kraang Prime Pandemonium is a full-circle pendulum swing where the Turtles' most dreadful extraterrestrial nemesis awaits.
Another must-try is Timmy's Half Pipe Havoc, the only shuttle coaster in the world in the shape of a skateboard, inspired by the animated series The Fairly OddParents. You'll feel like you've got fairy godparents too as you swing through the air on this thrilling ride.
It just wouldn't be a Nickelodeon show without a little Slime! Located on an orange track and featuring a splat pattern, Nickelodeon Slime Streak is a fun ride for the whole family that soars high over Nickelodeon Universe.
A whole lot awaits you at this awesome indoor theme park. Purchase your Nickelodeon Universe NJ Discount Tickets through FunEx today and enjoy a nostalgic day full of your favorite characters.
Count on FunEx for your Nickelodeon Universe NJ Discount Tickets!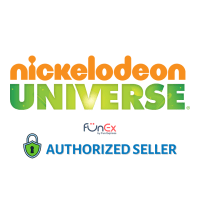 We sell the lowest priced tickets!
You can rely on us for the best deals on tickets in the United States. Visit all of your favorite places and discover new and incredible destinations. We provide the lowest prices and the best savings on attractions nationwide, including Nickelodeon Universe New Jersey. Hundreds of thousands of members have relied on us for the lowest prices on tickets and passes. Don't miss out! Buy your Nickelodeon Universe NJ discount tickets today!
No need to make a separate reservation!
Our Nickelodeon Universe NJ discount tickets will get you inside the theme park whenever it's most convenient for you. You won't need to make any further reservations. It's easy, simple, and time-saving. You do have the option to choose a particular date. This will help you avoid crowding at the theme park. This hassle-free feature is available when you purchase your discount tickets through FunEx! Enjoy your Nickelodeon Universe NJ Discount Tickets whenever it's convenient for you!
Skip the Line!
Our lowest-priced discount tickets eliminate the need to stand in line on the day of your visit. That's super convenient; as soon as the theme park doors open, you can jump right into your adventure!
Become a Fun Express member to enjoy exclusive deals!
Did you know that there are no costs associated with either individual registration or business registration if you already have an Employee Access Code (EAC) or work email? You can save a lot of money on a wide variety of cinemas, theme parks, water parks, museums, outdoor and indoor activities, and so many other experiences around the United States if you join us at Funex! Again, there's no fee, it's free!
Trusted partner and Nickelodeon Universe NJ discount ticket seller!
The Better Business Bureau (BBB) has rated Fun Express with an A+, so you know you can trust us whenever buying discount tickets for any theme park through us!
Have any doubts or concerns? Please call/text 949-367-1900 from 7:00 AM to 10:00 PM daily or write to us at help@funex.com
Try Out Nickelodeon Universe's Record-Breaking Rides
Looking for something new and exciting? We've got you covered! Our Nickelodeon Universe NJ discount ticket will take you to a world where you can ride the world's highest indoor roller coasters and relive your favorite cartoons from your youth. They feature a wide variety of activities for people of all ages, making it the perfect location for your next family trip. From toddler-friendly rides to heart-pounding roller coasters, the amusement park has it all. That's why so many families choose Nickelodeon as their go-to destination.
With your Nickelodeon Universe NJ ticket from Fun Express, you can experience the following rides:
Junior Rides
Blaze Monster Truck
Are you a Monster Truck fan? Those cute kid-friendly trucks we've seen on TV finally made it into the amusement park. A perfect ride for the little ones! Children will have a blast racing through fun roads in the company of our beloved and playful characters. You can enjoy this attraction at a great price with your Nickelodeon Universe NJ ticket.
Blaze Monster Truck Riders must be at least 36 inches tall.
Blue's Skidoo
Experience the thrill of flying on Blue's and Magenta's ride. Have a blast going up and down, and all around in this fantastic super friendly ride. You can also take some pictures on Blue's famous Red Thinking Chair to remember your visit!
Minimum height to ride Blue's Skidoo is 36 inches.
Boot's Banana Swing
Remember Dora's friendly traveling buddy, Boots? At Nickelodeon Universe New Jersey, you can catch a ride aboard Boot's Banana Swing and experience a fun adventure! Soar higher on this jungle-themed rollercoaster that's infinitely more exciting the higher it goes!
The minimum height required for this Nickelodeon Universe New Jersey ride is 36 inches.
Butterbean's Sweet Spin
Care for a thrilling spin that'll keep you entertained? This Butterbean Twist is too good to miss. See how this thrilling ride twists and turns at incredible speeds. Just a warning though, this cupcake-shaped ride might make you hungry for sweets!
Height restriction: 36 inches and below are not allowed; 36 inches is the minimum.
Dora's Sky Railway
Say it with me: Choo! Choo! Explore the world with Dora as she travels via train driven by her good friend Azul. Join Dora on her adventures and make sure to take the map with you!
Minimum height requirement to ride the train is 42 inches tall.
Fairly OddAirways
With the help of Cosmo and Wanda, Timmy has taken to the skies of Nickelodeon Universe New Jersey. If you choose to, you can go along for the journey as he soars through the air. Put on your flying clothes and get ready to lift off into the sky.
For you to ride, you must have at least 36 inches tall height.
Family Rides
Bikini Bottom Crosstown Express
Embark on this enclosed rollercoaster for a ride under the sea! Experience a Bikini Bottom tour like no other! This exciting ride has twists and turns awaiting you. It's a lot of fun since it rotates while it moves, in addition to swinging you forth and backward. Enjoy a ride that is both unique and exciting!
Height requirement: 42 inches.
Jimmy Neutron's Atom Smasher
Jump on board with your BFF and experience a whole new level of excitement on Jimmy's atom smasher ride! This ride is fun for the whole family!
48 inches is the minimum height requirement to ride.
Nickelodeon Slime Streak
Never leave Nickelodeon Universe New Jersey without experiencing the thrill of Nickelodeon Slime Streak! This exciting steel ride will take you on a full speed adventure! It will really turn your world upside down! A must-try for any family of thrill-seekers or those who simply want to try something truly unique and unforgettable. Your FunEx Nickelodeon Universe NJ discount ticket certainly includes this. Don't miss this on your visit!
Minimum height requirement is 42 inches tall.
Skyline Scream
Buckle up and prepare to spin around and go way high up on Skyline Scream at Nickelodeon Universe New Jersey! Are you ready to feel a rush of adrenaline as you reach unimaginable heights and speeds?
Minimum height required to ride is 48 inches.
SpongeBob's Jellyfish Jam
Hop on a colorful jellyfish at Spongebob's Jellyfish Jam! This imaginative ride awaits you at the indoor theme park and will absolutely surprise you.
Minimum height requirement is 48 inches.
Thrill Rides
Aang's Air Gliders
This is one wild roller coaster! Put on your seatbelt, because this ride will have you spinning and twisting! If you're looking for a wild adventure, you have definitely found it.
Minimum height required is 48 inches.
Kraang Prime Pandemonium
You can feel some intense gravity-defying forces onboard the Nickelodeon American Dream's 360-degree rotating pendulum. Enjoy a bird's-eye view of the entire amusement park, even while you are upside down! Enjoy this slimy tentacle-filled fun at the American Dream Mall!
Minimum height required to ride in the tentacle is 48 inches tall.
Sandy's Blasting Bronco
Ready to scream at the top of your lungs? This ride will blow your mind as you travel at incredible speeds. Get ready to dive forwards and back at amazing speeds. Don't forget to miss this awesome ride at the American Dream Mall!
You must have at least 52-inch-tall height to ride this extreme coaster at Nickelodeon.
The Shellraiser
This is the steepest drop in the history of the world. This ride will give you nothing but excitement, a racing heart, and a whole new perspective of the park as you ride through it. It also features fantastic twists, turns, and drops. This ride is only for the brave!
The minimum height needed to ride must be at least 48 inches tall.
The Shredder
This rollercoaster, called "The Shredder," is nothing like the standard, linear coasters. This unique roller coaster ride spins 360 degrees while traveling at the speed of light, creating a sensational experience. This is a great option for those who like to ride with their friends and have a great time. Get your Nickelodeon Universe NJ tickets from us today and you'll be whisked away to a whole new world!
Minimum height is 44 inches.
Timmy's Half Pipe Havoc
This ride is not like any other roller coaster you've seen before. Because of its one-of-a-kind design, this is one of the most visited rides in the park. In the company of Wanda and Cosmo on this skateboard-shaped ride, you'll have a blast in the air.
Minimum height of rider should be at least 48 inches tall.
Attractions to visit with your Nickelodeon Universe NJ discount ticket
Guppy Bubbler
Do you aspire to reach the skies? If so, you should check out this feature at American Dream New Jersey. Children who fantasize about soaring to great heights would love this ride. It's a shell-cupcake-shaped cart that spins around to make riders dizzy, adding an extra element of excitement for young explorers who ride it.
Minimum height to ride is 36 inches.
Paw Patrol Adventure Bay
Is your little one up for the ultimate test of strength, agility and speed? Well, they'll be pleased as can be at the fantastic Paw Patrol playground, where there are several exciting games to try out! The location has a rescue playground, incredible slides, and climbing platforms. Don't forget to pack a change of clothes for the kids!
52 inches is the minimum height to roll over these amazing play areas.
Pup Pup & Away
Enjoy a leisurely ride while getting a view of the other rides in the theme park from the Pup Pup and Away! If you're terrified of heights, relax; this ride doesn't go very high, making it a great option for anybody. Hop in this peaceful ride and glide through the air. Share this experience with your loved ones. We're offering discounted rates so you never have to miss out again!
Minimum height required to ride is 36 inches.
Ren & Stimpy's Space Madness
If you worry that your child won't be able to handle the Skyline Scream, but they keep pleading to go on it, we have another option that is similar to that one! Ren & Stimpy's Space Madness is a kid-friendly ride that will still make the little ones feel excited! You may take your children on this exciting little trip!
Height requirement: Riders must be at least 40 inches tall.
Rugrats Reptar Go-Round
This merry-go-round ride has some great turns, and it is open for go-rounders of all ages, perfect for families! This is no normal carousel ride though! If the typical merry-go-round features a horse, then Nickelodeon's version features a dinosaur decked out in a forest-themed costume. Additionally, there are two levels of seating available on this ride, making it a really innovative and one-of-a-kind attraction. Try riding on the upper deck to get an awesome view of Nickelodeon Universe New Jersey!
Minimum height requirement must be at least 42 inches tall!
Shimmer & Shine Jumping Genies
Take your little adventurer soaring through the skies like a genie! At Shimmer & Shine Jumping Genies, experience a whole new world featuring everyone's favorite genie duo.
Riders should be at least 42 inches minimum.
Slime Stage
Give your family the opportunity to visit one of the coolest places on earth. At the Slime Stage, kids will be able to interact with the greatest characters from their favorite shows. You can hug and even take a picture with any of them! Dora, SpongeBob, the Teenage Mutants Ninja Turtles, and Blue from Blue's Clues are just some of the characters that are waiting to meet and greet you!
No minimum height and age requirement. An attraction that's open for all ages!
Slime Zone
Who doesn't love slime? Come visit the Slime Zone, where they can play as freely as they want. Kids can jump, roll over, and go crazy choosing fun things to do here. Have them enjoy an unforgettable slime experience!
No height requirement. Everyone can jump on!
Zuma's Zoomers
This Zuma Zoomers zone is fun for both kids and their parents. Get ready to be amazed as you make your way along the coast of Adventure Bay in one of Zuma's hovercraft boats. Make sure to have a firm grip on the handlebars and buckle up! Embark on high seas adventures!
Minimum height required is 36 inches.
Frequently Asked Questions for Nickelodeon Universe NJ
Does the Nickelodeon Universe require guests to make reservations?

No, reservations are not necessary anymore; however, it is recommended to choose a date in advance to guarantee that you will be allowed entry. Your dated Nickelodeon Universe NJ discount ticket is a ready-to-go ticket.

In order to visit Nickelodeon, do I need to bring a face mask with me or cover my face in some other way?

In order to maintain a level of safety for the duration of the visit, it is strongly suggested that visitors of any age wear some sort of facial covering or mask. Face coverings are no longer required for guests who have received all of the required vaccinations in accordance with the rules established by the state; nevertheless, individuals who have not received vaccinations should continue to wear face masks.

If I don't plan on riding any rides, do I still need a FunEx Nickelodeon Universe NJ ticket?

Yes, all visitors to Nickelodeon Universe New Jersey, including chaperones and the parents of children who are there as accompanying guests, are required to purchase Nickelodeon Universe NJ tickets to enter the attraction.

Are there minimum and/or maximum height requirements for rides and attractions?

Yes. Restrictions are subject to change depending on the ride or attraction in question. You will find the minimum height criteria already mentioned in this article, under each ride and attraction.

Is it necessary to print my Nickelodeon Universe NJ discount ticket?

No. When you visit the amusement park, you will not be required to print out your electronic Nickelodeon Universe NJ tickets. At the entrance to the amusement park, all you need to do is whip out your smartphone and show it to the attendant.

Am I allowed to bring in my own food and beverages after I enter the amusement park?

If you purchase your food and beverages from the center, then you are allowed to bring them inside with you. On the other hand, if you don't want to bring any food with you to the Nickelodeon Universe, there are some light drinks, beverages, and snacks that you may purchase there instead. Cakes, alcoholic beverages, and delicacies brought in by outside caterers are not permitted in any way.

Is it possible to bring a water bottle into the amusement park?

Yes. You are welcome to bring your water bottle inside with you as long as it is made of a material other than glass.

May I enter the building with a bag or a backpack?

Yes. You are welcome to bring your backpack or other bag inside in the event that you may require it to store any of your important belongings.

What are the items not allowed into Nickelodeon Universe NJ?

Please be aware that before entering, any and all bags will be subject to inspection. Any and all types of weapons, as well as any and all types of toys mimicking weapons, as well as glass bottles and selfie sticks, are completely prohibited within.

Does the park require guests to follow a certain dress policy while they are there?

Visitors are strongly advised to dress appropriately at all times in order to keep the atmosphere both healthy and welcoming. Shirts and shoes are expected to be worn at all times. There is a strict no bathing suit policy.
---
Health and Safety Protocols for COVID-19 inside the Nickelodeon Universe New Jersey
At American Dream Mall, the health and safety of the visitors, Dream Makers, brand partners, and community members has been and will continue to be the top priority of the attraction. The following is a rundown of the most recent safety upgrades, which have been formulated in accordance with recommendations made by the CDC and various local health authorities.
Sanitize your hands frequently.
The practice of regularly washing one's hands and making use of hand sanitizers is strongly advocated everywhere in the American Dream Mall. Hand sanitizers are located around the site, and both guests and Dream Makers are urged to wash their hands frequently with soap and water for at least 20 seconds or use hand sanitizer if they do not have access to soap and water.
Improved sanitation measures
The frequency of cleaning and sanitizing has been increased throughout American Dream, with an emphasis on frequently contact surfaces using cleaning products and protocols that meet the guidelines established by the United States Environmental Protection Agency (EPA) as well as the guidelines established by the Center for Disease Control (CDC).
Coverings for the face
Visitors who have had all necessary vaccinations do not need to cover their faces anymore while visiting the American Dream Mall; nonetheless, doing so is strongly encouraged. Guests who have not received all of their vaccinations should continue to cover their faces and maintain a physical distance of at least six feet between themselves and other guests throughout their time at American Dream.
Purchase of Tickets for Attractions in Advance
Guests who have plans to go to the American Dream Mall and want to avoid having to wait in line for rides and other attractions inside the theme park should buy their tickets in advance.
Nickelodeon Universe amenities include:
Nursing stations that are both comfortable and attractive
Baby changing stations
Digital Directories Accessible Via Touch Screen
Family-friendly washrooms
Smart Strollers
ATM Machines
A seating area that also includes charging stations
Free Wi-Fi
You may find these daily rentals helpful
The following items are available for rental on a daily basis for the usage of guests:
Wheelchairs - $10
ECVs, or electric conveyance vehicles, can be rented for $40.
Strollers - $11
The cost of lockers is proportional to their size.
You'll find the doors to the locker rooms right next to the Guest Services desk in Court A (Level 1), as well as the entrances from Parking Deck B (Level 1) and Parking Deck C. (Levels 1 & 2).
Last updated January 19, 2023.
Nickelodeon Universe New Jersey Tickets