Reservations Required
Overview
About Hop-on Hop-off Bus Chicago
Enjoy seeing Chicago at your own pace! With this bus tour, you have the option of a one, two, or three-day pass and can make a custom itinerary from a selection of 19 different locations. Pick and choose where you want to get off and how long you want to stay. Three different routes (blue, red, or green) are available to choose from, and you can enjoy free Wi-Fi on the air-conditioned bus. You also get to use a free app that assists in abiding by the chosen itinerary. The Blue Route takes you on a downtown tour where you can visit Freemont Street, lots of shops, and museums. The Red Route goes to the most popular stops on the Strip while the Green Route is a combination of both routes and is only accessible at night if you buy a three-day pass. Reserve your tickets and chose your routes today!
Why pick Funex
Our company guarantees to give you discounted tickets to your favorite attractions at the best price. We strive to offer the cheapest tickets and passes possible and great corporate benefits to thousands of companies. Buy now to get some great savings today!
What's New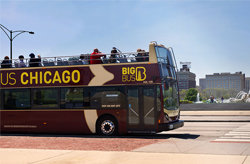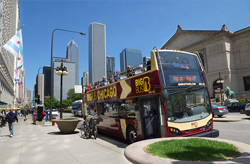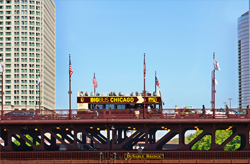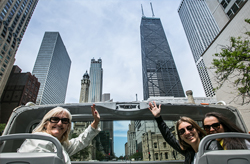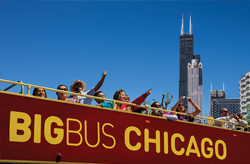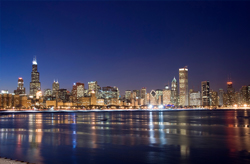 Location: 98 E. Upper Wacker Dr. Chicago, IL 60606 Phone: 877-285-4796
Hop-On Hop-Off Bus Chicago Tickets
Classic Adult

(ages 13+)

Regular price $44.10

Discounted Price $37.04

Savings $7.06

Classic Child

(ages 2-12)

Regular price $27.00

Discounted Price $22.68

Savings $4.32

Premium Adult

(ages 13+)

Regular price $53.10

Discounted Price $44.60

Savings $8.50

Premium Child

(ages 5-15)

Regular price $31.50

Discounted Price $26.46

Savings $5.04

Deluxe Adult

(ages 16+)

Regular price $62.10

Discounted Price $52.16

Savings $9.94

Deluxe Child

(ages 16+)

Regular price $36.10

Discounted Price $30.24

Savings $5.86

Kids FREE

(under 3)