Get up to 30% off of discount Xavier Mortimer tickets and explore the realm of magic! Lowest prices guaranteed with FunEx.
Reservations required after purchase of tickets. Please call us at 949-367-1900. Turnaround time for tickets may take up to 2 hours. Tickets are only filled during business hours.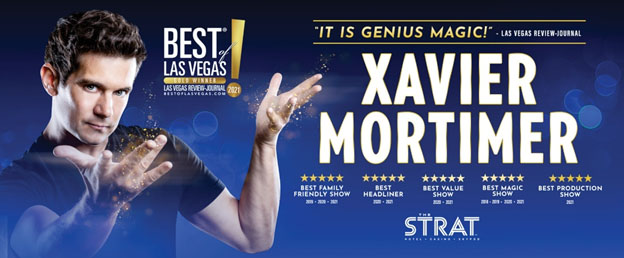 Watch Xavier Mortimer The Dream Maker Live!
| Day | Performance Schedule |
| --- | --- |
| Monday | 6:00 PM |
| Tuesday | DARK |
| Wednesday & Thursday | 6:00 PM |
| Friday | DARK |
| Saturday & Sunday | 6:00 PM |
*Availability is subject to change. Please call us for more information on the schedule.
Venue: STRAT Theater at The STRAT Hotel, Casino & SkyPod

Age Requirement: Recommended for guests 5+ years

Capacity: 300

Duration: 75 minutes
The audience will experience an extraordinary evening with Xavier Mortimer The Dream Maker that will leave them inspired, amazed, and entertained. A family-friendly performance that is in its fifth year,
Xavier Mortimer's presentation is incredibly lively and visually stunning. With the creation of a presentation featuring imaginative and unique illusions, enjoyable comedy, and a poetic plot, Xavier has brought his own spin to magic. In his stunning new home at The STRAT Hotel & Casino, Mortimer has fully redesigned his performance and added all of his most well-known, amazing, and mind-blowing online illusions and web videos, which are now being performed live on stage for the first time.
Buy Discount Xavier Mortimer Tickets From FunEx!
We sell the lowest priced tickets!
We provide the lowest prices and the most amazing savings on attractions and shows nationwide, including discount Xavier Mortimer tickets! Hundreds of thousands of members have relied on us for the lowest prices on tickets and passes. Don't miss out; buy your discount Xavier Mortimer tickets today!
Skip the Line!
Our discount Xavier Mortimer tickets eliminate the need to stand in line at the ticket booth on the day of your visit. That's more convenient; as soon as the doors open, you can settle into your show immediately and soak up the atmosphere with the convenience of your discount tickets.
Become a Fun Express member to enjoy exclusive deals!
The best thing is there are no costs associated with either individual registration or business registration if you already have an Employee Access Code (EAC) or work email. You can save a lot of money on a wide variety of cinemas, theme parks, water parks, museums, outdoor and indoor activities, and more around the United States if you join up for this! Again, there's no fee, it's free!
Trusted partner discount Xavier Mortimer ticket seller!
The Better Business Bureau (BBB) has rated Fun Express with an A+, so you know you can trust us whenever buying discount tickets to any attractions and shows through us!
Have any more clarifications?
Text/Call
at
949-367-1900
from 7:00 AM to 10:00 PM daily or,
Xavier Mortimer: The Dream Maker Tickets