Get your Madame Tussauds discount ticket today at FunEx starting at only $23.99 per ticket. Enjoy up to 20% off discount! At FunEx, always low prices!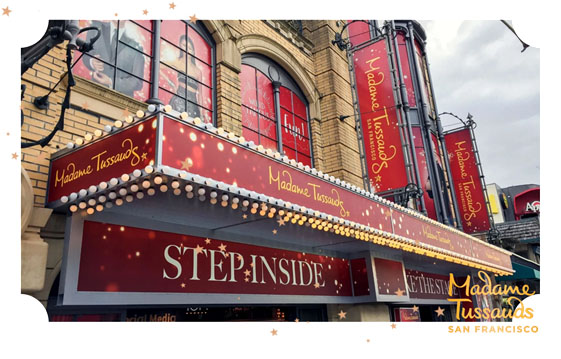 When you visit Madame Tussauds, relax, and let yourself be mesmerized by the lifelike wax sculptures depicting famous people from a wide variety of fields. Whoever it is, certainly bet they are an enthusiast of sports, whether they are a famous actor, a pop star, and so much more! After you have given them your most heartfelt embrace, you can use your magic to summon the energy to get up and buy your Madame Tussauds tickets through FunEx!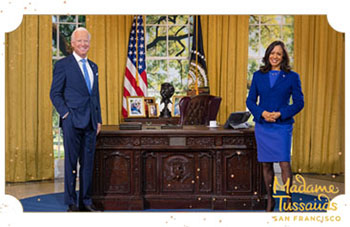 New In House: Joe Biden and Kamala Harris
The time has come for the Prez to speak! You have a limited amount of time at Madame Tussauds San Francisco to get up close and personal with former Vice President Harris and President Joe Biden. This opportunity is not to be missed. A time-honored tradition that extends back many decades is that Madame Tussauds makes a wax figure of each president of the United States and displays it in their museum. On the other hand, the Vice President of the United States has never in the history of the United States been given the opportunity to receive this honor — that is, until now! Not only did Kamala Harris make history when she was elected as the first woman, first person of color, and first Asian-American to the position of Vice President, but she is currently making history – her-story – once more. She is the first person of color and the first Asian-American to hold this position.
Because it's about as impossible to get close to such people as it is to land on the moon, guests to the Wax Museum San Francisco should take the opportunity to strike a pose and pretend they're just casual acquaintances with the wax figures on display. Today is the day to get your Madame Tussauds discounted ticket from FunEx and go on the waxiest adventure!
Madam Tussauds San Francisco: A Look Underneath the Crust
There aren't any tethers. Limits do not exist. Infinite space. Now, more than ever, you can get up and personal with your favorite stars. Wow, what a fantastic description! Step onto the floor alongside Steph Curry or Jimi Hendrix and experience the "Spirit of San Francisco" as you play basketball or jam out to their music. People like Mark Zuckerberg and Bill Gates... You can go in and say hello to everyone there. It's a physical sensation that exceeds the scope of mere experience. Beyoncé will show you the proper way to stand, while Adele will show you how to own the stage. Sit down in the director's chair next to Steven Spielberg, and GASP! Indeed, it's George Clooney! Sit down on the sofa beside him. Put on your safety belts, party people and selfie-takers. At this internationally renowned party, you can choose between two levels of exciting experiences using your Madame Tussauds discount ticket!
Why Go with Funex For Your Discounted Madame Tussauds Ticket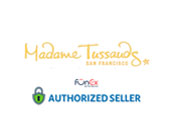 The Industry's Lowest Price Ticket!
Our company offers the lowest prices on discounted tickets to your favorite destinations. We do offer our customers exceptional discounts and the lowest rates for Madame Tussauds San Francisco. We have provided tens of thousands of users with the most affordable Madame Tussauds tickets and discount passes, as well as excellent corporate incentives. Buy your discount tickets now to reap the benefits of the largest savings in the history of the market industry!
No Separate Bookings Required!
FunEx offers the highest privilege that you will never acquire elsewhere! Our Madame Tussauds ticket grants you access to whichever time is most convenient for you. You are not required to make another reservation, but it is strongly advised to pick a date for your visit, as they may have capacity limitations to guarantee the safety of guests of all ages during the official visit! This benefit will leave you beaming from ear to ear! Your Madame Tussauds discount tickets are available whenever you want!
Visits are Made Easier: Skip the Line!
Suppose you spent more money on a pass or Madame Tussauds ticket and you're waiting in line to get in – this is something you'll never experience when you buy your tickets through FunEx! To avoid waiting in line at the ticket booth, you can now buy your tickets in advance through online purchase and save the hassle. That's more convenient; as the gate opens, you may start your trip at Madame Tussauds right immediately!
Sign Up Now and Get Access to Even More Member-Only Deals!
The best part is that if you have an Employee Access Code (EAC) or work email, signing up for the service as an individual or registering your company is completely free of charge. If you sign up, you'll get deep savings on attractions like the Wax Museum San Francisco and others across the United States, like theme parks, water parks, museums, and outdoor and indoor activities, and so much more!
Trusted Madame Tussauds Discount Ticket Seller!
Fun Express has been given an A+ rating by the Better Business Bureau (BBB), so you know you're getting a good deal on your purchase for Madame Tussauds tickets.
Need some clarification? Find the answers to your questions by reaching out to us through:
Text/Call at 949-367-1900 from 7:00 AM to 10:00 PM daily or Email help@funex.com
Inclusive Of Your Madame Tussauds Discount Ticket
FunEx offers discounted admission to Madame Tussauds, where you can spend the day exploring the museum and its many wax replicas. These vouchers are legit, and they're the same as the tickets you'd buy at the venue. In addition to saving your time and money, our Madame Tussauds ticket costs are set in fixed manner, so there are no surprises when you go to check out. When it comes to cost-effectiveness, FunEx is your best option thanks to the competitive prices we offer. Now, that's the kind of money you can save without feeling bad about it!
Use Your Madame Tussauds Discount Ticket to Traverse The Music Era
Imagine that you are Beyoncé and go all out with the ham. Have a pleasant time and put on some Adele to entertain yourself. Come along with Swift and have a seat. Perform for us some music on the drums. You've made it, great visitor!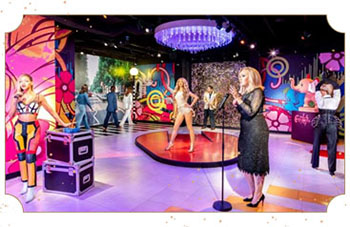 The Wax Museum San Francisco has a large number of additional exhibits, particularly in the music zone. You'll get to see Taylor Swift, and all the Sw ifties there will definitely sing along and give a big embrace to the best songwriter alive. Alternately, you'll be dancing with Michael Jackson and performing some spectacular moves alongside him. In point of fact, there is a great deal more to do once you have arrived at your destination! As you make your way through the Wax Museum San Francisco with your Madame Tussauds discount ticket, be sure to secure your seatbelt and take a deep breath as excitement gets livelier and livelier!
Here are some of the notable waxes life-like figures you'll meet at the Wax Museum San Francisco with your Madame Tussauds ticket: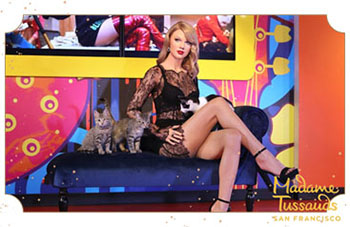 Taylor Swift
In 2010, at the tender age of twenty, Taylor Alison Swift became the youngest performer in Grammy history to win Album of the Year. Swift has since gone on to win several Grammy Awards for her songwriting and singing. In 2011, Billboard named Swift their Woman of the Year. She has won numerous prizes and accolades, including Artist of the Year from the American Music Awards , and Entertainer of the Year from both the Country Music Association and the Academy of Country Music. If you're a fan of hers, you should never miss her on this journey! You can get up close with her at the Wax Museum San Francisco using your Madame Tussauds discount ticket from FunEx!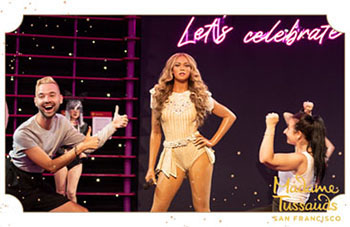 Beyonce
Beyonce is the record to get if you dig R&B Rock. Beyoncé Knowles-Carter is an American singer, songwriter, and actress who rose to fame as the frontwoman for the R&B group Destiny's Child. She had considerably more success with her solo career later on. Grammy Award nominations followed her subsequent albums, including "I Am... Sasha Fierce" (2008), "Beyoncé" (2013), and "Lemonade" (2016). In 2010, Beyoncé won a record-breaking six Grammy Awards, making her the first female artist to do so in a single evening. Such a great person with so much talent. Of course, she's included in your Madame Tussauds ticket's wax figure to look on!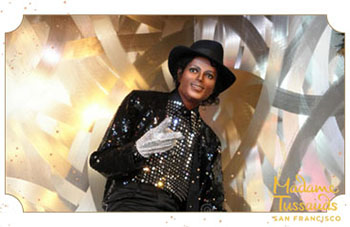 Michael Jackson
The King of Pop is now at Wax Museum San Francisco! One of the greatest pop singers who once overruled the world of music back then. Michael Joseph Jackson was an American musician who influenced and revolutionized the genre of pop music throughout his career. Elizabeth Taylor, a close and long-time friend of his, gave him the nickname "King of Pop," which he eventually became affectionately known. If you do love his overall personality, then one should never miss out a photo op with him at Wax Museum San Francisco using any of your Madame Tussauds discount ticket that's purchased from FunEx.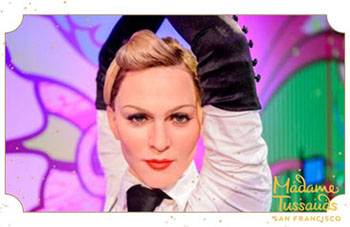 Madonna
Madonna pioneered the use of music videos by a female artist, and she did it to full effect. She has twenty-one top ten singles in the United States and had sold almost seventy million albums worldwide by 1991. To other women in the profession, her success sent a strong message of financial control, yet she was an equivocal role model in terms of looks. She's a successful businesswoman with a successful singing career. Your FunEx's Madame Tussauds ticket will get you in to see her. It's time for you to have a moment of glory similar to hers!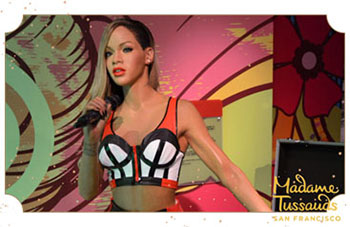 Rihanna
Rihanna is the stage name of singer Robyn Fenty. Rihanna Fenty is a Barbadian singer who is most known for her work in the genres of pop and rhythm-and-blues. She made her debut in the early 21st century and shot to the top of the music world almost immediately. She is well-known not just for her chic appearance but also for the distinctive and adaptable vocal style that she possesses. Visiting to her wax figure at Wax Museum San Francisco using your Madame Tussauds discount ticket is free and included. So never miss out!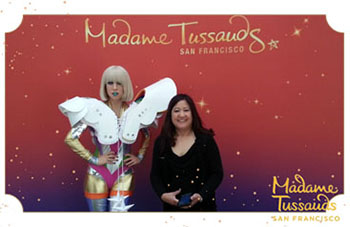 Lady Gaga
You will have a one hundred percent opportunity to see Lady Gaga in person if you go through the Wax Museum San Francisco with our Madame Tussauds ticket. Sorry me, I meant to say that you will see her wax figure! Despite the strange clothing she frequently wears on stage, Lady Gaga possesses a fantastic voice, which shines through despite the fact that she is known for her amazing dancing and obvious talent. The truth that she is a talented singer is frequently overlooked because everyone is so captivated by watching her dance or making observations about what she is wearing at any glance. People are of the opinion that it is about time that individuals begin giving more credit to the wonderful voice that she possesses, and we are of the opinion that this moment has come.
Explore The World of Leaders & Entrepreneurs At Wax Museum San Francisco
Get to know the Presidents of the United States of America as well as some of the most powerful leaders in the country. Then, let's introduce you to the technological pioneers who are credited with creating the world as we know it today!
Madame Tussauds, popularly known as the Wax Museum in San Francisco, takes earnest efforts to include a wide range of prominent names in its wax exhibits, not just celebrities from the worlds of pop music, dance, and the arts. To that end, they spare no effort in highlighting the world's most amazing people who have ushered in anything from a departure from ancient customs to the advent of cutting-edge science and technology. We can't deny that life would be considerably different if they weren't around because we're one of the people that leverages their inventions. Life's never that hard, anyways! You can use your Madame Tussauds discount ticket to see them at Wax Museum San Francisco!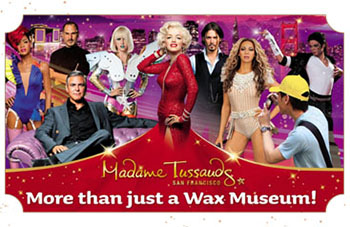 Who are the persons you can see at this zone?
Steve Jobs
Barack Obama
Abraham Lincoln
Mark Zuckerberg
and many more!
A-List Celebrities to Meet With Your Madame Tussauds Discount Ticket
Naturally, Wax Museum San Francisco never fails to provide its guests who visit, have visited, and would like to visit Madame Tussauds San Francisco with an unforgettable experience courtesy to the museum's ability to make life-like figures of a large number of the most renowned personalities from throughout history! The stars and actresses that you used to see in movies are now present before you in real life, but in the form of wax figures! However, there is no problem with that at all! They painstakingly created each one to the point that it appeared as though they were genuine humans. Go take a spot next to the people listed beneath. Keep in mind that basically seeing or meeting them is not always simple, but that here in Madame Tussauds San Francisco, they are incredibly simple to touch. At no point should you neglect to get your ticket to the Wax Museum San Francisco from FunEx. We provide the most competitive pricing for Madame Tussauds tickets and passes. A significant discount that will have you wishing for even more!
You Might Want to See Them at Madame Tussauds San Francisco:
Leonardo DiCaprio
Laverne Cox
George Clooney
Anna Hathaway
Peter Dinklage
Morgan Freeman
Zendaya
Neil Patrick Harris
Frequently Asked Questions
Are reservations required at Madame Tussauds San Francisco?

No, as of the date of writing, reservations are not required when you purchase your Madame Tussauds discount tickets through FunEx, but they are highly recommended.

Where is Madame Tussauds San Francisco located?

Madame Tussauds San Francisco is located at 145 Jefferson Street, San Francisco, California, 94133 USA.

What are Madame Tussauds San Francisco's operating hours?

Madame Tussauds San Francisco is open from 11 a.m. to 7 p.m., and the last entry is at 6 p.m.

Can I get a refund on my Madame Tussauds San Francisco discount ticket?

Madame Tussauds San Francisco does not allow refunds or exchanges and transfers.

How much do Madame Tussauds San Francisco tickets cost?

Through FunEx, Madame Tussauds San Francisco discount tickets cost $23.99 for standard admission and $57.99 for the Ultimate Celebrity Experience MT + Hard Rock.

Do children get free admission to Madame Tussauds San Francisco?

Children ages two and younger are free and do not require an admission ticket to visit Madame Tussauds San Francisco; however, everyone ages three and older must purchase Madame Tussauds discount tickets to gain admission.

Are photos allowed to be taken at Madame Tussauds?

Taking photos on your camera, camera phone, etc. is encouraged at Madame Tussauds San Francisco!

How soon do I receive my Madame Tussauds San Francisco discount tickets from FunEx?

You will receive your Madame Tussauds San Francisco discount tickets instantly right after your purchase along with your receipt!

Do I have to print my Madame Tussauds San Francisco discount tickets?

No, through FunEx, you can just show your Madame Tussauds San Francisco discount tickets on your phone at the entrance for easy entry.

Can I bring a stroller or wheelchair to Madame Tussauds San Francisco?

Yes, Madame Tussauds Hollywood is stroller and wheelchair accessible except in the Virtual Room. Wheelchairs can also be rented for free on a first-come first-served basis, but they are limited.

Are face masks required at Madame Tussauds San Francisco?

Yes, they are. Though they are quiet being switched to optional, you're still encouraged to wear one for your extra protection as well.
Last updated August 27, 2022.
Madame Tussauds SF Tickets
Standard Admission

All Ages

Regular price $29.99

Discounted Price $23.99

Savings $6.00

Ultimate Celebrity Experience: MT + Hard Rock

All Ages

Regular price $69.26

Discounted Price $57.99

Savings $11.27